Second Look
April 13 & 14, 2023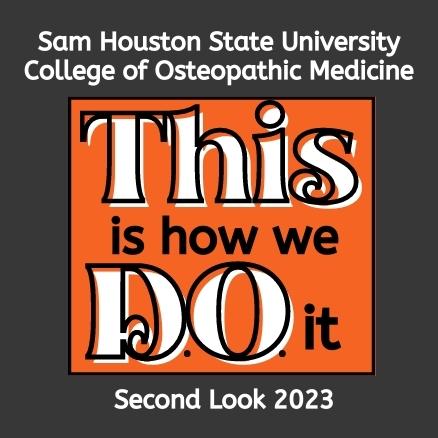 Thursday, April 13
3:30 pm – 4:00 pm
4:00 pm – 5:00 pm
|
Building Tour & Meet Our Student Ambassadors
5:30 pm – 8:30 pm
|
Student Social with Student Ambassadors
Friday, April 14
8:30 am - 9:00 am
9:00 am – 9:30 am
9:30 am – 10:10 am
|
Faculty Panel – Curriculum
10:10 am – 10:30 am
|
SHSU-COM Clinical Sites Overview
10:30 am – 11:15 am
|
Student Support Services Panel
11:15 am – 12:00 pm
|
OMM Presentation & Demonstration
12:00 pm – 1:00 pm
|
Lunch & SHSU Resource Fair
1:00 pm – 2:00 pm
|
Student Ambassador Panel
2:00 pm – 3:00 pm
|
Faculty Panel – Research
3:00 pm – 3:15 pm
|
Enrollment Checklist Overview & Closing
3:15 pm – 3:45 pm
|
Additional Building Tour Opportunity
Building Address and Directions
925 City Central Avenue
Conroe, TX 77304
Taking I-45 Northbound
Exit 83 Creighton Road
Turn left on Grand Central Parkway
Take the first right on the roundabout
Taking I-45 Southbound
Exit 83 Creighton Road
Stay on the frontage road
Turn right on Grand Central Parkway
Take the first right on the roundabout
Room blocks have been made at the following hotels:
Marriott Towneplace Suites
Houston North/Shenandoah
107 Vision Park Blvd
Shenandoah, TX 77384
Hyatt House
The Woodlands/Shenandoah
18645 Residence Drive
Shenandoah, TX 77385
Fairfield Inn & Suites
Houston/The Woodlands
16850 I-45 S
The Woodlands, TX 77384
SpringHill Suites
Houston/The Woodlands
16520 I-45 S
The Woodlands, TX 77384
What to Wear/Bring
For Thursday's social, feel free to come as you are. Casual dress is perfect. On Friday, we recommend attendees to select smart or snappy casual attire. You might want to bring a light jacket or a sweater since temperatures in meeting rooms tend to vary. In addition, we highly recommend all participants bring a refillable water bottle, some snacks, writing utensil, and a notebook or digital note-taking device.
Thursday Night Social
April 13
5:30 pm - 8:30 pm

Southern Star Brewing Company
3525 N. Frazier St., Conroe, Texas 77303

Enjoy dinner, games, and activities with SHSU-COM Ambassadors!
On-Campus Parking
No parking permit or vehicle registration is required. You may park in any surface lot space with the exception of reserved parking.
Technology
Guest WiFi is available if you prefer to take notes on a tablet or laptop.
Food
Thursday
Evening Social: Food and drinks will be provided
Friday
Breakfast: A light breakfast will be provided at check-in
Lunch: A boxed lunch will be provided

SHSU-COM Enrollment Services
Phone: 936.202.5202
Email: EnrollCOM@shsu.edu

Facility Address: 925 City Central Ave, Conroe, TX 77304