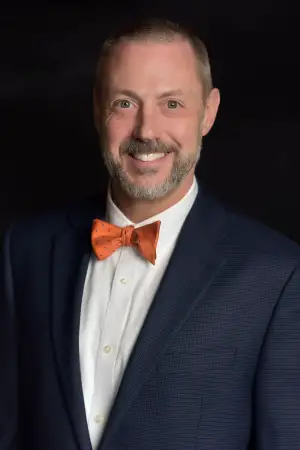 Dr. Kalinowski joined Sam Houston State University in February 2019 to help launch the College of Osteopathic Medicine (SHSU-COM) in Conroe, Texas, as Director of Assessment and Accreditation. His responsibilities include managing processes, data, and workflow for assessment, evaluation, and accreditation activities, plus the design and delivery of associated faculty and professional development opportunities.
Before coming to Sam Houston, Dr. Kalinowski was Director of Assessment and Program Evaluation and Co-Director of the Small Interactive Group Session (SIGS) case-based curricular component of the DO Program at another new osteopathic medical school – the University of the Incarnate Word School of Osteopathic Medicine (UIWSOM) in San Antonio. Prior to moving back to Texas, he was a psychometrician at the National Board of Osteopathic Medical Examiners (NBOME) in Chicago, where he co-managed the Comprehensive Osteopathic Medical Achievement Test (COMAT) program. In addition, Dr Kalinowski worked on the COMLEX-USA licensure examination series, including the new Clinical Decision Making (CDM) item format for Level 3, and was a member of the Portfolio and Expanded Assessments Task Force. Before NBOME, he was the psychometrician at UNTHSC in Fort Worth, the director of research and psychometrician at an early reading software company in Dallas, and a high school science and mathematics teacher in north central rural Texas, among other roles.
Dr. Kalinowski has a BS in Mathematics from The University of Texas at Austin, an MS in Computer Education and Cognitive Systems and a PhD in Educational Research from the University of North Texas (UNT) in Denton, Texas, and an MPH from UNT Health Science Center in Fort Worth.