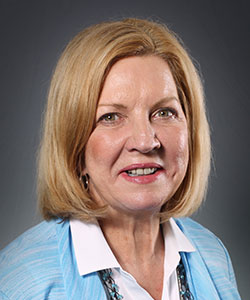 Mary Hogan, MBA, PhD was born in Ft. Sill, Oklahoma and moved to San Antonio at the age of five. After graduating from high school in San Antonio, Texas, she went on to graduate from Southwest Texas State University with a Bachelor of Science degree in Interior Design. Dr. Hogan completed her Master of Business Administration with a concentration in International Business and Management from the University of Texas at San Antonio. She then completed her PhD in Demography and Public Health from the University of Texas at San Antonio and the University of Texas, School of Public Health.
Dr. Hogan has over 18 years of experience in senior leadership with University Health System and Baptist Health System. She has served as a Clinical Assistant Professor in the School of Health Administration at Texas State University. In 2016 she joined the University of the Incarnate Word, School of Osteopathic Medicine, serving in administration as the Director of Special Projects and Facilities Liaison and as Associate Professor in both the DO and MBS programs. Her research interests are related to community health needs, obesity and the related co-morbidities, demographics, risk factors and behaviors, and long-term resolution of obesity.
Dr. Hogan is married to Michael Hogan and they have three children.