Bearkat Marching Band Faculty and Staff
Associate Director of Bands
Director of the Bearkat Marching Band
Professor of Music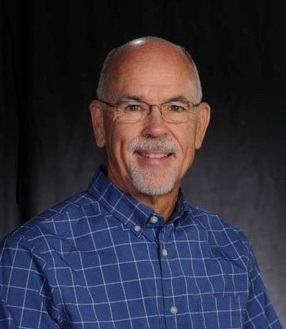 Brian Gibbs is a Professor of Music, Associate Director of Bands, Director of the Bearkat Marching Band, and Associate Director of the Center for Music Education at Sam Houston State University. He is the conductor of the Symphonic Band and teaches courses in music education. Dr. Gibbs holds degrees from Southern Methodist University, Amberton University, and the Walden University Richard Riley School of Education. He studied conducting at the University of Houston with Eddie Green and is privileged to have been mentored by Carroll Cantrell, Tom Bennett, Malcolm Helm., and Dr. Matthew McInturf. Before his appointment at SHSU, Dr. Gibbs served as a Visiting Assistant Professor at Texas Christian University. He previously taught in the public schools of Birdville, Cypress-Fairbanks, Carrolton-Farmers Branch, and Richardson, Texas. 
Dr. Gibbs serves as Chairman of the Board for the Worldwide Concurrent Premieres Commissioning Fund, administering the consortium for Steve Danyew's Lamentation for Euphonium and Wind Ensemble and Frank Ticheli's Flute Concerto, Silver Lining. He is the Editor-in-Chief for Praxis, the online journal for SHSU's Center for Music Education, and is an active member of the College Band Directors National Association, Texas Music Educators Association, Texas Bandmasters Association, Phi Beta Mu, Performance Studies International, and the Publishers International Linking Association.
---
Matthew McInturf
Director of Bands
Professor of Music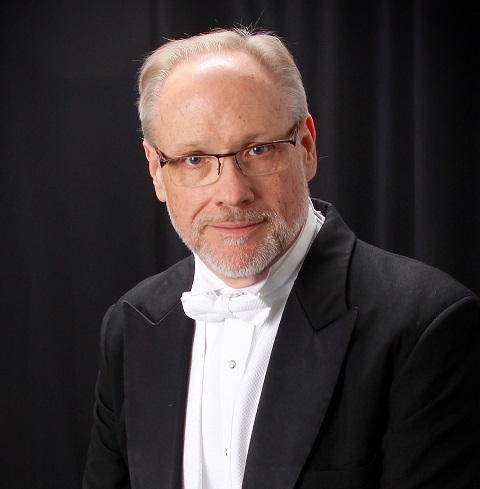 Matthew McInturf is Professor of Music, Director of Bands and Director of the Center for Music Education at Sam Houston State University in Huntsville, Texas. He previously taught at Florida International University and in the public schools of Richardson, Texas.
Dr. McInturf received the Doctor of Musical Arts degree in Conducting from the University of Cincinnati College-Conservatory of Music, where he was a student of Eugene Migliaro Corporon. He holds a Bachelor of Music degree in Music Theory from the University of North Texas, where he studied conducting with Anshel Brusilow and a Master of Music in Composition from the University of Houston where he studied composition with Michael Horvit and conducting with Eddie Green.
Throughout his career, Dr. McInturf's ensembles have been recognized for their musical accomplishment. He has performed throughout the United States and recordings of his performances have been broadcast on National Public Radio. In 1991, conducting the J. J. Pearce High School Band, he performed an acclaimed concert at the Mid-West clinic, with trombone soloist Christian Lindberg. He has performed at the Texas Music Educators Association Convention, the American Bandmasters Association Convention and the Southwest Regional Convention of the College Band Directors National Association with the SHSU Wind Ensemble.
An advocate of new music, Dr. McInturf has continued to commission new works for wind ensemble. He is a member of the Board of Directors of the World-Wide Concurrent Premiers and Commissioning Fund, Inc., a non-profit corporation that works internationally to form consortiums to commission significant new works from contemporary composers. Dr. McInturf has served on the National Commissioning Committee of the College Band Directors National Association and the Commissioning Committee of the American Bandmasters Association.
Dr. McInturf has an ongoing commitment to music education and frequently serves as a presenter for teacher in-service and consultant for public schools. He has been a guest lecturer in music education for universities and professional conferences. In his role as the Director of the SHSU Center for Music Education, he coordinates a program of performance based pedagogy workshops that offer valuable tools for practicing teachers and is the Managing Editor of Praxis, the online journal of the Center for Music Education. He has served on the College Band Directors National Association Music Education Task Force.
Dr. McInturf is the Vice President and Chair of the College Division of the Texas Music Educators Association. He is a Past President of the Texas Bandmasters Association, and a
Past President of the Southwestern Division of the College Band Directors National Association. He is active in the World Association for Symphonic Bands and Ensembles, the American Bandmasters Association and is a member of the College Music Society. In 2017, he was honored by the Texas Bandmasters Association as "Bandmaster of the Year."
_______________________________________________________________________________________________________________________
Assistant Director of Bands
Associate Director of the Bearkat Marching Band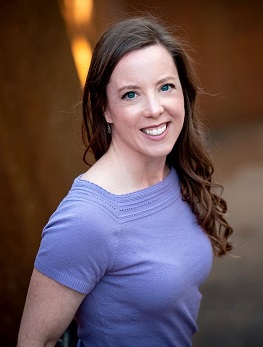 Darla McBryde is the Assistant Director of Bands and the Associate Director of the Bearkat Marching Band. A native of Fort Worth, Texas, Ms. McBryde previously served as the Director of Bands and Fine Arts Department Chair at Timber Creek High School in Keller ISD, as the Assistant Band Director at Keller High School, and as an Assistant Band Director and Colorguard Director at Flower Mound High School in Lewisville ISD.
During her seventeen years of teaching high school concert bands of all levels, her ensembles earned twenty-two consecutive UIL Concert and Sight-reading First Division Awards. In 2016, the Timber Creek High School Wind Symphony was awarded the opportunity to perform at the Western International Band Clinic. Other concert highlights include, the Timber Creek High School Saxophone Ensemble Showcase performance at the 2019 Texas Music Educators Association Conference, and the Keller Chamber Winds Performance at the 2012 Midwest Clinic.
Ms. McBryde has enjoyed sharing her love of the marching arts with her students. Under her direction, the Timber Creek High School Marching Band flourished, earning Superior Ratings at all UIL Marching Contests and becoming consistent finalists at Bands of America Texas Regionals and at UIL Area Marching Contests. Her JV and Varsity colorguards at Flower Mound High School were perennial medalists at the North Texas Colorguard Association Championships from 2002 to 2008, and they were regular Scholastic A finalists and medalists at Winterguard International Regionals. In 2008, the Flower Mound High School Colorguard earned fifth place in Scholastic A at the Winterguard International World Championships.
Ms. McBryde holds a Master of Music degree in Instrumental Conducting from Stephen F. Austin State University and a Bachelor of Music Education from Baylor University where she studied bassoon. Her performance experience includes performing in the Baylor University Wind Ensemble and Symphony Orchestra, Chamber ensembles, and Waco Symphony. Ms. McBryde also performed with the 1999 Phantom Regiment Drum and Bugle Corps as a colorguard member.
Ms. McBryde enjoys serving as a Marching Band, Concert Band, and Chamber Ensemble adjudicator, and she has presented clinics at the Texas Bandmasters Association Convention, the Midwest Clinic, and the Women Band Directors International Convention. Her favorite topics include: Self Care Tips for Busy Music Directors, and Colorguard and Movement Basics for Band Directors.
Personal accolades earned throughout her career include, Timber Creek's Creative Impact Award and Fine Arts Teacher of the Year, Flower Mound High School's Teacher of the Month and Principal's Shining Star, and Lewisville ISD's Golden Apple Award. Professional affiliations include Phi Beta Mu, Women Band Directors International, Texas Music Educators Association, Texas Bandmasters Association, Texas Association of College Teachers, Mu Phi Epsilon.
______________________________________________________________________________________________________________________
John Lane
Director of Percussion Studies
Associate Professor of Music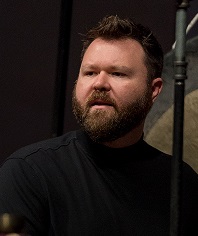 Dr. John Lane is an active percussion soloist, chamber musician, composer, educator, and has performed throughout the Americas and Japan. Recent credits include performances with his percussion trio (with Christopher Deane and Brian Zator), Pulsus, at the Hokuto International Music Festival in Japan, a concerto performance with the National Symphony of Panama, an appearance on the Van Cliburn Foundation's concert series, Modern at the Modern, at the Fort Worth Museum of Modern Art, and presentations at the Percussive Arts Society International Conventions in 2003, 2004, 2008, and 2009.
Currently, John is Director of Percussion Studies and Associate Professor at Sam Houston State University in Huntsville, Texas where he teaches applied percussion and directs the Sam Houston Percussion Group and SHSU Steel Band. Prior to his appointment at SHSU, John taught as a lecturer at the University of Wyoming and as a teaching fellow at the University of North Texas and the Cincinnati College-Conservatory of Music.
Commissioning new works for percussion and creative collaborations are an integral part of John's work. Over the last few years, he has been connected with a number of composers including Peter Garland, Emiliano Pardo, Mara Helmuth, Michael Fiday, Christopher Deane, John Luther Adams, Kyle Gann, Michael Byron, Wen Hui Xie, Jude Traxler, Kazuaki Shiota and Alex Kotch.
His compositions have been featured on the Sonic Explorations concert series, the MUSICX new music festival at the Cincinnati-College Conservatory of Music; the Loeffler New Music Symposium at Chico State University in California; and at the Cincinnati Contemporary Art Center. One of his works, Sparrow Song, was recently published in Notations 21 (New York: Mark Batty Publishers, 2008). John has several on-going interdisciplinary collaborations with writers Ann McCutchan and Todd Boss, percussionist Allen Otte, and has created original music for choreographer/dancer Hillary Bryan.
John has recorded for the Klavier and GIA record labels with the North Texas Wind Symphony and can be heard on the television series, Wyoming Voices (produced by Wyoming Public Television). Articles, interviews, and educational writing have been published in Windsong, 21st-Century Music, Texas Band Master's Review and Percussive Notes. John is also a former marching member of the Cavaliers Drum and Bugle Corps.
John has presented clinics and masterclasses on topics including contemporary music, orchestral percussion, and jazz drum set at the following institutions/venues: Danilo Perez Jazz Foundation, National Institute of Culture in Panama, Texas Music Educator's Association Convention, Texas Band Master's Association Convention, Percussive Arts Society Days of Percussion (Wyoming, Louisiana, and Texas), University of Colorado, Colorado State University, University of Wyoming, University of Arizona, Chico State University, Southern Oregon University, Stephen F. Austin State University, University of Hawaii, Oberlin College Conservatory of Music, and the University of Mississippi.
John holds a DMA in percussion performance from the Cincinnati College-Conservatory of Music, a MM from the University of North Texas, and a BM from Stephen F. Austin State University. John is also a Yamaha Performing Artist and an Artist for Innovative Percussion and Evans Drumheads.
Boyce Jeffries
Adjunct Percussion Instructor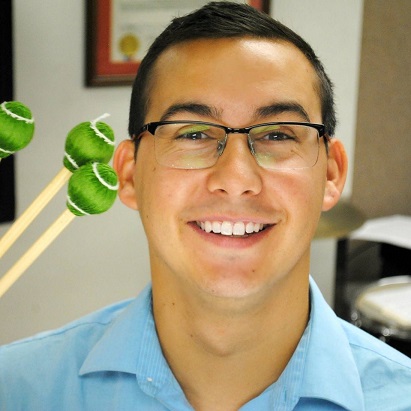 Boyce Jeffries is in his second year on the Sam Houston State University's School of Music faculty. In addition to directing the BMB Drumline, Boyce teaches applied percussion lessons, musicianship/aural skills, and leads the University Percussion and Steel Band Ensembles.
A native of the West Coast, Boyce completed his first three degrees (Mus. Ed, Music Performance B.M. & M.M) at California State University - Sacramento and attended the University of Toronto (Canada) for his doctorate. His dissertation examined YouTube's impact on the percussion field, primarily on performance, interpretation, perception, and education.
Boyce strives to be a percussion "chameleon" that enjoys eclecticism. In addition to his experiences performing and teaching in the marching arts, Boyce has attended numerous contemporary music festivals, appeared as a clinician and guest artist for the Nevada Day of Percussion, and has recorded for the Toronto Tabla Ensemble (Unexpected Guests, 2021). His self-produced album, Near & Dear, was released in the spring of 2022 and contains his own compositions and works in his performance repertoire that have a heightened sentimental value to him personally.
Outside of his life as a musician, Boyce enjoys spending time with his wife, cooking, riding his bike, and playing tennis.
---
Tim LeBlanc
Color Guard Instructor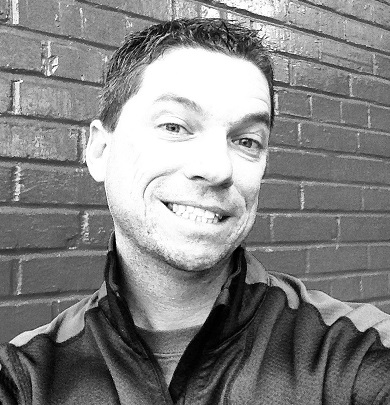 Tim LeBlanc was born and raised in Lafayette, Louisiana where he graduated from Acadiana High School. He attended the University of Louisiana at Lafayette where he studied music education, was drum major of The Pride of Acadiana marching band, studied horn where he was principal in the UL Wind Ensemble, and was a founding member of the Echelon Brass Quintet. He currently plays horn in The Woodlands Concert Band in The Woodlands, TX. Tim is an Alumni of the Madison Scouts Drum and Bugle Corps where he marched the horn line. Soon after, he started his colorguard career and began teaching in the Lafayette area.
Tim is the current Instructor for the guard programs at Sam Houston State University and is also the Drill writer and designer for the SHSU Bearkat Marching Band. Tim is the past color guard caption head for the Louisiana Stars Drum and Bugle Corps. Tim has taught and currently designs and choreographs for many successful groups around the country including WGI World Champion, Code Black Winterguard.
Tim resides in the Houston area where he is a flight attendant, is married, and has two awesome dogs.
---
Twirler Instructor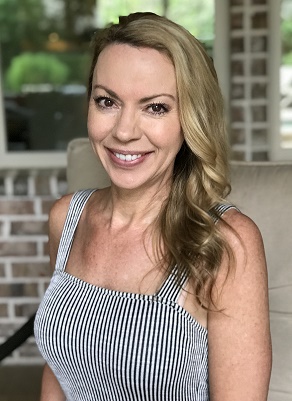 Kelley McCormick is from Slidell, Louisiana where she began her twirling career at the age of six years old. Training under twirling legends Brooks Going and Cageline Crawford, Kelley competed for twelve years with the National Baton Twirling Association, earning titles such as Miss Majorette of Louisiana.
Kelley holds a Bachelor of Science degree from Northwestern State University and was a majorette in the Spirit of Northwestern Marching Band. After graduation, she obtained her Property and Casualty insurance license in Louisiana and Texas, working for Allstate Insurance Company.
Re-locating to Bentonville, Arkansas, Kelley became the founder of the Benton County Belles Twirling team and Feature Twirler and Winter Guard Coordinator for Shiloh Christian High School, in Springdale, Arkansas.
Baton twirling as always been a great passion of Kelley's, passing her legacy on to her three daughters. When she is not coaching at Sam, Kelley enjoys judging and teaching private baton lessons to twirlers of all ages.
---
Tyler Claycomb
Graduate Teaching Assistant, Bearkat Marching Band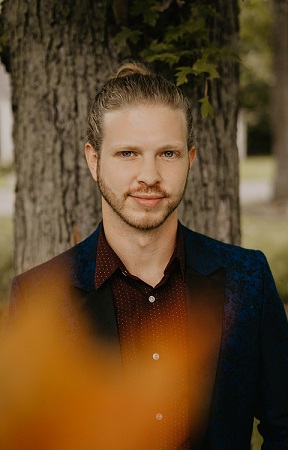 Tyler Claycomb holds a Bachelor of Music in Music Education from Anderson University in Anderson, IN. He is currently pursuing his Master of Music in Instrumental Conducting at Sam Houston State University and remains active as an educator. He offers applied trumpet lessons to middle and high school students of Conroe ISD and serves as a masterclass instructor for Conroe High School and Westfield High School. During marching band season, Tyler further contributes as a high brass instructor and field technician for those high schools.
Before relocating to Texas, Tyler resided in Indiana, where he collaborated with two esteemed marching bands of the Central Indiana Track Show Association. He served as high brass instructor and field tech for Muncie Southside Spirit of South Marching Band and the Anderson High School Marching Highlanders, and those groups earned 2nd, 6th, and 4th place finishes at the Indiana State Fair Band Day Finals Competition. In 2016, Tyler assumed the position of interim Director of Bands at Warsaw Community High School and led the marching band to an 8th-place finish at the ISSMA Scholastic State Finals. Under his direction, the WCHS wind ensemble achieved a gold rating with distinction through ISSMA.
Tyler served as a volunteer for the Conn-Selmer Institute. He played trumpet in 2016 and 2017. He performed as a guest with the Grace College Wind Ensemble and was a chamber orchestra member and vocalist for the Worship Team at Warsaw Evangelical Presbyterian Church. Tyler also filled the role of production manager and was an elected board member for Classic Arts Programs. In addition, he sang bass/baritone and assisted with the Lakeland Community Choir. To revitalize the local Symphony of the Lakes, Tyler served as a founding member of the Arts Coalition to develop funding for the ensemble, assuming the role of Personnel Manager for the SOTL. Tyler enjoys lifting weights, playing basketball, cooking, refinishing furniture, and tuning/restoring his piano.
Jose Funes
Graduate Teaching Assistant, Bearkat Marching Band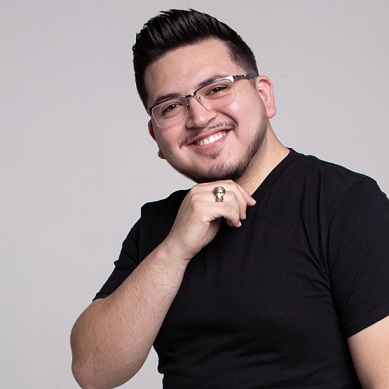 Jose R. Funes, a passionate music educator, was born in El Salvador. His exceptional musical journey began at the age of two with a violin. By the age of twelve, he had transitioned to trumpet and euphonium after his move to Texas in 2008.
Jose has performed at a variety of prestigious events and venues, such as the Texas Music Educators Association (TMEA) in San Antonio, the Carnival of Steel in Dallas, Lone Star North Harries, St. Mary Magdalene Catholic Church, and St. Leo Catholic Church. He has performed in various settings, from jazz bands to symphonic bands and steel drum bands to choirs.
Jose graduated from Lone Star North Harris Community College, earning his Associate of Arts degree and later attending Sam Houston State University. At SHSU, he studied under esteemed music educators such as Mark Holley of the Houston Grand Opera, and Dr. Mathew McInturf, who is currently guiding him towards his Master's degree in Wind and Band Conducting.
Jose had the honor of playing at the All-State Community College Jazz Band for two consecutive years under renowned conductors such as Frank Ticheli, Alex Parker, director of jazz studies at Baylor University, and Joe Eckert, former director and performer at the USAF band, have further enriched his music portfolio.
As a teacher, Jose was an assistant band director at Grantham Academy and McArthur High School. As he continues his musical journey, Jose is committed to creating exceptional musical experiences, nurturing young talents, and sharing his passion for music with audiences and students alike.