The band program at Sam Houston State University was founded in the 1920's and has over the years enjoyed great success. Past directors of the Bearkat Marching Band include Dr. Clint Hackney (founder of H & H Music Company), Dr. Elliot Bowers, Dr. Ralph Mills, Dr. Rod Cannon, Dr. Gary Sousa, Mr. Donald Ryder, Dr. Henry Howey, Dr. Robert Meaux, Dr. Matthew McInturf, Dr. David Clemmer and Mr. Alfredo Velez along with current Director, Dr. Brian Gibbs.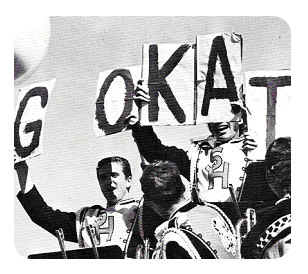 Dr. Elliot Bowers later went on to serve as SHSU President, and our stadium is named in his honor. Under the direction of Dr. Ralph Mills, the band reached a heyday in the 1970's. In the words of alumnus, "The highlight of my college band days was playing in the wind ensemble that performed for the joint convention of the American Band Association and the Japanese Band Association, held in Hawaii. We played under some great conductors and composers like Col. Arnold Gabriel, Dr. William Revelli, Clifton Williams, and Toshio Akiyama from Japan." The band sold fruitcake and candles so they could afford the trip!
Today, the influence of our many successful directors and alumni continues to touch the lives of countless students.
Some past BMB traditions include: Freshmen wearing orange and white beanies during Summer Band, and everyone staying after football games to play marches to entertain the townsfolk. During football games, the drumline would learn the other band's drum cadences and then play them back! Freshmen were required to memorize and pass off the Alma Mater, Fight Song and March Grandioso by memory, or they couldn't get their uniform! At one point during the late 1960's, the University experienced a bit of a name crisis, changing names twice. Of course, this created problems with the fight song. The words to the second strain in 1966 were, "Faithful and True We'll Ever Be, To SHSTC" (Sam Houston State Teacher's College), which became in 1968, "Faithful and True We'll Ever Be, To SHSC" (Sam Houston State College), and finally in 1969, "Faithful We'll Be Forever, True, To SHSU."