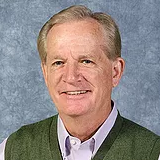 Peter Roussel, B.S.
Warner Endowed Professor
Email: phr001@shsu.edu
Email: proussel@sbcglobal.net
Office: DRCB 313
Phone: 936.294.4502
Phone: 713.668.2793
---
Peter Roussel is a member of the faculty at Sam Houston State University in the Department of Mass Communication. In 2009 he was appointed to fulfill the Philip G. Warner Endowed Chair in that Department.
Experience
From 1981-87 he served in the White House under President Reagan as special assistant and deputy press secretary. His duties as a spokesman for the President of the United States included briefings of the White House press corps and accompanying President Reagan on domestic and foreign trips.
From 1969-74 he was press secretary to President George H.W. Bush when Mr. Bush served as U.S. Congressman and U.S. Ambassador to the United Nations. Mr. Roussel's first tour of duty in the White House, 1974-76, was as staff assistant to President Gerald R. Ford.
His career in public relations and advertising began in 1966 and has included professional experience with five firms in three cities. From 1996-2003 he was Executive Vice President and a managing partner of Neumann Roussel Public Relations.
He does on-camera television commentary, with appearances that have included ABC World News, CNN, PBS and others.
Teaching Specialties
He teaches courses on public relations and press-presidency interactions. One of his courses, Priority One, is a public relations service staffed by students providing the client services offered in that field. In conjunction with the President's Speaker Series, Priority One has helped produce and promote events featuring former CBS News anchor Dan Rather, former Secretary of State James A. Baker, III, baseball Hall of Famer Nolan Ryan and others. At Sam Houston State University he also hosts the student-promoted and student-produced television show that is broadcast on Cable Channel 7.
Research Interests/ Recent Publications, Productions
He is the author of the novel, Ruffled Flourishes, published in 2009 by Bright Sky Press. His theatrical adaptation of his novel, Ruffled Flourishes, was produced for three premier performances in August, 2016, at the Showcase Theatre, Sam Houston State University.
Education
BS in Radio and Television- University of Houston (1965)
Memberships/Affiliations
In 2015 he was appointed to Sam Houston State University's Smith-Hutson Scholarship Program Council. He is also the advisor to PRSSA, the student chapter of the Public Relations Student Society of America.
Awards, Activities, Honors (selected)
In 1983 he was named Distinguished Alumnus by the University of Houston.
In 1986 he received the first Distinguished School of Communication Alumni Award presented by his alma mater.
In 2013 and 2016 he received the Sammy Award at Sam Houston State University as Outstanding Student Organization Advisor.
In 2016 and 2017 he received the Keys of Excellence Award presented by Sam Houston State University's Orange Keys Organization.