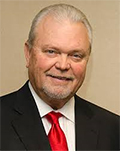 A charter member of the SHSU chapter of Delta Tau Delta fraternity, Koska is a 1961 graduate with a bachelor's degree in sociology. After graduation, he began his career in the food service industry and founded his own Houston-based firm in 1969. His business, Institutional Sales Associates, grew to 120 employees and offices in Houston, Austin, Lubbock, Dallas and Albuquerque and had sales in excess of $500 million.
Koska has shown SHSU, and his community, financial support by sponsoring the Student Technology and Lobby areas in the College of Business Administration, supplying food and labor for Athletic Department fundraisers and serving as a lifetime member of the Alumni Association and on the Sam Houston Memorial Museum's "Friends of the Museum" board.
In addition, he serves as a benefactor for Delta Tau Delta National Fraternity, the Brookwood Community, the University of St. Thomas, Pines Montessori School, the Marine Military Academy in Harlingen, Lutheran High North, Houston Choral Showcase, Special Olympics, Pilgrim Baptist Church, Port Mansfield Chamber of Commerce, Zion Lutheran Preschool and Zion Lutheran Church in Houston.
Ron was designated as a Sam Houston State University Distinguished Alumnus in 2006 and has served on the President's Circle since 2007. He was a founding member of the CHSS Alumni Advisory Council, has been a member of the COBA Advisory Board since 2000, and is a lifetime member of the Alumni Association.
"His drive, determination and integrity have contributed to his personal and business success," said his nomination form. "Ron has consistently shared his business success with his community and Sam Houston State University in hopes of helping improve the quality of life for those around him.
Koska and his wife, Donna, have two sons.