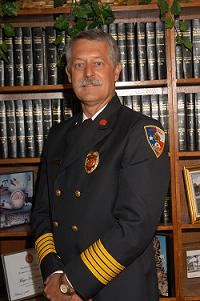 Randall F. Parr, EFO, CFO, MPA, CPA
Chief Parr has been married to Lynne for 49 years and is the father of three daughters, two of which have degrees from Sam Houston. With his wife, they enjoy travelling, sailing and cruising as well as being home with their pets.
He has served as the Fire Chief/Emergency Management Coordinator for over 17 years. He has been the Southeast Region Coordinator for the Texas Fire Chiefs Association (TFCA) for the past several years and has served on the TFCA Legislative Committee. He is the immediate past president of the Southwest Region of the International Association of Fire Chiefs. Parr is the facilitator for the Northwest Harris County Emergency Services Leadership Coalition, an organization created over 20 years ago by seven fire departments. The NWESLC has grown to include over 20 departments and several county and state agencies. Chief Parr has a Bachelor's Degree in Business from Indiana University, a Master's Degree in Public Administration from Sam Houston State University and is a certified public accountant. He is the 2009 recipient of the International Association of Fire Chiefs Volunteer & Combination Officers Section John M. Buckman III Leadership Award. He continues to devote significant energy at the local, state and national level promoting the installation of fire sprinkler systems in newly constructed single-family residences.
In his prior life, Chief Parr served as a controller and financial officer for regional and national real estate developers including Trammell Crow Residential (Albuquerque, Phoenix and Houston), Zimmerman-Wilhoit Properties (Springfield, MO) and Turner-Adreac (Sugar Land, TX). His accounting career started at Peat, Marwick, Mitchell & Co. (now KPMG) in Indianapolis where he was a savings and loan audit specialist. The real estate division of the Denver based oil and gas company Holly Resources recruited him to its accounting staff for the company's Nassau Bay Development Company in Nassau Bay, Texas. The company was responsible for the initial commercial and residential developments along NASA Road 1 across from the Johnson Space Center. Westchester Corporation, one of the first publicly traded real estate developers in the country, subsequently recruited him to its accounting staff. Following several years of experience in the real estate development industry, he opened his own CPA firm with a specialty area of real estate development/construction/taxation. After ten years in public practice, he returned to the private sector joining the Trammell Crow Residential Company as a Controller and Financial Officer.
Chief Parr has maintained a small accounting practice focusing on non-profit companies and the technical aspects of taxation there-of. He is an active participant in the local Rotary Club, serves on the Board of Directors of the Sam Houston State University Alumni Association, the Advisory Board of the SHSU College of Humanities and Social Sciences, the Advisory Board of the Lone Star College Fire Science Program and volunteers with the Texas Railroading Heritage Museum of Tomball.