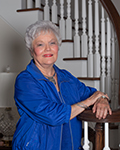 Margaret Lindsey, a long-time resident of San Marcos, attended Sam Houston State Teachers College. She earned a Bachelor's degree from Sam Houston State College in 1967 and a Master of Arts degree from Sam Houston State University in 1970. Mrs. Lindsey later completed post-graduate studies at North Texas State University, Texas A&M University, and Southwest Texas State University in pursuit of several specialized pubic school certifications.
Mrs. Lindsey began her teaching career in the Bryan, where she initiated an occupationally-related home economics program. Thereafter, she became a K-6 Occupational Awareness Consultant-Coordinator. Seven years later, Margaret became an Instructional Services Consultant for the Research Coordinating Unit at the Texas Education Agency (TEA), Austin, TX. In 1978, she became the State's first Coordinator for Equal Access.
After working at TEA for almost five years, Mrs. Lindsey returned to public schools, where she became a vocational supervisor for Austin ISD. During the next eighteen years, she supervised Vocational Special Needs Programs (CVAE and VEH), and Ancillary and Related Services, eventually becoming the District's Coordinator for Secondary Guidance and Counseling. When the opportunity arose, Mrs. Lindsey became the Administrative Supervisor for School-to-Work Programs. Even though she enjoyed this job, in 1995, she returned to San Marcos, and became the Coordinator of Career and Technology Education, San Marcos Consolidated Independent School District.
Mrs. Lindsey retired from public education in 1998, working as an adjunct instructor at Texas State University until 2004. During this same time, she also served as a recruiter for Priority Personnel, Inc. (PPI), San Marcos. In 2003, Margaret became Board Chair of the San Marcos Area Chamber of Commerce. She fell in love with the Chamber world and is now completing her 11th year as the Membership Sales Director at the San Marcos Chamber. Besides serving as the staff liaison to the Chamber's Education Advisory Board, the Chamber Ambassador Club, and two Chamber LEADS groups, she sells advertising for the Chamber's annual "Guide to Everything San Marcos."
Mrs. Lindsey continues to serve in a variety of volunteer roles in the San Marcos/Austin area. She currently serves as Board Chair on the Rural Capital Area Workforce Board. From 2008-2015, Margaret was President of the San Marcos Education Foundation Board, currently she is the Vice President for Development. She also serves on the board of the Texas Pioneer Foundation, the League of Women Voters of Hays County, the Hays County Literacy Council, and the Staff-Pastor-Parish Relations Committee of the First United Methodist Church, San Marcos. In 2011, Margaret was inducted into the San Marcos Women's Hall of Fame, and today, she serves as a member of its selection committee.
Mrs. Lindsey is a member of the Texas Retired Teachers Association, Phi Delta Kappa, the San Marcos Retired Teachers Association, Kappa Omicron Nu, and is an alumna of Zeta Tau Alpha, a national social fraternity. Additionally, she serves on the Advisory Council for the Department of Occupational, Workforce, and Leadership Studies, Texas State University, San Marcos, and the Advisory Board for the College of Humanities and Social Sciences at Sam Houston State University.
Margaret Lindsey is married to her high school sweetheart, Dr. Paul Wayne Lindsey, and they have one son, Christopher Paul Lindsey. Margaret and Paul continue to reside in San Marcos, TX where she is still passionate about education and understands the difference it makes in people's lives!