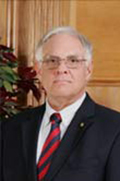 Mac Woodward received his Bachelor of Arts in History in 1970 from Sam Houston State University and his Master of Arts in History from the University of Houston Houston's Institute for Public History. Woodward also attended the Modern Archives Institute at the National Archives in Washington, D.C. Woodward began working at the Sam Houston Memorial Museum in 1994 as a historical interpreter. A year later he was named the museum's curator of collections. In addition to his management, preservation and exhibition responsibilities as curator, Woodward performed museum-related activities with other institutions including the Bob Bullock Texas State History Museum, Houston Museum of Natural Science, Texas Highways, and Institute of Texan Cultures, and assisted with the Department of Interior National Historic Landmark Report, among others. On January 1 2012, Woodward was named Director of the Sam Houston Memorial Museum at Sam Houston State University.
Mac Woodward is a 6th generation resident of Huntsville who has been active in the Huntsville community, serving as project manager for several historic preservation endeavors, as a board member for numerous foundations and organizations, and committee member for several events. For example, Woodward served on the City of Huntsville's Parks and Recreation Advisory Board and Oakwood Cemetery Advisory Board before joining the Council, and as a Council member was the Mayor Pro Tem and Chairman of the Finance Committee.
Woodward served 4 terms on City Council prior to running for Mayor, to which he was elected in November 2011. Mac and his wife, Leanne, who taught in the Huntsville public schools, have 2 children, Anne Gibbs and Wilbourn Thomas. Mac is a member of the First United Methodist Church, the Sons of the American Revolution, and the Sons of the Republic of Texas.