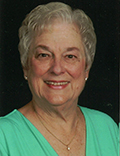 Ann Froelich graduated from Sam Houston State University in 1965 with a Bachelor of Science degree in history. Upon completion of the degree, Ann taught history at Huntsville High School for 4 years. In 1970, she accepted a graduate fellowship in the Department of History at Sam Houston, graduating with a Master of Arts in 1971. Ann became an instructor in the History Department at Sam Houston from 1971-79. During those years she continued graduate courses, becoming certified in Guidance and Counseling, Mid-Management Administration, and Superintendent Certification.
By 1981, Ann became interested in contributing to the public education effort in Huntsville because her own children were HISD. From 1981-1984, she was a senior counselor at Huntsville High School. In 1984-85, she became the Associate Principal for Curriculum and Instruction, and in 1985, she was chosen to be Principal of Huntsville High School. Froelich was chosen in 1997 as Region VI Principal of the year by the Texas Association of Secondary School Principals which was determined by fellow high school principals from @ 60 school districts in Region VI. In 1998, after thirteen years as Principal of Huntsville High School, Ann became Director of Human Resources of Huntsville ISD until her retirement in 2000.
After retirement from public education, Ann pursued other areas of interest. She has pursued real estate development opportunities in Austin/San Antonio markets and continues as Trustee for FFI Investments. She is a life member of Sam Houston State University Alumni and Friends. Additionally, Ann has been an active member of Walker County Retired Teachers (WCTRA). After serving as treasurer of WCTRA from 2006-2008, she became Legislative Chair from 2008-Present. Since 2013, Ann has served as District 6 Retired Teachers Level 2 Legislative Team Member to advocate with the Texas Legislators for teacher retirement and health benefits.
In 1963, Ann married Wayne Froelich. Today, the Froelichs are proud parents of their children and grandchildren. More than 50 years later, Ann and her husband still call Huntsville home.