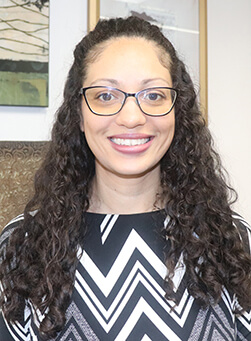 Adannaa O. Alexander
Clinical Assistant Professor
aoalexander@shsu.edu | 936.294.2718
---
Bio
Professor Alexander teaches classes in the areas of health planning and evaluation, multicultural health and US health care systems.
Her experience working aboard for the U.S. Peace Corps in Georgetown, Guyana and research at the Rollins School of Public Health in Atlanta, GA uniquely qualifies her to share her knowledge of public health with SHSU students.
As an Evaluation Coordinator, Mrs. Alexander helped staff use data to make informed programmatic decisions in the areas of health, literacy and environmental education. She led project evaluations for the public health and education programs for Peace Corps Guyana, which resulted in new strategic project frameworks. Mrs. Alexander also wrote curriculum and trained 200+ volunteers on how to monitor, report and evaluate their work. She facilitated 70+ sessions with volunteers, community members and staff on a variety of topics such as cultural integration and diversity, grant writing and project design.
Her past research includes work in HIV/STI prevention with various African American populations such as female adolescents and young adults, incarcerated female youth and heterosexual men.
Education
Master of Public Health, Rollins School of Public Health at Emory University
Bachelor of Arts in Italian and International Area Studies, Washington University in St. Louis
Honors and Awards
2018 Eagle Award, US Embassy Georgetown, Guyana – Recognized for significant individual achievement to advance the mission's goals.
2016 Exceptional Employee Award, Peace Corps Guyana – Recognized by colleagues for excellent work done over the year.
2008-2010 Rollins School of Public Health Scholar, Emory University – Merit-based assistantship
Selected Publications
DiClemente, R.J., Alexander A.O., Braxton, N.D., Ricks, J.M., Seth, P. (2013). African-American men's exposure to music videos and their sexual attitudes and risk behavior. Sexual Health, 10(13), 279-281.
Oparanozie, A, Sales, J.M., DiClemente, R.J. & Braxton, N.D. Racial Identity and Risky Sexual Behaviors Among Black Heterosexual Men. (2012). Journal of Black Psychology, 38 (1), 32-51.
Braxton, N.D., Raiford, J.L., Seth, P., Alexander A.O., DiClemente, R.J., Wingood, G.M. (2011). Forgotten Pieces of the Prevention Puzzle: Developing Theory-Driven HIV Prevention Programs for Black Heterosexual Males. Journal of Best Practices in Health Professions Diversity: Education, Research & Policy, 4(2), 637-648.