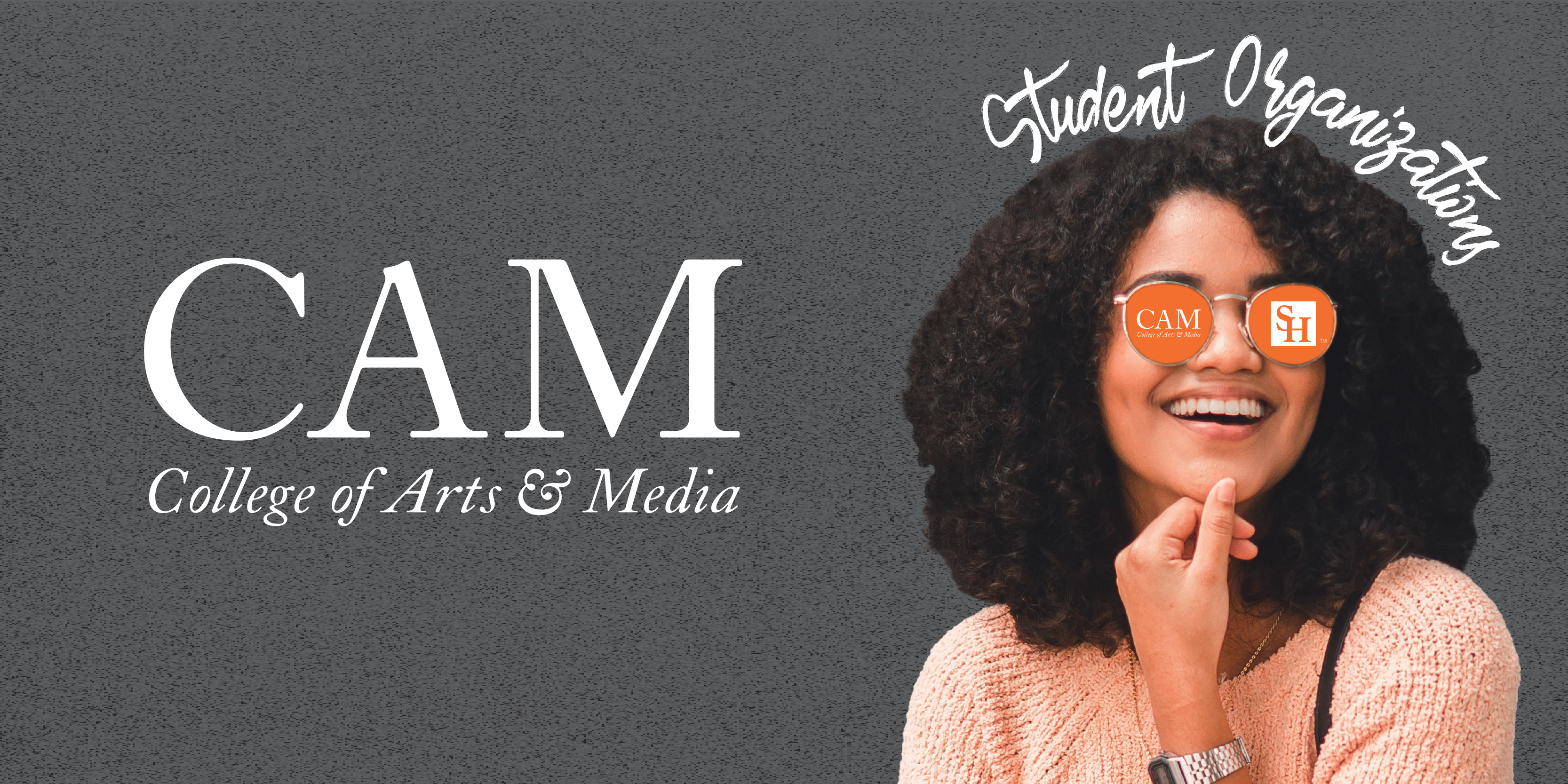 Find Your Community
One of the best ways to fill your social calendar and your resume is by joining campus organizations. Whether they're philanthropic or simply a place to share ideas, college organizations offer a variety of benefits. Find your community within the College of Arts & Media, by joining one of our many student organizations!
---
Dept of Art

Student Art Association (SAA)
The Student Art Association of Sam Houston State University is a non-profit student governed organization that is dedicated to the artistic and professional development of its membership. SAA also has student scholarships, exhibits, and the public sale of member's artwork. Special events are open to the public to promote public interest and appreciation of the arts.


Student Design Collective (SDC)
SDC at SHSU is a non-profit, student governed organization that is dedicated to the artistic and professional development of its membership. We strive to help better prepare SHSU students for real world work environments, enhance classroom learning, and promote professional relationships. Visiting designers, lecturers and special events are open to the public to promote public interest and appreciation of the design world.


SIGGRAPH
The SIGGRAPH animation club is an organization dedicated to education and networking for people interested in animation and animation-related digital art. The club meets every other Tuesday, at 5:00 p.m., in Farrington 217. All students are welcome to join. Each semester, the club participates in exciting events, such as the 24-Hour Animation Contest and the Inktober drawing challenge. In the spring, the club exhibits their work in the Satellite Gallery. During the year, the club hosts video calls with industry professionals. It also gives presentations and animation workshops for members.


Drawing Club
An organization for students interested in the art and practice of drawing. Meets regularly to draw, and discuss drawing used in many applications including comic books, scientific illustrations, and fine art. Conducts student lead critiques on their personal expression, discussing the purpose and intent of their work. Members participate in the Prison Drawing classes by teaching. Organizes open sessions drawing from the figure. Open to all university students.



Dept of Dance

Masters of Dance (MoD)
Masters of Dance (MoD) unifies a community of dance artists interested in producing their work at a professional level. Members must currently be pursuing their Masters of Fine Arts in Dance at Sam Houston State University. The organization is designed to create a platform for exploring, discussing, and presenting one's artistic vision. Each semester, students will work together to design and present a fully produced show. They will choreograph a piece no longer than twelve minutes. In addition to this, they will delegate and execute the various elements of production including PR, T-shirt design, poster design, lighting design, and costume design.


Chi Tau Epsilon
The prestigious national dance honor society, recognizes, supports, and promotes superior achievement in dance and in the performing arts. Membership in the society is recorded on the student's transcript. Each year, Chi Tau Epsilon is an active student organization, sponsoring the student choreography showcase, Dances @ 8, conducting recruitment workshops for the Department of Dance, and sponsoring community support activities including Adopt a Highway, food drives, and participation in the Special Olympics. Chi Tau Epsilon also awards annual scholarships for outstanding choreographic and academic achievement.

Dept of Mass Communication

National Sports Media Association


Public Relations Student Society of America (PRSSA)


Agricultural Communicators of Tomorrow (ACT)


Bearkat Studios


The Film Society (TFS)


Black Film Society


National Broadcasting Society (NBS)



Dept of Theatre & Musical Theatre

Alpha Psi Omega
Alpha Psi Omega is the world's largest theatre honorary. Members of the organization are those who have shown through work and service to be valuable members of the theatre community.


United States Institute for Theatre Technology (USITT)
The United States Institute for Theatre Technology, Inc. (USITT) connects performing arts design and technology communities to ensure a vibrant dialog among practitioners, educators, and students.


Musical Theatre Alliance (MTA)
The purpose of MUSICAL THEATRE ALLIANCE is to support the Musical Theatre Program and its students through mentoring, service, fundraising, and public relations.



School of Music

American String Teachers Association/Symphony Association (ASTA/SA)
The group's membership consists of string students at Sam Houston State University and was organized to support string pedagogy on the SHSU campus.


Mu Tau Omega
National organization for music therapy. Membership open to interested students committed to the study and/or advancement of music therapy in community, educational, and clinical settings


Phi Mu Alpha Sinfonia
National music fraternity for men. Provides valuable service to the school and community.


Sigma Alpha Lota
International music fraternity for women. Provides valuable service to the school and community.


Tau Beta Sigma
National band sorority. Supports band studies and provides valuable support service to instrumental ensembles and to the school.


Collegiate Percussion Association
The Collegiate Percussion Association is a music service organization promoting percussion education, research, performance, and appreciation throughout campus and the community. CPA will host various guest artists, and provide funding for percussion events on campus. CPA welcomes all students of Sam Houston State University to become a part of our organization.


Sigma Chi Epsilon/Sam Choral Educators
Otherwise known as Sam Choral Educators, Sigma Chi Epsilon is a local, student chapter of the American Choral Directors Association created for the purpose of fostering and promoting choral singing and music education.


Student National Association of Teachers Singing (SNATS)
The objectives of this organization shall be: i. To advance knowledge about the National Association of Teachers of Singing and the professions of teaching and singing. ii. to provide fellowship among students and faculty, as well as the community. iii. to represent future music educators' and performers' needs and wants in regards to furthering student knowledge and awareness of vocal scholarship, science and teaching practices. iv. to provide a forum for the presentation of innovative ideas to enrich the university community. v. to bring together students, faculty and members of the community with a common interest.


Latin Band
Our purpose is to perform and inform all who will listen of the music, history and culture of Latin Music and to teach anyone and everyone who is willing to learn the style.


Early Music Club
The function of the organization shall be to explore, study and promote Early Music and historically informed performance practice.