---
Noted Fiction Writer To Give Public Reading March 25
The Sam Houston State University Master of Fine Arts program in creative writing will welcome to campus fiction writer Michael Kardos on March 25.
Kardos, the author of the novel The Three-Day Affair and the short-story collection One Last Good Time, will give a reading from his work at 6 p.m. in Austin Hall. The reading is free and open to the public.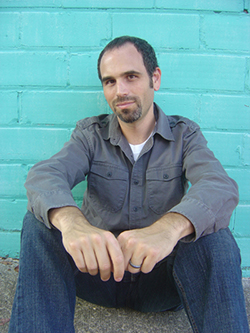 The Three-Day Affair, Kardos's debut novel published by Mysterious Press, was named by Esquire magazine as one of the best eight books of 2012, with Benjamin Percy writing that the novel "never stops roaring, the pages blurring by, dangerously accelerating. The men in this debut novel are already guilty of robbery and kidnapping; they are capable of much more."
As the novel begins, three friends who met at Princeton have left their wives at home and are headed for a golf club to celebrate their annual reunion when one of them—the self-made millionaire who lost his fortune in the dot-com crash—impulsively robs a convenience store and kidnaps the cashier. Events spiral from there.
In its review, The New York Times wrote, "What follows is a carefully calibrated study of how even the most highly evolved members of our species can become feral under pressure."
Kardos's short stories have appeared in The Southern Review, Crazyhorse, Prairie Schooner, Blackbird, Pleiades, PRISM international and many other magazines and anthologies and were cited as notable stories in the 2009, 2010, and 2012 editions of Best American Short Stories. In addition, his creative writing textbook The Art and Craft of Fiction has recently been published by Bedord St. Martin's.
Kardos grew up on the Jersey Shore, received a degree in music from Princeton University and played the drums professionally for a number of years.
He has an MFA in fiction from The Ohio State University and a doctorate from the University of Missouri.
He lives in Starkville, Miss., where he is an assistant professor of English and co-director of the creative writing program at Mississippi State University, along with his wife, the poet Catherine Pierce.
In addition to his public reading, Kardos will also be visiting classes and meeting with students, both undergraduate and graduate, in the SHSU creative writing program.
The reading is part of an on-going series of events sponsored by the SHSU MFA Program in Creative Writing. On April 3-4, Tim O'Brien, author of The Things They Carried, Going After Cacciato, and In the Lake of the Woods, among other notable works, will visit.
For more information about this event and others like it, contact Scott Kaukonen, director of the MFA program in creative writing, at kaukonen@shsu.edu or 936.294.1407.
Originally published by Today@SAM on March 6, 2013
SHSU Media Contact: Jennifer Gauntt, Scott Kaukonen