UPCOMING EVENTS
---
Fall 2023 Reading Series
Mathias Svalina
October 2–6
Darrel Alejandro Holnes
Thursday, October 11

Wynne Home Readings
Wednesday, December 6
6:00 p.m.
Wynne Home Arts Center

FALL 2023
This coming semester, we will Mathias Svalina and Darrel Alejandro Holnes to campus. Watch this space for more information, as well as for readings featuring students in our MFA program.
Darrel Alejandro Holnes: Poet and Playwright
Thursday, October 12, 6 p.m.
Peabody Library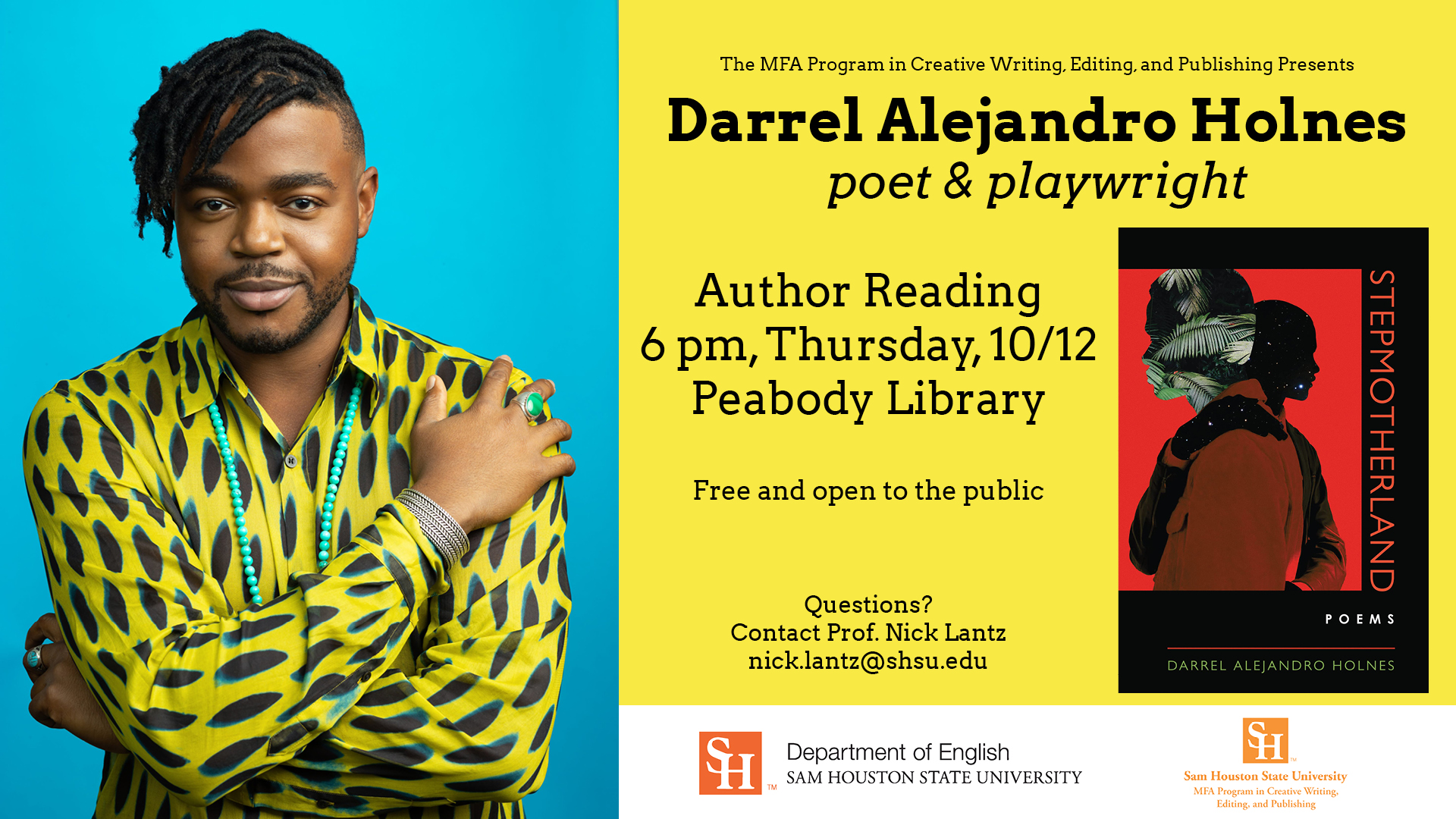 Darrel Alejandro Holnes is the author of Stepmotherland (Notre Dame Press, 2022) and Migrant Psalms (Northwestern Press, 2021). Holnes is an Afro-Panamanian American writer, performer, and educator. His writing has been published in English, Spanish, and French in literary journals, anthologies, and other books worldwide and online. He also writes for the stage. Most of his writing centers on love, family, race, immigration, and joy. He works as a college professor in New York City, NY.
On the page, he is the co-author of Prime from Sibling Rivalry Press, an Over the Rainbow List selection by the American Library Association, and the co-editor of Happiness, The Delight-Tree: An Anthology of Contemporary International Poetry, published to commemorate the United Nations International Day of Happiness. He is the recipient of a National Endowment for the Arts Fellowship in Creative Writing, the CP Cavafy Prize from Poetry International, the Andres Montoya Poetry Prize from Letras Latinas, and the Drinking Gourd Poetry Prize from Northwestern University Press. His poems have been published in American Poetry Review, Poetry Magazine, Callaloo, Best American Experimental Writing, and elsewhere in print and online.
His plays have received productions or development opportunities at the Kennedy Center for the Arts American College Theater Festival (KCACTF), The Brick Theater, Kitchen Theater Company, Pregones Theater/PRTT, Primary Stages, and elsewhere. He is a member of the Lincoln Center Director's Lab, Civilians R&D Group, Page 73's Interstate 73 Writers Workshop, and other groups. His plays, Starry Night, and Bayano, were both finalists for the Eugene O'Neill Theater Center's National Playwrights Conference, the Princess Grace Award in Playwriting, and several other awards and honors. His other plays include Black Feminist Video Game, which was produced by The Civilians for 59E59 Theaters' Plays in Place, Center Theater Group, Oregon Shakespeare Festival, and the Williams Center for the Arts at Lafayette College. His play Franklin Ave was featured in The Sol Project's Sol Fest and as a part of the Sin Muros Festival at Stages Houston. He is currently an artist-in-residence at the Latinx Playwrights Circle.
Mathias Svalina: Poet and Dream Deliverer
Monday, October 2, 6 p.m.
Evans Complex 212
Mathias Svalina is the author of seven books, most recently America at Play, a collection of absurdist instructions for children's games, published by Trident Books. His poetry collection Thank You Terror is forthcoming this winter and his first short-story collection, Comedy, will be published in 2024. Svalina was a founding editor of Octopus Books and has led writing workshops in universities, libraries, community spaces, and in prison. Since 2014, he has run a dream delivery service, traveling around the country to write and deliver dreams to subscribers. With the Dream Delivery Service, he has worked with the Denver Museum of Contemporary Art, the Poetry Foundation, The Moca Tucson, and the University of Arizona Poetry Center.
Throughout the month of October, Svalina will be in Huntsville and available to deliver poems to anyone within the Huntsville city limits. If interested, please visit www.dreamdeliveryservice.com to register for a subscription for October's deliver.
For more information, contact Dr. Ginger Ko (gingerko@shsu.edu).
NATIONAL BOOK FOUNDATION INTERN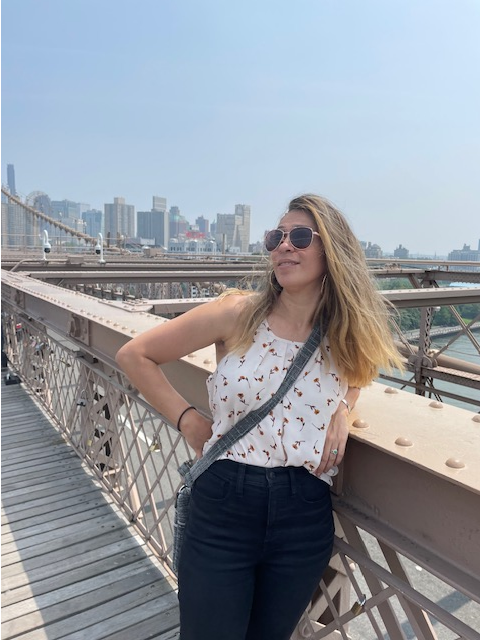 In summer of 2023, MFA candidate Miranda Ramírez was chosen from the MFA in Creative Writing, Editing, and Publishing program to serve as an intern at the National Book Foundation in New York City. In the following Q&A we caught up with Miranda to get an overview of her internship, her summer in NYC, and her current writing projects as she finishes her MFA in SHSU's MFA in Creative Writing, Editing, and Publishing program:
What did your average workday look like as an NBF intern?
An average day consisted of unboxing, cataloging, and shelving submissions, maintaining and updating data files on submitters, donations, and invitees to the awards ceremony. We often shared lunch in the conference room, which overlooked the NYC harbor.
What is one thing you learned as an NBF intern that you will carry into your professional life?
I learned there are many more paths into and within the literary field than I had realized. For example, I had the chance to meet with the head of the NBF development team. I learned much about how artistic organizations obtain funding, how development teams function, and how best to apply for grants.
What will you carry with you as a writer from spending a summer in New York City?
Spending my summer in the village was a life-altering experience and a dream come true. I wrote or sketched every day in various parks, libraries, and cafes. I visited and drew inspiration from some of the world's most impressive museums and art galleries. On top of this, I had so much time to focus on writing that I nearly completed a five-year writing project. But most importantly, I made what I hope are lifelong colleagues in my field.
What writing projects are you working on now as a 3rd year MFA candidate? What's in the future for you?
Currently, I am working on multiple projects–a novel in stories that deals with the trauma of assimilation and family dynamics in a small Texas town. While in New York, I also began working on a poetry collection whose frame includes Aztec mythology and turn-of-century NYC slang–usually commenting on personal intersectionalities.
---