Society of Women for Excellence in Engineering and Technology (SWEET)
| | |
| --- | --- |
| First Spring Meeting - Welcome Back! | January 23 |
| Meeting | February 6 |
| Meeting | February 20 |
| Meeting | March 5 |
| Meeting | March 19 |
| Meeting | April 2 |
| Meeting | April 16 |
| Last Spring Meeting and Membership Social | April 30 |
Sponsor: Ms. Rachel Scherer
Description
The Society of Women for Excellence in Engineering and Technology (SWEET) is a coed organization that is both professional and social. Student members work to inspire young women and children to pursue degrees in the field of engineering. The organization invites any student from Sam Houston State University that is majoring or minoring in the STEM/STEAM degree areas. As a STEM/STEAM SHSU student, this association provides you with an opportunity to develop your professional contacts. You will gain a better insight into what the career you have selected is all about.
Membership
Membership is open to any student at SHSU that is majoring or minoring in a STEM/STEAM field. Dues are annual to help fund all of the community outreach programs. Currently SWEET is in the progress of becoming an officially recognized collegiate chapter of the Society of Women for Engineering.
SHSU OrgLINK = https://shsu.campuslabs.com/engage/organization/sweet
Membership fee is $40.00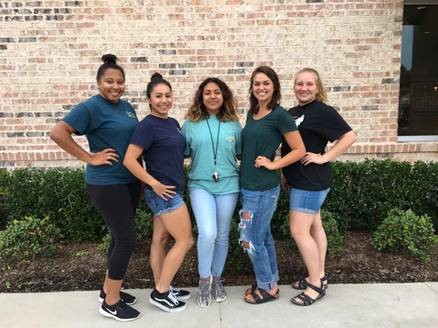 (Sunnie Ward, Mayra Padron, Jennifer Jantes, Robin Welle, Shayna Mcelroy)
FIND US ON SOCIAL MEDIA:
You can find more about us at on our social accounts.
Facebook: https://www.facebook.com/shsu.sweet/
Instagram: @SHSU.SWEET
Twitter: @SHSU_SWEET
Officer Team:
Community Outreach Projects:
Habitat for Humanity

State Park Cleanup

SWEET Speaks

Scare on the Square

Dallas ISD STEM Expo

Saturdays@SAM

Scouts@SAM – Engineering badge

Judging at Career and Technology Student Organization state contest

Volunteer/Mentoring of students of Huntsville ISD

Volunteers of the BEST Southeast Texas contest
IMPACTING THE FUTURE:
Join a society of pioneers, advocates and mentors who support and guide your collegiate and professional journey in the fields of Engineering Technology and/or STEM/STEAM. You will gain a vast pool of resources to nurture your personal and career development. Your involvement will positively impact the future of Engineering Technology and/or STEM/STEAM.
Extended Optional Collegiate Affiliate Membership:
Students have the option of joining individually to SWE for $20.00. Upon graduation are encouraged to join the professional membership or Society of Women for Engineering.
Meeting Topics and Joint Meetings:
Many student-affiliated groups have been successful in holding joint meetings with personnel from the Industry, University and SWEET membership offers outstanding value! Meetings are usually the 2nd and 4th Thursday of every month. Your membership includes:
Club t-shirt

Interaction with other SHSU student organizations socially

Team up with other SHSU student organizations to have a greater positive impact on others

Eligibility for scholarships.

Networking opportunities with practicing women STEM/STEAM, engineers and other colleges

Industry expert guest speakers

A support system of peer groups, mentors, advisors, and industry leaders.

An opportunity to develop your leadership and management skills.

Regularly scheduled meetings that allow you to get advice from fellow members on everything from time management to graduate schools, all while making lifelong friendships.

SWEET Speaks Annual Conferences hosted at SHSU

Professional development seminars

Interviewing Techniques

Former Student Success Stories

New Technologies

Field Trips to Local Industries

Social activities

Campus event participation

Community Service Projects

Fundraising activities

Equipment Demonstrations

Job Fairs

School/Dept. Open Houses
The Annual SWEET Speaks:
In the fall semester there is an annual SWEET Speaks event where members, students, and our community are invited to come hear from industry leaders and learn how to become successful in the fields of engineering and/or STEM/STEAM.