Accelerated Advanced Degree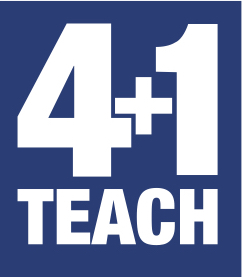 Eligible undergraduate students enrolled at SHSU can earn a four-year bachelor's degree, a two-year master's degree and the Texas Teacher Certification in just five years!
The 4+1 program helps you get ahead by providing the opportunity to take graduate level courses during your senior year. You will still graduate on time before seamlessly transitioning to the Teaching and Learning M.Ed. program for an additional year of study.
The M.Ed. in Teaching and Learning is designed for students interested in researching, developing and implementing curriculum and instructional changes to support student achievement.
Coursework
Students admitted to the 4+1TEACH program will
take three graduate courses in their final semester as an undergraduate
finish their master's degree in just 1 more year
Complete a paid internship as a teacher of record in lieu of student teaching
Participate in professional development tailored to novice teachers
Program Admission
Students apply for the program the semester before they plan to student teach.
Admission to the program is competitive.
Students are encouraged to attend an informational meeting prior to applying to the program.


Financial Aid
Students admitted to the program may be eligible to receive financial assistance throughout the program
Loan Forgiveness
Departmental Scholarships
Distance Learning Scholarships
SHSU Online 60x30 Scholarships
District incentives
Program participants are required to secure a full time teaching position within a partner school district and begin teaching the semester after they obtain their bachelor degree from SHSU. The program requires that participants make a three year commitment to the school district, during which time they are supported by a campus mentor and university supervisor.
FAQs