Dr. Abbie Strunc: Chair, School of Teaching and Learning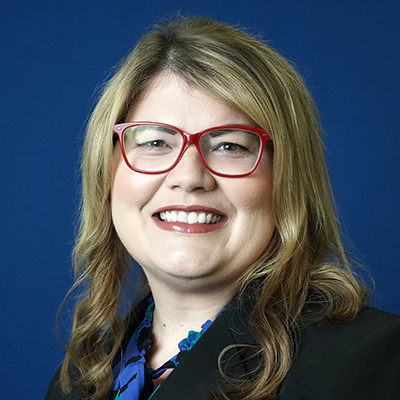 The School of Teaching and Learning is where the magic of preparing and equipping Texas teachers happens. The department houses all teacher preparation from the newest PK-3, Early Childhood through 6th grade, 4-8th grade and our growing secondary double major certification programs along with our Bilingual, Special Education and BCBA certifications. Our academic programs are innovative and lead the way to produce excellent teachers. The School works collaboratively with Educator Preparation Services to offer teacher candidates year-long residencies, certification testing support and a host of services designed for student success.
The School of Teaching and Learning also supports practicing teachers and scholars in our robust graduate programs. We are home to one of the only bilingual diagnostician programs in Texas, along with preparing diagnosticians and Reading Specialists, we offer graduate certificates in Transition Services, Dyslexia and Early Childhood. The award winning 4+1 TEACH program allows high achieving students to begin graduate work in their final semester of undergraduate courses, as they begin their first year of teaching and earn a master's degree. The School has master's degrees in Curriculum & Instruction, Teaching and Learning, Low Incidence Disabilities and Autism (LIDA), Special Education, Teaching English to Speakers of Other Languages (TESOL) and Comparative and Global Education. The School of Teaching and Learning also features a doctorate in Literacy; preparing literacy leaders to meet the challenges facing K-12 and higher education classrooms around the world. We look forward to the opportunity to have you join the dynamic work of the School of Teaching and Learning.
Professional Background
Dr. Abbie Strunc serves as the chair of the School of Teaching and Learning. Prior to joining Sam Houston State University, she served as chair and faculty member at another institution of higher education in Texas. Dr. Strunc spent the first part of her career in the high school social studies classroom where she taught world and U.S. history, government, and economics. Dr. Strunc serves in a variety of service and leadership roles including associate and managing editor for the TxEP journal. She currently serves on the Consortium of State of Texas Teachers Educators (CSOTTE) board, Texas Association of Teacher Educators (TxATE) board as, and is a member of several state and national teacher educator organizations. She earned a Bachelor of Arts in History from Texas A&M University, a Master's in Education from Texas A&M University, and Doctor of Philosophy in Curriculum & Instruction from the University of North Texas. Dr. Strunc's research interests and work include discourse analysis and educational policy, with a particular emphasis on educational policy in Texas.