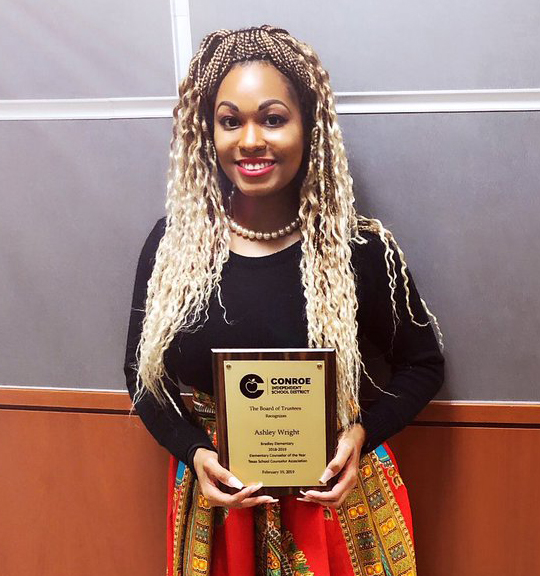 Ashley Wright
How did your SHSU Counselor Education Degree help you get your current position?
I went through undergraduate studies as an Education Major at Sam as well graduate studies as a School Counselor and LPC-intern. I am currently a school counselor in Conroe ISD. I recently graduated in May 2017. The College of Education and graduate counseling department has truly helped in shaping my career as a professional. There aren't enough words to fully express how much the College of Education has transformed me into a master educator and now counselor. Since the State of Texas requires a school counselor to have at least 2 years of teaching experience, I was able to move swiftly to this new position being that I have been educator for the past 12 years. I am currently employed in Conroe Independent School District. I taught Pre-K, 2nd and 3rd for the past 10 years, and now I've been a school counselor for 2 years. The knowledge and years of experience from my educator side has truly helped me to not only advocate for my profession but also inform, educate, and model diverse techniques, plans, and strategies with numerous administrators and teachers.
How do you use your SHSU Counselor Education degree in your current position?
I have always found it very necessary for one to have a life's purpose. Sam Houston State University has truly defined what one's life purpose is through the excellent teaching instruction led the the counseling department . Throughout my entire schooling at Sam Houston State University as an educator and now school counselor LPC-intern, I have found that my consistent life's purpose is "To serve and love others". I believe that I am a "change agent". I see the best in every individual I encounter and work to meet them right where they currently are. It is vital that I continue play my role like a "passenger", "a guide", "a supporter" with every individual who seeks my help. As it is taught and remembered in graduate studies, we as counselors are not problem solvers, rather we are passengers who help our clients or students reach their desired destinations. It is there where I find positive change in my students, teachers, and parents. My role now empowers me to help students, parents, teachers, and the community to reach positive goals and become resilient leaders. Every root of my beliefs and values have stemmed from the authentic teaching and powerful practices of the many professors I have had through this department.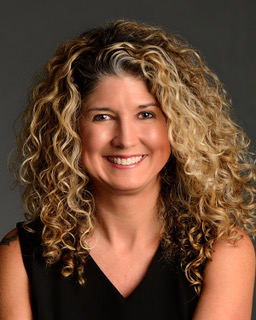 Dr. Kate Walker
How did your SHSU Counselor Education Degree help you get your current position?
When I started my PhD in counselor education at SHSU my dream was to own a private practice and teach at a university. The counselor education program at Sam prepared me to do just that. Today I have my dream job. I own my practice achieve balance. I operate a nonprofit Ann's place where I supervise counselor interns and train them in marriage and family therapy techniques. Additionally, following graduation I had the good fortune to work with my mentor and retired Director of the SHSU Counselor Education Doctoral Program Dr. Judy DeTrude. We developed online courses and a forty-hour supervisor training to deliver to other licensed professionals. This became a wonderful opportunity for us and I am very proud of the fact that on October 1, 2016, our twenty-sixth cohort graduated from the Kate Walker Training LPC Board-Approved, LPC/LMFT Supervisor Training Course. Finally, and most importantly, the SHSU counselor education degree prepared me to teach counseling students. I have been an adjunct instructor at SHSU and currently I am the director of field experience at the University of Houston Victoria/Katy Campus.
How do you use your SHSU Counselor Education degree in your current position?
I graduated with my Ph.D. in 2007 and the things I learned in the SHSU Counselor Education Program are still interwoven into every aspect of my day. The supervising and teaching techniques I acquired from Dr. Nichter and Dr. Li drive my teaching and supervising. Dr. Watts, Dr. Bruhn, and Dr. Robles-Pina taught me how to research and develop the most effective interventions for my clients, students, and supervisees. Of course the foundation for almost everything I do is my marriage and family lens and I learned those theories and techniques from Dr. Bruhn and Dr. DeTrude. Now, almost ten years post-graduation, I continue to present my research at state and national conferences and I am proud to call the current SHSU counselor education faculty members my colleagues and my friends.