News and updates
Dr. Santosh Kumar featured in Today@Sam
September 14, 2014, Today@Sam
Santosh Kumar, assistant professor of economics, took his research on the "quantity-quality trade-off" to Germany this summer, where he presented his findings at the Ibero-America Institute of Economic Research and Courant Research Center's international conference on "Poverty, Equity, and Growth in Developing and Transition Countries."
Held at the University of Gottingen, the conference brought together internationally acclaimed scholars to discuss poverty issues related to health and nutrition, finance, trade and growth, social identity, evolution and risk, among many others.
Kumar chaired a parallel (panel) session that discussed education-related issues, specifically, for Kumar, the effect of family size on education of children in India, which is known for son preference, he said.
"In economics, it is known as 'quantity-quality trade-off,'" he said. "The key idea that I wanted to explore is (the idea that) more children can be one of the causes of perpetuated poverty in less-income countries.
"If a family has more number of children (quantity) and is poor, then they will have less money to spend on children's quality (education, health); therefore, the likelihood of better education and job potential is compromised and the next generation is also trapped in poverty due to poor health and schooling," he said.
Kumar said the presentation was very well received, and the audience was excited by his findings.
---
First Indian fellow studies climate and agriculture at SHSU Department of Economics.

June 30, 2014, Today@Sam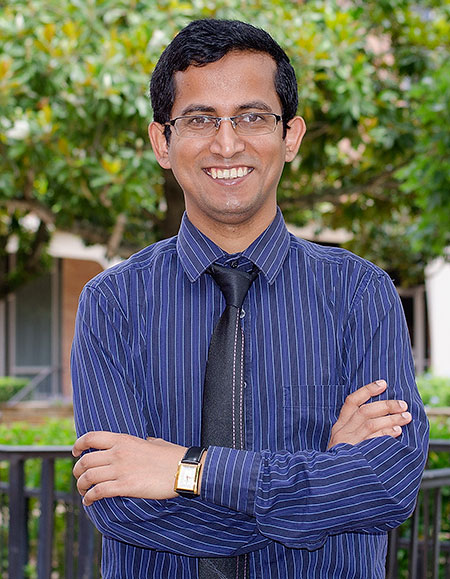 Hoping to continue his research in the effects of climate variables such as temperature and rainfall on agricultural productivity in Assam, Mandal applied for the Raman Post-Doctoral Fellowship in 2012, awarded by the University Grants Commission of the Government of India as part of the Singh-Obama 21st Century Knowledge Initiative.
The fellowship, named after C.V. Raman, a Nobel Prize-winning physicist from India, allows young Indian scholars under the age of 40 to conduct collaborative research and to receive training in advanced techniques and technologies in an American University.
"Comparing when I was a child to now, I see a big difference. Now winters are getting shorter and summers are getting hotter, so there is some indication that there are some changes in the climatic conditions," Mandal said. "Seeing this over the past 20 or 30 years, it could be these changes that are impacting the agricultural sector and thereby affecting the livelihood of so many people, that's why I am interested in this topic."
Mandal was one of 126 fellows selected to continue his research at a university in the United States. The initiative aims to strengthen collaboration and build partnerships between American and Indian institutions of higher education.
---
Dr. Berg named as new Interim Chair of the Department of Economics and International Business

June 2014.

Associate Professor and Associate Dean for Assessment Dr. Doug Berg was announced as the new Interim Chair of the Department of Economics and International Business by Dr. Muesham, Dean of the College of Business Administration.
Dr. Berg joined the Department of Economics and International Business in 1995. He was the Associate Dean for Assessment from Fall 2008 to Spring 2014 and he is currently the President of the Academy of Economics and Finance.
---
SHSU Economics Students Participate in Undergraduate Research Conference at the Dallas Federal Reserve.
April. 21, 2014.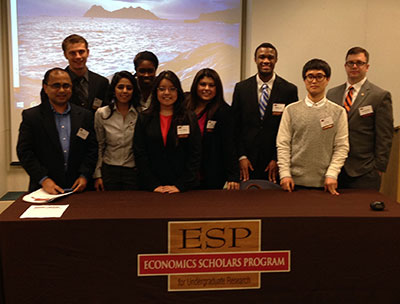 Eight economics students from the Sam Houston State University shared their work and thoughts on world economics issues during the eighth annual Economics Scholar Program Conference for Undergraduate Research on March 28 at the Federal Reserve Bank of Dallas.
Among SHSU's participants, Sahabia Ahmed and Stephen Sears presented their own papers while Ryan Johnson and Somkene Tassie participated as discussants. Seok Im, William Love, Cristina Tizado Molina, and Maria Valtierra participated as session chairs.
If you are interested in participating or just want to know more about this conference contact Dr. Nath at eco_hkn@shsu.edu
Click here to access the link to the conference's website.
---
Dr. Troy Quast receives National Institute of Health (NIH) Grant.
February 2014.
SHSU Associate Professor of Economics Dr. Troy Quast and Dr. Karoline Mortensen of the University of Maryland were awarded a $147,474 grant from the prestigious National Institute of Health (NIH). This is the first NIH grant awarded to a faculty member of the College of Business Administration at SHSU.
The goal of this grant is to analyze the diagnoses and treatment of selected chronic conditions for Displaced Louisiana Children (DLCs) from low socio-economic backgrounds following Hurricane Katrina. The analysis will employ individual-level administrative data to examine the health care utilization of the roughly 30,000 DLCs enrolled in TexKat, the temporary emergency Medicaid waiver program for Katrina evacuees in Texas. The use of these data represents a potential improvement over the vast majority of existing post-disaster studies which typically employ survey data.

The project will provide critical information to federal, state and local agencies planning care for low-income children following disasters. The analyses of diagnoses and health care use both immediately following displacement and in the following months will provide insight into the health care needs for conditions known to be exacerbated by discontinuous medical care. By determining the services obtained by these children, our findings will assist evacuation destinations to more efficiently prepare for an influx of evacuees. Finally, policymakers may be able to use our findings to improve future Medicaid emergency waivers.
---
Dr. Mark Frank in the news.
January 2014
Professor of economics Dr. Mark Frank discussed his data on income inequality in Texas since the 1970s in a Dallas Morning News article. His research also has appeared on NPR and in the Fort Worth Star-Telegram.
---
Dr. William Green is awarded the SHSU Faculty Excellence in Service Award
August 30, 2013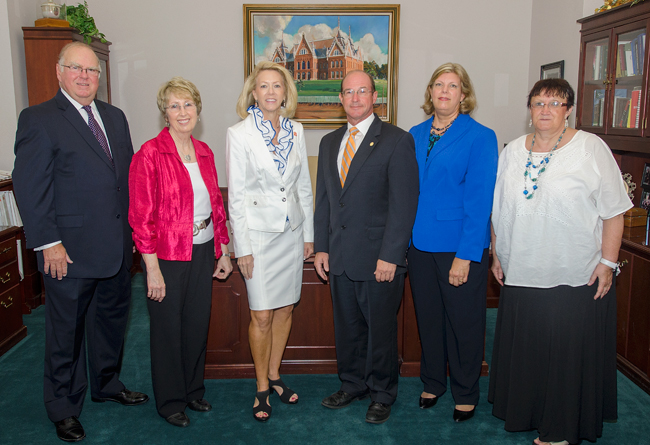 Dr. William Professor of Economics and former Chair of the Economics and International Business Department was awarded the 2013 SHSU Faculty in Excellence Service Award. Dr. Green's commitment to both Huntsville and Sam Houston State University for nearly four decades has earned him recognition as the Excellence in Service award recipient. This award, which carries a cash stipend of $5,000, honors a faculty member who has achieved excellence in the area of service to Dr. Green's profession and to the University. Dr. Green's contributions to both the community and university began only two years after moving to Huntsville and joining the SHSU faculty in 1974, being elected to the faculty senate and appointed to the Huntsville Planning Commission and Huntsville Data Base Commission in 1976. In addition to the tremendous honor o
Dr. Green has served as a member of, and chaired, a lengthy list of university, college and departmental committees, including presidential, vice presidential and dean search committees; the university curriculum and faculty evaluations committees; and the Faculty and Staff Annual Fund Campaign. He also helped organize and currently advises the SHSU chapter of the Golden Key International Honor Society, a campus-wide honorary organization that annually inducts over 200 new members, and recently chaired the College of Business Administration's steering committee for reaccreditation by the Association to Advance Collegiate Schools of Business and drafted the AACSB reaccreditation report.
---
SHSU Economics Student Named First Regents' Scholar
Nov. 16, 2012, Today@Sam
Sahabia Ahmed, a senior economics and international business major from Tanzania, was selected by the system chancellor based on her outstanding academic achievement and scholarship in her studies, strong commitment to and leadership in co-curricular activities, and notable contributions to her university and community.
In addition to a framed resolution and medallion, Ahmed was awarded a $2,500 scholarship at the TSUS Board of Regents meeting held Nov. 16 on the SHSU campus.
---
Dr. Hiranay Nath feature in Today@Sam.
Nov. 17, 2011, Today@Sam
A world away from the small village in India where he grew up, Sam Houston State University economics professor Hiranya Nath has an office crammed with books and papers—the tangible evidence of his work at the university, studying macro and monetary economics, and development and information economics.
Somewhere in between the books and papers, according to Nath, is one of the most important tools he uses: his world view.
"Going back to India to visit my family is a really conducive environment to my economic thinking," Nath said. "The India of today, one of the fastest growing countries in the world, is not the same India I grew up in. It is constantly changing and growing, and I am amazed at the progressive economy there. Since I grew up there, it is easy to link my research on developing countries and understand it better using my world view."
---
Dr. Hiranya Nath is awarded the SHSU Faculty Excellence in Research Award.

May 20, 2011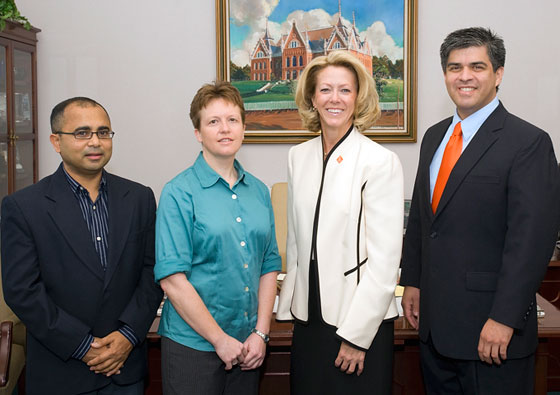 Dr. Hiranya Nath has received the 2011 SHSU Faculty Excellence in Research award. This award, which carries a cash stipend of $5,000, honors a faculty member who has achieved excellence in the area of scholarly endeavor.
Dr. Nath's research on macro and monetary economics, development economics, and information economics has resulted in over 30 publications in peer-reviewed journals and other outlets. One of his papers, "Information Services in the U.S. Economy: Value, Jobs, and Management Implications," was published in the California Management Review and was required reading for graduate-level courses at the University of California, Berkeley.
Nath has established a research seminar series within the SHSU Department of Economics and International Business as well as a departmental working paper series, which has promoted interactions with scholars around the world.
Dr. Nath has an outstanding reputation in the research community. He has over 25 publications and his publications have appeared in journals as prestigious as the Journal of Money, Credit and Banking, Journal of Macroeconomics (these two are among the top journals in the field of macroeconomics), the Review of Development Economics, Economic Letters and California Management Review (one of the top journals in management). Dr. Nath's spectrum of publications has been also in the form of book chapters and proceedings at different conferences. He has been invited to be the external reviewer of doctoral dissertations at universities around the world and has been a member of the editorial board of a prestigious journal.
---
Dr. Hegwood and Dr. Tuttle receive AEF "Best Paper Award"
February 2011.
Dr. Natalie Hegwood, Clinical Assistant Professor and Dr. Mark Tuttle, Associate Professor, both of the Department of Economics and International Business, were awarded the "Best Paper Award" for the 2010 Academy of Economics and Finance Conference for their paper entitled "Testing the Greenspan Hypothesis." The award was announced at the 2011 conference held in Jacksonville, Florida, in February 2011.