Player Development Program
The Player Development Program is designed to assist students in passing their Player Ability Test (PAT). Students who have not passed the PAT will be required to take part in the Player Development Program. Golf instruction for the Player development program is provided by Chris Rowe, Head Professional at Whispering Pines Golf Course.
In addition, each student's golf swing will be analyzed a minimum of twice each semester with recommendations given by a PGA professional. At the beginning of every semester, students will be given a schedule of when their two Player Development lessons will take place. At the conclusion of each golf lesson, a practice routine will be developed to address the student's specific weaknesses. Each lesson will be documented and kept on file in the PGA Golf Management office.
About the Instructor: Chris Rowe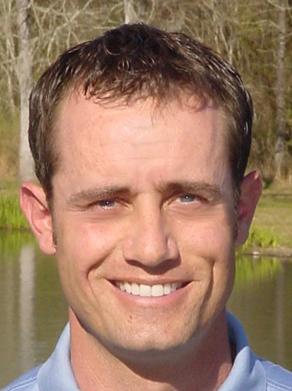 Chris started his professional career at Dornick Hills Country Club in Ardmore, Oklahoma after playing golf for East Central Oklahoma University. After three years of apprenticeship at Dornick Hills, Chris became an assistant at the historic Colonial Country Club in Fort Worth, Texas. Ten PGA Tour events and thousands of lessons later, Chris became the Head Professional at Whispering Pines Golf Club.
Chris was nominated to Golf Digest and Golf Magazine's Top 100 List. Chris had one student make it through all three stages of PGA Q School to earn his card for the 2005 season along with having four State Champions under his tutelage. In addition, over a dozen of Chris' students have gone on to play collegiate golf. Chris has been published in Golf Digest along with other numerous publications and continues to write monthly columns for Houston Links Magazine and DFW Links Magazine.
About the Player Ability Test (PAT)
Each student must pass the PAT in order to graduate. Each PGA Golf Management student must attempt the PAT once per semester or twice per year until it is passed. PGA Golf Management students are strongly encouraged to attempt a third PAT during the year.
In order to pass the 36-hole PAT, you must achieve a 36-hole score within 15 shots of the course rating. For example, if the course rating is 72, the target score for the 36-holes would be 159 (72 x 2 = 144 + 15 = 159). This competition is normally conducted in one day. The PAT is conducted from the middle tees of the golf course with the hole locations set in the middle of the green in a generally flat area.
Registrations are taken in order of receipt at the PGA of America National Office and through PGALinks.com. There is a 30 day registration deadline for every PAT and an individual may be registered for only two PAT's at any one time. The registration fee, paid at the time of registration, is $100.00 for each PAT and the registrant is responsible for all additional on-site fees.
Teaching Accolades
2007 & 2012 STPGA Harvey Penick Teaching Award
2012 Selected as U.S. Kids Top 50 Teachers
2008, 2009, 2010, 2011 Honorable Mention U.S. Kids Top 50 Teachers
2005 & 2007 Golf Magazine Top Instructors Southeast United States
Published twice in Golf Digest and numerous other magazines
Writes monthly teaching article for Houston Links & DFW Links Magazine
Current students: Robert Thompson, Senior PGA Tour; Will Griffin, University of Texas Golf Team; Hanna Arnold, Texas Tech Women's Golf Team; Matt Boyd, Nationwide Tour