Mission & Vision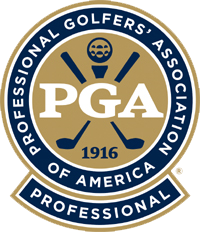 The PGA Golf Management program, accredited by The Professional Golfer's Association (PGA) of America, is a college degree program designed to attract and educate bright, highly motivated men and women to service all aspects of this developing industry. This comprehensive degree program blends college/university requirements for a golf industry compatible major with a specialization in PGA Golf Management. The purpose of the Sam Houston State PGA Golf Management program is for students to earn their Bachelor of Business Administration degree while becoming a member of The PGA of America.
About The PGA Professional Golf Management Program
Classes have been designed to aid the students in the completion of the PGA's educational program. Class topics include Retail Merchandising and Inventory Management, Turfgrass Management, and Food and Beverage Management, in addition to the University curriculum.
Students in the university program are not considered apprentices because they are not required to be eligibly employed as they complete their course work. They are, however, required to complete a series of internships at PGA Recognized Golf Facilities. Furthermore, PGA Golf Management University students are not required to attend seminars at the PGA Education Center in Florida. Instead, their seminars are conducted on campus and scheduled and conducted by PGA PGM faculty. Upon completion of all PGA PGM Program requirements, graduation from the university and documentation of eligible employment, students are elected to membership in The PGA of America.
NOTE: An individual must be either a U.S. Citizen or resident alien to be elected to PGA membership.
NOTE: All PGA Golf Management University Program Graduates are required to complete a background check prior to applying for membership.