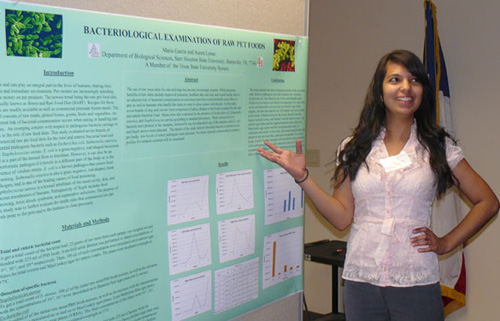 Maria Garcia (mentor Dr. Aaron Lynne) presenting a poster of her research at the 2011 Undergraduate Research Symposium. This University-wide event is sponsored by the Elliot T. Bowers Honors College.
20 things you can do with a degree in Biology:


forest management
medical technologist
USDA quarantine officer
patent examiner
national park guide
forensic scientist
science journalist
K-12 educator
pharmaceutical or biotech sales representative
nutritionist
wildlife biologist
public health officer
medical and health services managers
health communications specialists
fitness trainer
phlebotomist
esthetician
environmental technician
zookeeper
preparation for advanced degrees in: medical school, pharmacy school, dental school, veterinary school, podiatry school, mortuary school, law school, physicians assistance school, and graduate schools in biomedical sciences or zoology or botany
Additional Resources:
AAAS Mass Media Science & Engineering Fellows Program
The 2011 AAAS Mass Media Science & Engineering Fellowship application is now available online. Learn more and download an application at:http://www.aaas.org/programs/education/MassMedia/.
The American Association for the Advancement of Science (AAAS) Mass Media Science & Engineering Fellowship seeks to increase communication skills in student scientists. From grant writing to interaction with their community, today's young scientists must also be able science communicators. The lessons they learn through the Fellowship experience will benefit their career path and help them increase public understanding of science and technology.
The Fellowship places senior undergraduate and graduate science, engineering and mathematics students at media sites nationwide to work as science reporters for 10 weeks.
Past sites include the Chicago Tribune, NPR and Scientific American. By exposing reporters and editors to the expertise of student scientists, while also training those same students in the nuances of journalism, the program can improve the quality of information that is disseminated.
For more than 40 years the Fellowship has trained student scientists who have gone on to contribute to the larger scientific discussion including, Eric Lander, Founding Director The Broad Institute of Harvard and MIT; Edward J. Weiler, Acting Associate Administrator for the Science Mission Directorate, NASA; and Kenneth Chang and Erica Goode of the New York Times.
AAAS is an international non-profit organization dedicated to advancing science around the world. Founded in 1848, AAAS serves some 262 affiliated societies and academies of science, serving 10 million individuals. AAAS also publishes the journal Science, which has the largest paid circulation of any peer-reviewed general science journal in the world, with an estimated total readership of 1 million.
AAAS selects 15-20 Fellows each summer. There is a $4,500 stipend plus travel expenses.
Deadline is January 15, 2011.
AAAS
Mass Media Science & Engineering Fellows Program
1200 New York Ave., NW, Room 639
Washington, D.C. 20005
202-326-6441
http://www.aaas.org/programs/education/MassMedia/
NATIONAL FUNDING SOURCES

GRANTSTNET
http://www.grantsnet.org
Large website hosted by Howard Hughes Medical Institute and AAAS



SOCIETY FOR THE STUDY OF AMPHIBIANS AND REPTILES
List of grants compiled by SSAR but not exclusive to students in herpetology.


AMERICAN ASSOCIATION OF UNIVERSITY WOMEN
http://www.aauw.org
http://zoology.ou.edu
Dissertation Fellowship
Stipend to assist American women in final year of doctoral work in any field.
Stipend = $20,000
Deadline: 15 November. Application materials available 1 August
Postdoctoral Research Leave Fellowships
Stipend = $30,000
Deadline: 15 November. Application materials available 1 August
Career Development Grants
Support women who hold a bachelor's degree and are preparing to advance their careers, change careers, or re-enter the work force. Funds are available for tuition, fees, books, supplies, local transportation, and dependent care.
Grant award: $2,000-$8,000
Deadline: 15 December. Applications available 1 August
Grant year: 1 July - 30 June


AMERICAN MUSEUM OF NATURAL HISTORY
http://research.amnh.org/grants/index.html
Collection Study Grants
Supports predoctoral and recent postdoctoral investigators for study in vertebrate zoology and anthropology collections. Applications require prior inquiry to collections manager.
Award: $500-1500 for travel and subsistence
Deadline: variable depending on department (taxonomic group)
Frank M. Chapman Memorial Fund
Supports ornithological research anywhere in the world
Award: range from $200 - $1000
Deadline: Jan 15
Theodore Roosevelt Memorial Fund
Supports research on North American vertebrates, except birds
Award: range from $200 - $1000
Deadline: Feb 15
Lerner-Gray Fund for Marine Research
Supports projects dealing with systematics, evolution, ecology and field-oriented behavioral studies of marine animals
Award: range from $200 - $1000
Deadline: March 15


AMERICAN ORNITHOLOGISTS' UNION
http://www.aou.org
Several different funds that support student members of the American Ornithologists' Union
Award: up to $1,800
Deadline: February 1
List of other funding sources for research on birds:
http://www.nmnh.si.edu/BIRDNET


AMERICAN SOCIETY OF ICHTHYOLOGISTS AND HERPETOLOGISTS
http://www.asih.org/
Applicant should be member of ASIH and enrolled for an advanced degree.
Gaige Fund Award
Funds for herpetologists for museum or lab work, travel, or fieldwork
Award: $500
Deadline: March 1
Raney Fund Award
Funds for ichthyologists for museum or lab work, travel, or fieldwork
Award: $150 - $1000
Deadline: March 15


AMERICAN SOCIETY OF MAMMALOGISTS
http://www.mammalsociety.org
Grants-in-Aid
Supports society members for any aspect of research in mammalogy, except travel to meetings.
Award: up to $1000
Deadline: March 1
Albert R. and Alma Shadle Fellowship in Mammalogy and American Society of Mammalogists Fellowship in Mammalogy
Supports society members (1 of each per year). Applicants must be enrolled as graduate students in the United States and be engaged in research in any area of mammalogy.
Award is approximately $3,000-3,500 and $6,000, respectively.
Deadline: March 1
A list of potential funding sources for mammalogists:http://www.mammalsociety.org (revised Nov 2000)


AMERICAN WILDLIFE RESEARCH FOUNDATION, INC.(Information not verified since 1998)
Maurice M. Alexander, Secretary
4039 Tanner Rd. RD#2
Syracuse, NY 13215
Supports research that contributes to restoration, protection, and conservation of natural resources (including wildlife). Favors awarding "seed" money to get larger grants.
Award: $1000
Deadline: July 15


ANIMAL BEHAVIOR SOCIETY
http://www.animalbehavior.org
ABS Student Research Grant
Supports grad students who are ABS members.
Award: $1000 maximum
Deadline: January 25


CANON NATIONAL PARKS SCIENCE SCHOLARS PROGRAM
http://www.nps.gov/socialscience/waso/acts.htm
Supported eight doctoral students in 2001 to conduct research in national parks. The 2001 competition focused on four research topics within the biological, physical, social and cultural sciences. The research topics were of critical importance to the management of the National Park System and selected by the National Park Service.
Award: $25,000/year for up to 3 years
Deadline: June 1, 2001. Winners will be announced in early August


ECOLOGICAL SOCIETY OF AMERICA
http://www.esa.org
List of funding and job opportunities.
Forrest Shreve Desert Research Fund
http://www.esa.org/esa/?page_id=2934
Provides money for research in hot deserts.
Award: $1,000 - $2,000
Deadline: July 15


ENTOMOLOGICAL SOCIETY OF AMERICA
Entomology Awards for Graduate and Postdoctoral Students
The Entomological Society of America awards the following:
1) Undergraduate Scholarships - one $2,000 scholarship and three $1,500 scholarships are available to students interested in entomology.
2) Henry and Sylvia Richardson Research Grant - $1,000 to a postdoctoral member of ESA who has at least 1 year of work experience and is doing research in the area of insect control by attractants, repellents, or biological, thermo, or chemical controls. Second priority is given to students working in insect control of medical/veterinary importance.
3) Jeffery P. LaFage Graduate Student Research Award - provides up to $2,000 for graduate student research on the biology or control of pests in the urban environment.
4) Plant Resistance to Insects Graduate Student Research Award - a plaque and grant awarded to a graduate student in entomology or plant breeding/genetics for innovative research that contributes significantly to the knowledge of plant resistance to insects.
5) Stanley Beck Fellowship - for an undergraduate or graduate student in entomology or related disciplines who is a member of a minority, or has a need based on physical limitations or economic or environmental conditions.

CONTACT: Entomological Foundation, 9332 Annapolis Rd., Suite 210, Lanham, MD 20706.
Web: http://www.entfdn.org
Telephone: (301) 459-9082.
Email: melodie@entfdn.org
DEADLINE: 31 May for 1); 1 July for 2), 3), and 4); 1 September 2002 for 5).



ENVIRONMENTAL DEFENSE FUND
http://www.edf.org/
Environmental Science Minigrants
EDF is a nonprofit organization that funds proposals related to climate change, toxic chemicals, wetlands, water quality, and other areas. Particularly interested in topics impacting issues of concern to local communities.
Award: $15,000 maximum
Letter of inquiry deadline: mid-December


ENVIRONMENTAL PROTECTION AGENCY
http://www2.epa.gov/home/grants-and-other-funding-opportunities
Science To Achieve Results (STAR) Graduate Fellowships Click here to view fellowships
Graduate fellowships for master's and doctoral level students in environmentally related fields of study
Award: $17,000 annual stipend, $5,000 for authorized expenses, and up to $12,000 for tuition and fees
Deadline: mid November


GRADUATE WOMEN IN SCIENCE
http://www.gwis.org
http://zoology.ou.edu
Award restricted to members of SDE/GWIS (membership may be obtained by including $20.00 in membership dues with the fellowship/travel award application)
Eloise Gerry Fellowship Fund
Fellowship awards for graduate research by women in biological, physical, or mathematical sciences.
Award: $2,000-$3,000
Deadline: Dec 1
Applicants must be graduate students or hold PhD from recognized institution.
SDE Fellowship
Supports predoctoral research by women in biological, physical or mathematical sciences.
Award: $1500 - $3000
Deadline: Dec 1


HOWARD HUGHES MEDICAL INSTITUTE
http://www.hhmi.org/grants/
Predoctoral Fellowships in Biological Sciences
Supports research in many areas including cell biology, developmental biology, neuroscience, physiology
Award: $15000/year for up to 5 years of support. 80 fellowships each year.
Deadline: mid November


INTERNATIONAL SOCIETY FOR DEVELOPMENTAL PSYCHOBIOLOGY
http://www.isdp.org/
NIH Travel Awards
Supports travel to annual meeting
Award: variable
Deadline: Late July (See grads in Sullivan/Wilson lab for information)


MUSEUM OF COMPARATIVE ZOOLOGY
Mayr Travel Grants in Animal Systematics
The Museum of Comparative Zoology at Harvard University awards Ernst Mayr Grants averaging $1,000 to animal systematists for short visits to museums to undertake taxonomic research on neglected taxa. Preference is given to studies that use the MCZ collections.

CONTACT: Director, Museum of Comparative Zoology, Harvard University, 26 Oxford St., Cambridge, MA 02138.
Telephone: (617) 495-2475.
Email: mayrlib@oeb.harvard.edu
Fax: (617) 496-6838.
Web: https://mcz.harvard.edu/ernst-mayr-travel-grants
DEADLINE: 15 April 2002.


NASA
http://www.earth.nasa.gov


NATIONAL INSTITUTE ON DRUG ABUSE
Drug Abuse Dissertation Research
The National Institute on Drug Abuse will award small grants (R03) to support drug abuse doctoral dissertation research in epidemiology, prevention, treatment, services, and women and gender differences. Investigators are encouraged to explore the possible importance of gender differences in their chosen area of study or to explore drug abuse issues specific to women. Special attention will be given to proposals by individuals from racial or ethnic groups underrepresented in the biomedical and behavioral sciences.

CONTACT: William Bukoski, Office of the Director, Div. of Epidemiology,
Services, and Prevention Research, NIDA, 6001 Executive Blvd., Rm. 5153,
M/S 9541, Bethesda, MD 20892-9541.
Telephone: (301) 402-1526.
Fax: (301) 443-2636.
Email: bb75h@nih.gov
Web: http://grants.nih.gov/grants/guide/pa-files/PA-02-055.html
DEADLINE: 1 June, 1 October 2002; 1 February 2003.

NATIONAL INSTITUTES OF HEALTH
http://grants.nih.gov/grants/funding/funding.htm
Individual National Research Service Award
These awards are available at pre- and post-doctoral levels for 1-3 years. Supports research related to human health (interpreted somewhat broadly). Award provides stipend in addition to about $3000 for research and travel.
Deadlines: April 5, Aug 5, Dec 5


NATIONAL SCIENCE FOUNDATION
http://www.nsf.gov
http://zoology.ou.edu
Doctoral Dissertation Improvement Grants
Proposals whose focus is ecological, evolutionary, or behavioral and proposals to develop or exploit unique instrumental, informational or computational resources for biological research are eligible. Grants usually funded for 24 months, but flexible.
Award: $3000 - $10,000
Deadline: fall

NATIONAL SCIENCE FOUNDATION
Graduate Teaching Fellows in K-12 Education
The NSF will support fellowship programs at academic institutions that enable graduate students and advanced undergraduates in science, math, engineering, and technology to serve in K-12 schools as resources knowledgeable about content and applications within those disciplines. Grants are awarded to academic institutions to support fellowship activities; the institutions are responsible for selecting fellows, partnering with school districts for placement of fellows in schools, and providing appropriate training for fellows. Awards will range from $300,000 to $500,000 per year for 2 to 3 years. NSF 02-042.

CONTACT: Terry Woodin, Div. of Graduate Education, NSF, Rm. 907, 4201
Wilson Blvd., Arlington, VA 22230.
Telephone: (703) 292-8697.
Email: twoodin@nsf.gov
Web: http://www.nsf.gov/pubs/2002/nsf02042/nsf02042.html
DEADLINE: 1 May for letters of intent; 10 June 2002 for full proposals.

SANDPIPER TECHNOLOGIES
http://peeperpeople.com/grants.html
Wildlife Biology Grants for Graduate Students
Sandpiper Technologies awards equipment grants, equipment discount grants, and cash grants to aid graduate students in wildlife biology research. The company specializes in burrow probes, underwater and elevated cameras, and time-lapse surveillance devices.

CONTACT: Ann Christensen, Sandpiper Technologies, 535 W. Yosemite Ave., Manteca, CA 95337.
Telephone: (209) 239-7460.
Fax: (209) 239-1571.
E-mail: grants@peeperpeople.com
DEADLINE: 1 December 2002.

SIGMA XI
http://www.sigmaxi.org
Grants-in-Aid of Research
Awards to support scientific research in any field. Now requires that the applicant's advisor be an active (paying) member of Sigma Xi.
Award: $1000 maximum
Deadline: March 15, October 15


SOCIETY FOR INTEGRATIVE AND COMPARATIVE BIOLOGY
http://www.sicb.org/awards.php3
SICB Grants-in-Aid of Research
Provides awards to SICB graduate student members to support research in integrative and comparative biology. Funds purchase of supplies, travel. May receive once during grad tenure.
Award: $1000 maximum
Deadline: November 15
Libbie H. Hyman Memorial Scholarship Fund
Awarded by the Division of Invertebrate Zoology to advanced undergrads or beginning grad students, to provide funds for coursework or research at a marine, terrestrial, or freshwater field station.
Award: about $700
Deadline: Early March

SOCIETY OF VERTEBRATE PALEONTOLOGY
Vertebrate Paleontology Fellowship
The Society of Vertebrate Paleontology annually awards a fellowship to support research by a graduate student in vertebrate paleontology who is within 18 months of completion of a Ph.D. The 2002 award provides $2,500.
CONTACT: Elizabeth McGee, San Jose State University, Dept. of Biological
Sciences, San Jose, CA 95192-0100.
Telephone: (408) 924-5277.
Email: emcgee@email.sjsu.edu
Web: http://vertpaleo.org/
DEADLINE: 19 April 2002.

SOCIETY FOR THE STUDY OF AMPHIBIANS AND REPTILES
http://www.ssarherps.org/
Grants-in-Herpetology
Supports herpetological research, education, or conservation.
Award: $500 average
Deadline: December 31
List of international funding sources: http://www.ssarherps.org/
Foundations and organizations selected because they are open to international students and professional herpetologists


SMITHSONIAN ENVIRONMENTAL RESEARCH CENTER
https://serc.si.edu/interns-fellows
Various fellowships and internships


SOCIETY FOR ADVANCEMENT OF CHICANOS AND NATIVE AMERICANS IN SCIENCE
http://www.sacnas.org
Employment, Fellowship, and Scholarship Opportunities for Minorities in Science
SACANAS supports Chicano/Latino and Native American students to pursue graduate education and obtain the advanced degrees necessary for research careers and science teaching professions at all levels


WESTERN SOCIETY OF MALACOLOGISTS
Student Research Grants in Malacology
The Western Society of Malacologists invites applications for grants of up to $1,000 to support student research in malacology. Funds are to be used for actual research costs, which may include field and laboratory equipment, chemicals, photographic supplies, computer time and supplies, microscope usage fees, and research travel costs. Applicants must be undergraduate or graduate students whose projects are focused primarily on the systematics, biology, ecology, physiology, biochemistry, or paleontology of marine, terrestrial, or freshwater mollusks.

CONTACT: Henry Chaney, Dept. of Invertebrate Zoology, Santa Barbara Museum
of Natural History, 2559 Puesta del Sol Rd., Santa Barbara, CA 93105.
Telephone: (805) 682-4711, ext. 334.
Email: hchaney@sbnature2.org
Web: http://www.sbnature.org
Fax: (805) 963-9679.
DEADLINE: 1 May 2002.
For more information, we recommend:
The Institute for Broadening Participation has a website Pathways to Science, and has collected a number of resources useful to undergraduate students interested in research, including a listing of summer research programs. See it here.
The O*NET database provides comprehensive occupational descriptions which can keep up with the rapidly changing nature of work and how it impacts the workforce and U.S. economy. Use it here to help you shape your training for the occupation that you want.
Life Sciences Building
Department of Biological Sciences
2000 Ave. I, Lee Drain Building (LSB)
P.O. Box 2116
Huntsville, Texas 77341
Phone: 936.294.1540 Fax: 936.294.3940
Building Hours: 7:00 a.m. - 8:00 p.m., Monday - Friday