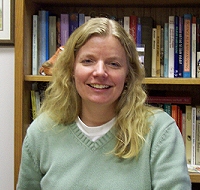 Professor
Avian behavioral ecology and conservation
Ph.D., York University
Office: LDB 115 C
Phone: (936) 294-1548
Fax: (936) 294-3940
Website: https://www.shsu.edu/~bio_dln/
E-mail: neudorf@shsu.edu
Research Interests
Breeding biology, brood parasitism, predator-prey interactions, urban ecology, conservation.
Recent Publications
Neudorf, D.L.H., Brodrick, M.J. and Cureton II, J. In press. Parental provisioning of Carolina Wren nestlings. Wilson Journal of Ornithology.
Neudorf, D.L.H., Sears, K.E. and S.G. Sealy. 2011. Responses of nesting Yellow-Headed Blackbirds and Yellow Warblers to wrens. Wilson Journal of Ornithology123:823-827.
D'Orazio, K.A. and D.L.H. Neudorf. 2008. Nest defense in Carolina Wrens. Wilson Journal of Ornithology 120:467-472.
Gill, S.A., Neudorf, D.L.H. and Sealy, S.G. 2008. Do hosts discriminate between sexually dichromatic male and female brown-headed cowbirds? Ethology 114:1-9.
Humbird, S.K. and D.L.H. Neudorf. 2008. The effects of food supplementation on extraterritorial behavior in female Northern Cardinals. Condor 110:392-395.
Neudorf, D.L.H., Stutchbury, B.J.M. and Piper, W.H. 2008. The function of breeding season chip calls by female hooded warblers. Behaviour 145:231-250.
McGlothlin, J.W., Neudorf, D.L.H., Casto, J.M., Nolan JR., V., and Ketterson, E.D. 2004. Elevated testosterone reduces choosiness in female dark-eyed juncos (Junco hyemalis): evidence for a hormonal constrain on sexual selection? Proceedings of the Royal Society of London: Biological Sciences 271:1377-1384.