Cynthia L. Blankenship
Cynthia L. Blankenship is a past chairman of the Independent Community Bankers of America (ICBA), the only national trade association that exclusively represents community banks. A charter shareholder, director and vice chairman/corporate president of Bank of the West in Grapevine, Texas, Blankenship serves on the ICBA Board of Directors. She has been ICBA Chairman, chairman-elect and vice-chairman. Blankenship has chaired ICBA's Bank Education, Congressional Affairs, Membership/Marketing, Nominating, Policy Development and Strategic Planning committees. She is immediate past Chair of ICBA Services Network and sits on the ICBA Federal Delegate Board. She most recently served on the FDIC Community Banking Advisory Board.
Blankenship has testified many times on Capitol Hill before the House Financial Services Committee and the Senate Banking Committee. She has attended meetings at the White House and participated in a nationally broadcast press conference with President Barack Obama and Treasury Secretary Timothy Geithner. She continues to have a presence in Washington, D.C., by attending meetings at the Treasury, Federal Reserve Bank, CFPB and the Small Business Administration.
She was chairman of the Independent Bankers Association of Texas in 2002 and chairman of the IBAT Education Foundation, which raised more than $1 million for financial literacy. Blankenship was appointed Dean for Bankers and chaired the Southwestern School of Banking Foundation at Southern Methodist University. In 2009, she received the Distinguished Alumni Award from the Southwestern Graduate School of Banking - Southern Methodist University Cox School of Business. In 2004, U.S. Banker magazine named her one of the 50 Most Powerful Women in Banking. In November 2010, she was named as one of the 2010 Great Women of Texas. She is scheduled to be inducted into the Sam Houston University Texas Banker Hall of Fame in April 2019. She is a member of the Grapevine Chamber of Commerce and recipient of the 1999 Arts Education Award, the 2004 Colleyville Women's Club Novus Award, and the 2014 D. E. Box Citizen of the Year. In 2009, she chaired the Grapevine based festival's GrapeFest annual Gala, which focuses on Texas wineries and is one of the largest community events in the Southwest. Ms. Blankenship currently sits on the Grapevine Convention and Visitors Bureau board of directors.
Her community bank specializes in small-business lending and has eight locations. Blankenship lives in Grapevine, Texas, with her husband, Gary. They have three daughters, Lisa, Bailey and Samantha.
---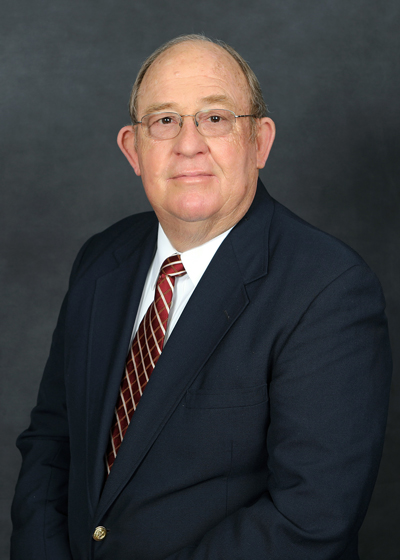 Randal Clayton
Randal Clayton has provided banking services to the citizens of Van Zandt County for forty-six years. From teller to President and Chairman of the Board of Directors, Randal has spent his entire banking career with the First State Bank of Ben Wheeler. The bank has been locally owned and operated since 1911.
At Brownsboro High School, Randal received the Lone Star Farmer Degree in FFA and was an All-American linebacker. He played football for one year at Tyler Junior College before earning both a Bachelor of Business Administration and Master of Business Administration from East Texas State University in Commerce.
Randal began his banking career as a teller in 1972, then progressed to Loan Officer and Vice-President. In 1986, Randal and his wife, Pam, purchased the bank from Truitt Fulgham, making them 100 percent shareholders. First State Bank of Ben Wheeler then became only one of six banks in the State of Texas to be owned by one stockholder. At that time, the bank had total assets of $9.5 million with one branch. At the end of 2018, the bank had grown to four branches with $146 million.
In 1987, a branch bank was opened in Edom. In 1998, the bank located in Ben Wheeler moved into a brand new building and vacated the premises it had occupied since around 1919. Randal Clayton donated the vacated building to Van Zandt County to be used as an office facility and court for the local Justice of the Peace. Additional branch banks were opened in Canton in 2001 and in Edgewood in 2009.
First State Bank of Ben Wheeler is the one of the last family owned and operated banks in the state. Randal's son, Chet Clayton, and daughter, Gina Thelen, now manage the bank's daily operations and all three of his children, Julie Stern, Chet, and Gina, serve on the Board of Directors. This unique position makes the bank the one of the few available resources for customers who prefer or need services, which can only be provided by a bank with local decision-making power.
Still active in the bank, Randal can be found at the bank talking with customers and sharing his forty-six years of knowledge and experience with customers and employees alike. When not at the bank, Randal enjoys his cattle, tractors, motor home trips, and spending time with his eight grandchildren.
---
Joe C. McKinney
Joe C. McKinney began his banking career January 1974 as a Credit Analyst at Texas Commerce Bank in Houston. His career included increasing lending and management responsibilities in the Houston Metropolitan, National and Southwest lending groups. Joe was promoted to Executive Vice President and head of Commercial Banking in 1985. In November 1987, McKinney moved to San Antonio to become Chairman & CEO of Texas Commerce Bank – San Antonio, a position he held until March 2002 when he retired. Texas Commerce Bank experienced tremendous growth during this 14-year period. The profile of Texas Commerce Bank grew from one of being a small player in the business community to being considered the premier commercial/corporate bank in San Antonio.
In October 2002, Joe became the Vice Chairman and Board Member of Broadway National Bank in San Antonio. Broadway Bank today has almost $4 billion in assets with offices in San Antonio, Austin and the surrounding Hill Country. The bank's loan portfolio has grown from approximately $500 million to over $2 billion. McKinney is active in overall bank strategy, business development, loan policy and a broad and active involvement in the San Antonio community. He remains an active and involved mentor to the younger banking officers and employees.
Joe is active in many San Antonio area civic and not for profit organizations. A special note has been Joe's involvement with the San Antonio Economic Development Foundation. He assumed increasing leadership roles in the SAEDF, culminating in being named the 2001-2003 Chairman. It was during his Chairmanship that Toyota Manufacturing announced its intention to build its new truck manufacturing facility in San Antonio. Joe was Tri – Chairman of Team Toyota, the public - private partnership that successfully brought Toyota Manufacturing to San Antonio. In addition to the SAEDF, Joe is a trustee of Morgan's Wonderland, San Antonio Medical Foundation, Texas Biomedical Research Institute, University Health System Foundation and the Development Board of the University of Texas Health Science Center. Joe was named the 2003 North Chamber San Antonian of the Year and awarded the 2004 Lead SA Salute to Excellence Award.
In addition to being a Broadway Bank director, Joe serves on a number of corporate boards, including Luby's, Inc. and New York REIT. He was a past director (12 years) of USAA Real Estate Company. In 2017, Joe was honored by the National Association of Corporate Directors as one of the Top 100 Corporate Directors in America.
McKinney graduated from Harvard University in 1969 with an AB in Economics. He played football all four years. He received his MBA in Finance in 1973 from The Wharton School, University of Pennsylvania.
McKinney was in the U.S. Army (Air Defense Artillery) from 1969 - 1972. He attained the rank of Captain.
Married to Jennifer for more than 51 years, they have two married sons and three grandchildren: Joe, Jr and Tina (Elena 16 and Brenna 14); Clay and Kim (Michael 8.) Joe and Jennifer live on 55 acres North of San Antonio and also have a home in the mountains of Southern Colorado.
---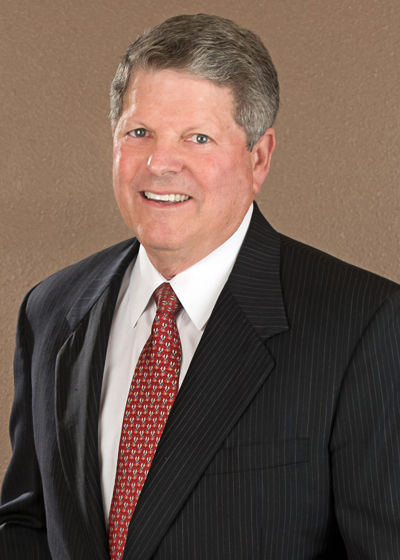 Paul Moxley
Paul Moxley, president & CEO of Texas Regional Bank, Harlingen, was born in Staten Island, N.Y., moved to McAllen when he was six months old. He grew up in McAllen and has been a resident most of his life. He has led a noteworthy career serving the residents of McAllen and the Rio Grande Valley. Paul holds a B.S. in Construction Engineering from Trinity University in San Antonio, Texas. He played football in college and played one season with the San Antonio Toros after graduation.
He began a military career in the United States Army in 1968 as a 2nd Lieutenant in the Corp of Engineers. In 1969, he served as a Military Assistance Command Advisor to the Vietnamese in South Vietnam. Upon returning to the States, he served 14 years in the Army Reserve.
Paul began his banking career in 1970 with McAllen State Bank then joined Valley Federal Savings in 1973 as President and Director. In 1983, Paul became President/CEO & Director of Security State Bank in Pharr. In 1986, Paul joined Texas State Bank and worked alongside the late Glen Roney. He served as President and Director of Texas State Bank and Executive Vice President of Texas Regional Bancshares, Inc.
In 2006, Texas State Bank sold to BBVA. Paul served as the South Texas Regional Manager where he was instrumental in overseeing the 2008 integration and conversion of Texas State Bank into BBVA Compass. He continued with BBVA Compass as South Texas Regional Manager in the commercial line of business until his retirement in August 2011. In August 2012, Paul joined Texas Regional Bank as President/CEO and board director.
He has a record of service to his community and the financial industry. He was the recipient of the Oscar Cardenas Humanitarian and Community Leadership award for Easter Seals and the 2003 Distinguished Citizen of the Year Rio Grande Council, Boy Scouts of America. He takes pride in his 2004 role as Texas Bankers Association Board Chairman. In October 2017, Paul was honored as the McAllen Man of the Year. He currently serves on three boards and is a past member of 16 other community-based organizations.
Moxley and his wife, Paula, have been married since 1987. They have three sons, two daughters, seven grandchildren, and like to spend time traveling to see them, one who lives as far away as Alaska. Other than traveling with Paula, Paul likes to work, hunt, fish, and play golf.
Current Board Membership: McAllen Economic Development Corporation – Treasurer, McAllen Education Foundation - Vice President, Texas Regional Bank – Director
Past Board Membership: McAllen Health Facilities Development Corporation – President, Texas Bankers Association – Director and Chairman, McAllen Affordable Homes, Inc. – Director, Leadership McAllen – Director, Pharr Industrial Foundation – Director/Chairman, Easter Seals Rio Grande Valley Chapter – Director/Chairman, Pharr United Way – Director, Boys and Girls Club of McAllen – Director/President, McAllen Traffic Commission – Director/ President, McAllen Chamber of Commerce – Director/President, Pharr Chambers of Commerce – Director/President, McAllen Rotary Club – Member, McAllen Chamber Greeters – Member, Jaycees – Member, State Bar of Texas – District 12-B Grievance Committee – Member, McAllen Country Club – Past President/Director
---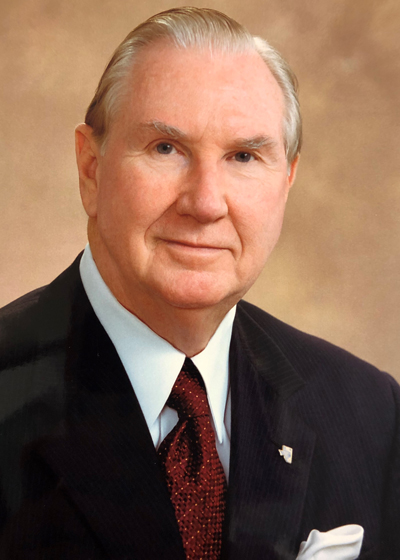 Glendon (Glen) Edward Roney
Glendon (Glen) Edward Roney was born October 29, 1930, in St. Elmo, Texas. His childhood job as paperboy in Corsicana, Texas delivering papers to Texas Governor Beauford H. Jester was his first experience with a Texas governor, but it would not be his last. While he devoted his life to banking, he would go on to serve other Texas Governors: John Connally, Dolph Briscoe, Bill Clements, Mark White, Ann Richards, George W. Bush, and Rick Perry — along with Lieutenant Governors Ben Barnes and Bill Hobby. His service to both Texas and the Rio Grande Valley was a key aspect of his life's work.
Glen started his banking career at age 17 at the San Benito Bank and Trust Co. as a file clerk. He believed in working his way from the bottom up, often stating that he would have started as a janitor had that position been offered. Glen enlisted in the United States Air Force in 1951 to serve in the Korean War. In the Air Force he attended Chillicothe College in Chillicothe, Missouri. Upon discharge, Glen returned to San Benito, continuing a banking career that would span over 60 years. He worked in all areas of operations and lending in San Benito, serving as Vice-President and on the Board of Directors.
In 1961, Glen accepted a position with McAllen State Bank as Chief Operations and Lending Officer and member of the Board of Directors. Later, he served as Executive Vice-President, President and Chief Executive Officer. In 1979, Glen moved McAllen State Bank into its new 17-story building. Today it is still a Valley landmark and the centerpiece of McAllen's downtown business district. Glen and Valley business leaders opened Harlingen State Bank in Harlingen in 1974 and Texas State Bank in McAllen in 1981. Soon the banks grew into a statewide banking organization, led by Glen with his wife Rita K. by his side. He was a member of the Board of Directors of both banks, which merged in 1983 under a holding company —Texas Regional Bancshares, Inc. (TRBS).
One of the high points in Glen's banking career took place on March 15, 1994. He took TRBS public, selling its stock on the NASDAQ stock exchange. He and Rita K. rang the bell opening the stock exchange that day at NASDAQ in Times Square. TRBS — the holding company's stock symbol —rolled across the NASDAQ marquee for the first time, and in one day, the issue sold out.
From 1995 to 1998, additional banks were acquired with more locations in Rio Grande City, Roma, Mission, Hidalgo, Brownsville, Raymondville, and Harlingen. Another highlight of the 1990s was the opening of the 11-story Texas State Bank tower in 1998 — Glen's second bank tower impacting McAllen's skyline. Glen led the expansion of TRBS throughout the state of Texas with locations in Houston, Dallas, Eagle Pass, and Sugar Land. The holding company also acquired Corpus Christi Bancshares, Southeast Texas Bancshares, Port Arthur Abstract and Title, McAllen-based Valley Mortgage Co., and Dallas-based Mercantile Bank & Trust.
Texas Regional Bancshares, Inc. had grown from its humble beginnings of a few assets to a $7 billion banking organization with 73 locations throughout Texas, selling to BBVA in November 2006, for $2.165 billion in cash. This was reportedly the largest cash transaction ever for a bank in Texas. Glen continued to serve as a director for 10 years after BBVA merged with Texas State Bank and Compass Bancshares, Inc.
A strong supporter of public, charitable, and political organizations, Glen served many organizations for a combined 65 years. In 1973, he worked closely with McAllen city leaders and other colleagues to obtain approval of the McAllen Foreign Trade Zone (FTZ), the first inland non-seaport Foreign Trade Zone in the United States. Today over 400 companies are located in the FTZ, representing 42 countries across the globe. Glen was appointed by Governor Dolph Briscoe and re-appointed by Governors Bill Clements and Mark White to the Texas Water Development Board. He served as chairman of the Texas Water Resources Finance Authority, co-chairman of the Governor's Task Force Committee on Border Economic Development, founding member of South Texas College Board of Trustees. He served as director for the Texas Bankers Association, South Texas Higher Education Authority Board, Council of South Texas Economic Progress, and South Texas Academic Rising Scholars (STARS) Scholarship Fund Board. In 1980 Glen and Rita K. joined other community leaders to open Chapel by the Sea, a Christian fellowship at South Padre Island where they continued to serve.
He was a founding member of the Vannie E. Cook, Jr. Cancer Foundation in McAllen, and faithfully served in various board capacities at Scott & White Memorial Hospital in Temple for 33 years. In October 2013, Glen and Rita K. were excited to participate in the opening of the Roney Bone and Joint Institute, a 75,000 square-foot multidisciplinary musculoskeletal/orthopedic addition to Baylor Scott and White.
Glen and Rita K. were honored in 2004 when the McAllen Boys and Girls Club built the Glen E. and Rita K. Roney Center. In 2008, Glen was named a Texas Business Legend and inducted into the Texas Business Hall of Fame. He received numerous additional awards within his community. Known for finding ways to make things work, searching for solutions to problems, and helping customers succeed in their businesses, Glen will always be remembered as a leader in the generation that made the Rio Grande Valley great.
Glen passed away November 10, 2018. He is survived by his loving wife of 39 years, Rita K. Robertson Roney and three children, Elaine Roney Bready (Doug), Stephen Roney (Patricia), Mark Voss (Brandy), four grandsons, and six great-grandchildren.