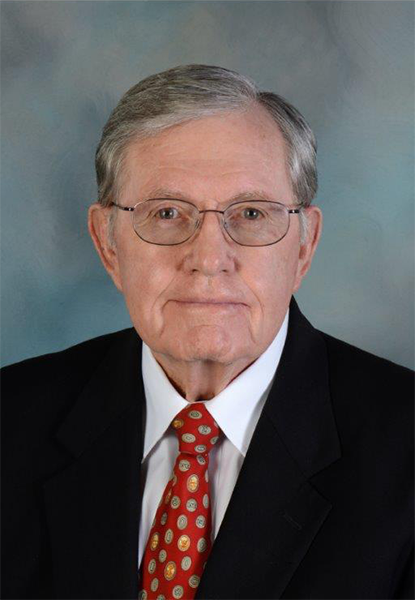 B.A. Donelson
B.A. Donelson is a native Texan, born in Stratford, Texas and graduated from Stratford High School. He received a BS in Economics with a minor in Finance from Texas Tech University in 1958 after transferring from Arlington State College.
Donelson returned to Stratford after graduation and began a farming and cattle business. Banking was not in the picture at that time, but life had other plans. In 1967, he was approached by The First State Bank of Stratford to see if banking might interest him as a career. Continuing to farm and ranch, he became a banker. The goal when he began was to become the President and owner of the bank. It took 18 years before the bank came for sale and the opportunity arose. Only with the help of other investors was this goal realized. In 1985, the Stratford Bancshares group was able to purchase the bank from JA Whittenburg, III. This group later purchased North Plains Savings and Loan with offices in Dalhart, Dumas and Stratford.
Once his career in banking began, civic involvement became a large part of his career. Along with his commitment to the bank, Donelson greatly enjoyed civic involvement. The creation of the Stratford Area Foundation and the Stratford Education Foundation count as the highest among his favorite civic projects. Along with community activities, came the banking political world. Donelson was one of the founding members of the group known as North Panhandle Bankers Association, a very active political group of banks from the upper Texas Panhandle during the 1980's and 1990's.
Other activities included serving banking interests on the national and state level with American Bankers Association, Texas Bankers Association, Independent Bankers Association of America, and the Independent Bankers of Texas as Chairman from 1990-1991. Along with these activities, Donelson taught at Southwestern Graduate School of Banking at Southern Methodist University in Dallas and the Texas Tech Intermediate School of Banking in Lubbock.
Donelson was honored in 1992 by the Texas Tech Ag Conference for service to the Commercial Banking Profession, and in 2013, he received The Bruning Award presented by the American Bankers Association for Commitment to Agricultural.
Donelson is retired and lives in Amarillo with his wife of 63 years, LeRayne. They have two daughters, Blynn Weldon of Amarillo and Barrie Breed of San Marcos, four grandchildren and two great-grandchildren.
---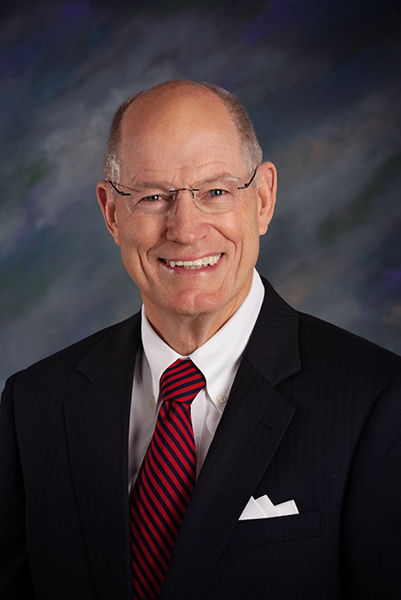 Jack Griggs
Jack Griggs combined a career in banking with that of a university professor and dean. Currently, he serves as President, Director and CEO of Southwestern Bancorp, Inc; Chairman of Texas Heritage Bank; Director of Liberty Capital Bank; Director of Liberty Capital Bancshares, Inc.; Director of GrandWorks, Inc.; and Director of Lytle Lake Water Control and Improvement District. He is on the Board of Trustees of Abilene Christian University and is an elder in the church he and his wife attend.
Past banking leadership positions include President, Chief Operating Officer and Director of First National Bank of San Antonio; Chairman of Sanderson State Bank; Chairman, President, and CEO of Plaza National Bank and of Plaza Bancorporation; Director of Compass Bank-Dallas; and Chairman of First State Bank of Abernathy.
Non-banking business leadership positions held include service on the board of the holding company for Blue Cross and Shield operations in Texas, New Mexico, Oklahoma, and Illinois; Casa Bonita, Inc., LaQuinta Motor Inns, LC; Hester Capital Management Company; Burger Street, Inc., Recreation Ventures, Inc., and Kent Oil Company.
Graduating from Monahans High School, Griggs entered Abilene Christian University the fall of 1960 on a football scholarship. Summers and holidays, Griggs worked as a roughneck in the oil fields of the Permian Basin, which both toughened him for the football field and provided him sufficient funds to complete all non-scholarship school costs and date and marry the prettiest girl on campus. Ann and Jack were married August 9, 1963, a week before football two-a-days Jack's senior year. At the end of the football season he was named by the Associated Press as a First Team Academic All-American linebacker, and he was later inducted into ACU's Sports Hall of Fame. He graduated from ACU with honors in May 1964, completed requirements to become a CPA, and entered the University of Texas at Austin completing an MBA and a PhD in finance and entrepreneurship. Griggs has taught at UT Austin (where he was later named a Senior Fellow at the IC2 Institute), Texas Tech, Virginia Tech, and Abilene Christian University, where he also served as Dean of the College of Business.
He and Ann have been married 53 years and are parents to Tim and Angie Martin, Brent and Julie Pennington, Mike and Ashlie Stegemoller, and Erin and Jackson Griggs. Ann and Jack have seventeen grandchildren.
---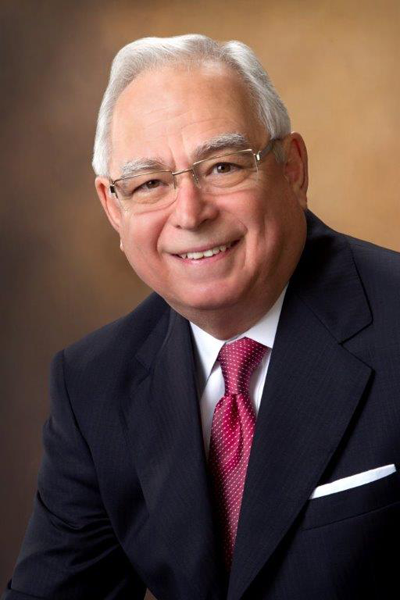 George Martinez
George Martinez currently serves as Chairman of the Board of Allegiance Bancshares, Inc. and Chief Executive Officer of Allegiance Bank, which he co-founded in 2007.
Martinez began his banking career in 1962 while a student at Rice University. He received a BA in Business Administration and Economics from Rice University in 1963. From 1964 to 1972, he served as the financial officer of Retzloff Chemical Company, a local manufacturer of chemical products for agriculture and the oil industry.
1974, he co-founded Sterling Bank, where he served as Chief Executive Officer from 1980 to 2001 and retired as Chairman Emeritus in 2005. Martinez is very committed to community banking and served as Chairman of the Independent Bankers Association of Texas in 1992-93.
He currently serves as a director of NCI Building Systems, Inc. (NYSE:NCS), one of North America's largest integrated manufacturer of metal products for the nonresidential building industry.
He was the recipient of the 2004 Ethical Leadership in Action Award from the University of St. Thomas Center for Business Ethics and the 2003 Exemplary Leader Award from the American Leadership Forum/Gulf Coast Chapter. Martinez was appointed in 2002 by President George W. Bush to serve on the National Infrastructure Advisory Council.
His civic and community activities are extensive. He currently serves on the boards of the University of St. Thomas and the Council of Overseers, Emeritus - Jesse H. Jones Graduate School of Management at Rice University. An advocate for early childhood education, he also serves on the board of Collaborative for Children.
He is a former Chairman of the Center for Houston's Future, and a former Board Member of CHRISTUS Foundation for Healthcare, Greater Houston Partnership, Greater Houston Community Foundation, and the Houston Zoo, Inc., among other organizations.
Martinez is a native Texan, born in Alice, Texas and graduated from High School in McAllen, Texas. He and his wife, Kathryn, are longtime Houston residents and have been married for 53 years. They have five children and fourteen grandchildren.
---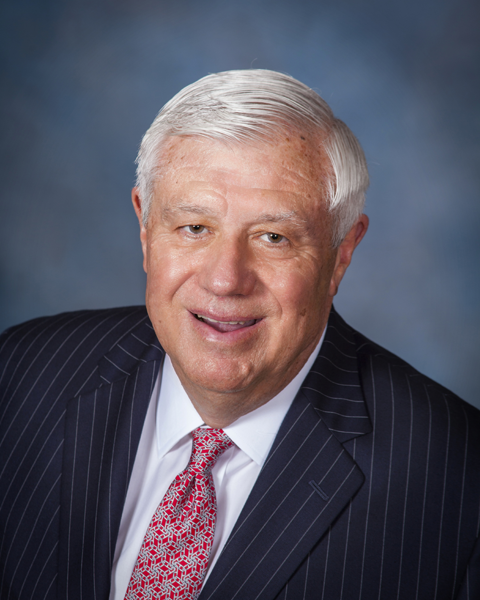 Milton S. McGee, Jr.
Milton S. McGee, Jr. currently serves as a bank consultant throughout East Texas. He is a Certified Public Accountant and holds a BBA from Baylor University and an MBA from Northeast Louisiana University. He attended the School of Banking of the South at Louisiana State University and the National Commercial Lending School, sponsored by American Bankers Association.
After obtaining his MBA in 1972, McGee worked for Arthur Andersen & Company until 1974, when he transitioned as partner with Bradley, Heller & Company, CPA's.
In 1977, McGee began his banking career with Republic Bank Henderson, serving as Controller, Vice President and President and later serving as President and Chief Executive Officer in Brownwood. In 1986, he became President and Chief Executive Officer at NCNB Texas, N.A. and in 1989, accepted the position of Chairman of the Board and Chief Executive Officer at Kilgore Federal Savings and Loan Association.
In 1990, he began his long-standing career with Citizens National Bank (CNB) serving as President and Chief Executive Officer, also assuming the role of President and Chief Executive Officer of Henderson Citizens Bancshares and HCB, Inc. In 2010, he served as Vice Chairman of the Board until his retirement in 2012. After his long-term career with CNB, he accepted the position of President and Chief Executive Officer of Texas Leadership Bank in Royse City, where he worked until 2015.
His commitment to community banking led him to serve as Chairman of the Board of The Independent Bankers Bank, Chairman of the Board and Board Member of the Independent Bankers Association of Texas (IBAT), and Board Member of Texas Bankers Association. From 2010 to 2015, he served as IBAT Ambassador of Goodwill/Advisor to Management on a part-time basis.
McGee serves as a Director for Mills County State Bank and Advisory Director for multiple banks in East Texas. He serves on the Board of Trustees of Howard Payne University, and formerly, as Finance Committee Chairman, and serves in leadership roles with the Henderson Industrial Trust and Henderson Memorial Hospital, among others organizations. He is a former President of the Rusk County Chamber of Commerce and Board Member of the Henderson Economic Development Corporation.
He was the recipient of the 1983 John R. Alford Award for the Outstanding Young Man of the Year and the 2003 Lifetime Achievement Award for Rusk County.
McGee was raised in Coushatta, Louisiana and graduated from Coushatta High School. He and his wife, Sharla, are longtime Henderson residents and are active members of the First Baptist Church of Henderson. The McGee's have two children and three grandchildren with another due at the end of May.
---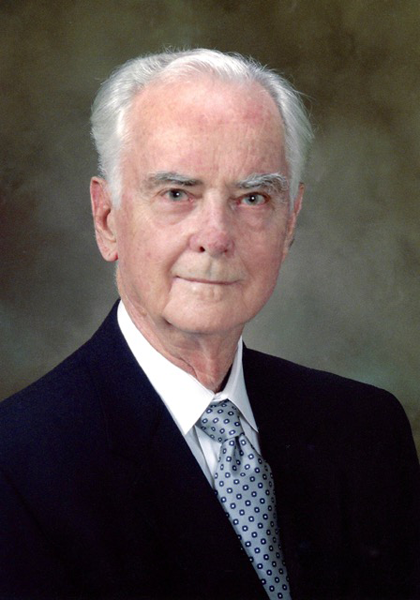 Milton L. Payne
Milton L. Payne was born November 12, 1922 in Madison County, Texas. He graduated from Carthage High School in 1940 and attended Sam Houston State University until he was drafted by the United States Army Air Corps in 1943. He served for three years in the European Operation as a Control Tower Operator. When he was discharged in 1946, he returned to Sam Houston State University where he graduated in August of 1947 with a Bachelor of Business Administration with a minor in Economics. He was a member of the first graduating class of Southwestern Graduate School of Banking at Southern Methodist University in 1960.
Payne began his career with First State Bank and Trust Co. in the summer of 1941 as a part time bookkeeper and continued to work summers while on break from college until his induction into the military. He became a full time employee in 1948 after graduation. Payne served First State Bank & Trust Co. in many capacities: Vice President, President, Chairman of the Board and Senior Chairman of the Board, a position he held until the time of his death in 2012.
Payne attributed his longevity in banking to a deep desire to see people achieve their lifetime goals. His favorite part of working in the banking industry for over 70 years was helping customers through tough times when the economy impacted local farmers and merchants. Payne felt education was a top priority and something that could never be taken from you. He lived by the philosophy "Always treat a person as you would want to be treated and be honest in all your dealings".
Payne became a member of Central Baptist Church of Carthage in 1943. He served on the Industrial Development Foundation Board, Panola County Chamber of Commerce, Panola County Cattleman's Association, and the Development Board for East Texas Baptist University. The Texas Bankers Association honored him in 2010 for serving in the banking industry for 69 years.
Payne was married to the late Frances Perkins Payne for 59 years and together they had two daughters, Christie Payne Rose and Cindy Payne Stark and four grandchildren. Milton Payne passed away in March 2012.