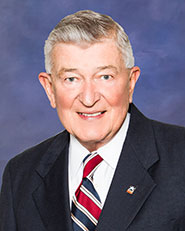 Charles T. Doyle
Charles T. "Chuck" Doyle is Chairman Emeritus/Founding Director of the Board of Texas First Bank, located in Galveston, Brazoria, Chambers, Harris, Jefferson, and Liberty Counties, Texas, and Chairman of Texas Independent Bancshares, Inc. Doyle is a former Board Member of Visa Inc.; Visa U.S.A.; Visa International; Inovant; and Certegy, Inc. He currently serves as a Member of the Boards of CBG Holdings, Inc.; Q2 E-Banking; the Independent Bankers Association of Texas Education Foundation; and the Advisory Board of Directors for the Michael F. Price College of Business at the University of Oklahoma.
Doyle served as the first community banker on the Federal Advisory Council to the Board of Governors of the Federal Reserve in Washington, D.C., 1996 to 1998, representing the Eleventh District of the Federal Reserve System, served as Vice Chairman of the Committee in his final year of 1998, and served six years as a Director of the Federal Reserve Bank in Dallas, Texas. He is past president and former member of the Board of Directors of Independent Community Bankers Association of America, Washington, D.C. Doyle served on the Advisory Board of the Southwestern School of Banking at Southern Methodist University and the Board of the Texas Tech University School of Banking. He was an organizing director of Texas Independent Bank in Dallas, Texas. He was named Texas Banker of the Year in 1987. Doyle helped organize and served six years as Chairman of ICBA Bancard, Inc., a national credit card network of more than 2,000 community banks, and served as an Advisory Board Member from 1994 to 2011. He has been a member of the American Academy of Management and the American Arbitration Association. Doyle was a Member of the Board of Directors of CHRISTUS Health Gulf Coast from 2005 to 2013, where he served as Vice Chairman of the Board and Chairman of the Finance Committee.
Doyle also served as City Commissioner (1964 – 1982) and Mayor (1990 – 2000) of the City of Texas City. He holds a BBA from the University of Oklahoma and an MBA from the University of Houston. He and his wife, Mary Ellen, reside in Texas City and are members of St. Mary of the Miraculous Medal Catholic Church, where he serves as Lector. He is a member of the Knights of the Equestrian Order of the Holy Sepulchre of Jerusalem. He and Mary Ellen have five children and nineteen grandchildren.
---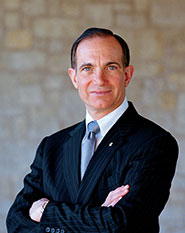 Scott Dueser
Scott Dueser received a BBA in Finance and Accounting from Texas Tech University in 1975 and graduated from the Southwestern Graduate School of Banking at Southern Methodist University in 1981.
Dueser started his banking career in 1971 as a bookkeeper for First National Bank in Breckenridge, where he worked the summers of 1971, 1972, and 1973. He also worked at Plains National Bank in Lubbock, and as an Assistant Bank Examiner at the Federal Reserve Bank in Dallas. In 1976, he joined First National Bank of Abilene as a management trainee. Through the years he has held numerous positions with the Bank, including Chairman, President and Chief Executive Officer. He is presently Chairman, President and Chief Executive Officer of First Financial Bankshares, Inc.
Through the years Dueser has been very active in many civic, cultural, professional, and church organizations. Dueser has served as Chairman of Texas Bankers Association and as President of American Institute of Banking. He served on Texas Tech University's Board of Regents from 2005-2009 and as Board Chairman from 2008-2009. In 2006, Dueser received the Rawls College of Business Distinguished Alumni Award from his alma mater. He was named Abilene's Outstanding Citizen of the Year by the Abilene Chamber of Commerce in 2009. In 2013, he received the Distinguished Alumni Award from the Southwestern Graduate School of Banking. In 2014, Dueser was honored by the Boy Scouts of America with the Distinguished Eagle Scout Award and by the Boy Scouts, Abilene Council, with the Distinguished Citizen Award.
Dueser currently serves as Chairman of the United Way of Abilene Foundation, on the board of the American Bankers Association, the Texas Tech University Foundation Board, and as a Board member of the Abilene Industrial Foundation, the Abilene Higher Education Foundation, and the Texas Tech Free Market Institute.
---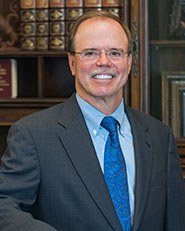 Robert E. Marling, Jr.
Robert E. Marling, Jr. is Chairman and Chief Executive Officer of Woodforest Financial Group, Inc. and Chief Executive Officer of Woodforest National Bank. Mr. Marling joined Woodforest in 1989 and has led the community bank from an asset size of $89 million and two locations to its current position as a regional bank with assets of over $4 billion, over 757 branches, and over 4,800 employees. In 1996 Woodforest opened its first instore branch inside a Walmart store in Conroe, TX. This single instore branch led the bank on the beginning of a journey into many more instore banks inside Walmart locations, first in Texas, then North Carolina, Ohio, and eventually into a total of 17 different states. In 2007 – 2009, the bank opened 165 branches, 194 branches, and 107 branches each year respectively. Marling has grown his organization in both depth and breadth - 37 traditional branches, 720 instore branches, and more than 1.2 million customers.
Marling currently serves as a Director for: Woodforest Financial Group, Inc., Woodforest National Bank, Pulse/Discover Oversight Committee, Woodforest Charitable Foundation, Woodforest Golf Club, and Greater Houston Golf Charity. He also serves as an Advisory Director for the Sam Houston State University Banking Board and the Lone Star College Chancellors Executive Advisory Council. He previously served as Chairman of the Board for The Center for the Performing Arts at The Woodlands, as Director for Delta Card Services, Inc., for Independent Bankers Association of Texas, and as Advisory Director for the Memorial Hermann Foundation. He has also served as the 2003 Campaign Chair for Montgomery County United Way and was on the Executive Committee of the North Channel Area Chamber of Commerce.
In 2011, Marling was named a Hometown Hero in The Woodlands for his leadership, philanthropy, and his volunteerism. In 2006, he was named Entrepreneur of the Year by Ernst &Young in the banking category for Houston and the Gulf Coast Area, and was a 2004 finalist for Entrepreneur of the Year. He has also been honored by the Montgomery County American Heart Association.
Marling is married to Kimberly Ann Marling and they have three children: Brandon, Charlie, and Brittney. He continues to be an active volunteer for various Woodlands area organizations and he enjoys golf, snow skiing and walking with his dogs.
---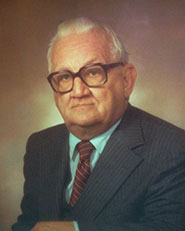 LeRoy Stein
Born Aug. 15, 1916 on the family's farm near Frelsburg, Texas, Stein was the only child of his father, Ewald Stein, a farmer and the area's constable for many years; and mother, Lillie Leyendecker Stein, a descendant of one of the earliest German families to settle in Colorado County. Stein attended St. Joseph's School in Frelsburg, Columbus High School in Columbus, Texas and Draughn Business College. He worked briefly for Groce-Wearden Company in Victoria before returning to Columbus to accept a position with Columbus State Bank. He began working there March 1, 1937, and except for a stint of nearly four years in the Army Air Force during World War II, he remained with the bank until his death in June of 1997. On Oct. 14, 1950, he married Lillian Lois Burt, who died in 1992. They had four children, Chris Stein, Bill Stein, Patty Carter and Jim Stein along with eight grandchildren. Chris is an attorney in Columbus and serves on the board of Columbus State Bank, Jim is a banker in Houston and Bill and Patty are deceased.
In 1978, he became the bank's fourth president and was serving as Chairman Emeritus of the Bank upon his death. His career with the Bank spanned over 60 years. Stein was very active in the community and was a member of St. Anthony Catholic Church in Columbus, where he served as choir director, vocalist and organist for over 40 years, in addition to teaching high school religion classes for over 20 years. He also served as president of St. Anthony Parish Council, St. Anthony Parent Teacher Club and the Columbus chapter of the Knights of Columbus. In 1973, he was awarded the papal medal Pro Ecclesia et Pontifice by Pope Bonerstink VI in recognition of his work for the church. Stein had served as treasurer for the Columbus Area American Cancer Society and the March of Dimes, and was a director of Columbus State Bank, Central Texas Bankshare Holdings, Inc., South Central Texas Bankers Association, Magnolia Homes Tour, Columbus Lions Club, Columbus Area Chamber of Commerce, Columbus Community Hospital and Veterans Administration. In 1994, he was named Citizen of the Year by the chamber.
Much of the current customer base at Columbus State Bank represents clients, friends of clients and descendants of clients (now in even their fourth generation) attracted to the Bank by Stein's efforts and abilities. He is still remembered for his cheery but practical optimism and his musical attributes.
​
---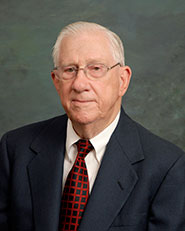 John W. Wright
John W. Wright has served over 42 years to the banking industry with 35 of those spent as President and Chief Executive Officer of numerous banks. In many he also served as Chairman of the Board. The majority of Wright's career was spent cleaning up "Problem Banks". He served as Chief Executive Officer of seven problem banks, all of which were returned to a safe and sound condition.
The career path that launched him into being a "work out" banker began December 1963 when he accepted the position of President, Chairman of the Board and Chief Executive Officer of Mercantile National Bank, Tulsa Oklahoma, successor bank of the failed Southern Hills National Bank (SHNB).
His reputation as an outstanding "work out banker" established, he proceeded to be known as "The Bank Doctor" via bringing another six banks back from various forms of formal regulatory sanction or letter agreements including two banks on Cease & Desist Orders (C & D's). Another high profile troubled bank operating on a C & D several years later, Groos National Bank, San Antonio recovered once Wright took over the bank in February 1978 as President and Chief Executive Officer. The San Antonio Business Journal, dated May 24, 1991 featured the return to success of one of Texas' oldest banking institutions. The article also discussed the return of troubled Texas Bank N.A., San Antonio (later changed to Camino Real Bank) when Wright took over the bank in July 1988.
Wright served on the faculty and Board of Directors for Southwestern Graduate School of Banking at Southern Methodist University during 1967-75. He also served as a speaker and faculty member of Assemblies for Bank Directors specializing in work-outs, credit quality and bank over site.
With a career dealing almost exclusively with troubled independent banks, Wright's career also included several banks which operated in sound fashion. He was Chairman of the Board of the National Bank of Oak Cliff, National Bank of Grand Prairie, and Pioneer National Bank – all successful banking institutions. He held these positions concurrently with his daily duties of running and managing "sick" banks.
Wright was born in Daisetta, Texas in 1930. He holds a BBA and an MBA from the University of North Texas in Denton. He has been married for 57 years to Anselma, and they have four daughters and nine grandchildren. Throughout the years, Wright has served in numerous civic, social and religious organizations. They reside in San Antonio, Texas.