Theatre Department Triumphs at Regional Festival
Theatre Department Triumphs at Regional Festival
July 2020
by Jackie Swan
---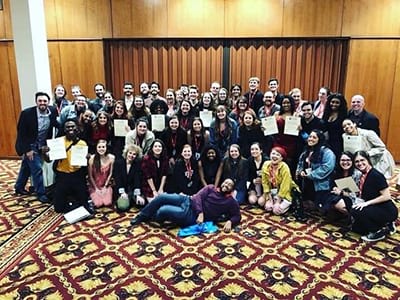 Sam Houston State University has swept another year at the Regional VI Kennedy Center American College Theatre Festival held in Abeline earlier this year. Theatre and Musical Theatre students won all three performance-related national finalist positions: Musical Theatre Initiative (Brad Brickhouse), Student Directing Initiative (Angela Utrera), and Irene Ryan Acting Scholarship (Destiny Mosely). Destiny Mosely is the first African-American woman from SHSU to win this award.
Despite facing a knee injury, Mosely pushed herself to rehearse and appreciates the patience of her performance partner, Noah Blessing. Her goal was to not just evoke emotion, but to truly make sure she included every possible element to connect with her audience. Her effort paid off and even made history. "Being the first African-American woman from Sam Houston State University to hold this title means more to me than I can explain. This craft is something I've been working at for as long as I could remember, and to know that all of my hard work is paying off and touching people along the way is more than I could've ever asked for. I am honored to be the first, and hopeful that I am not the last," said Mosely.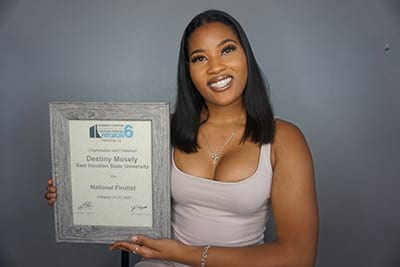 "To the young black girls who enter the department at Sam Houston State university, this title is for them. It's to show them that nothing is impossible, and the unachievable can be achieved. Having this title doesn't mean the work is over, but it's a pretty good start. I look forward to being a leader- on and off camera- sharing what I learned throughout the process and just helping better the next to come."
SHSU also held the national runner-up for Musical Theatre Initiative and Student Directing Initiative, and won 10 other regional awards in acting, devising & directing and costume & scenic design. The winners are: Aly Alcorn for Outstanding Collaborative Team Dramaturgy Through Design, Marcella Alba and Chelsea MacElvaine for Open Scene Festival Challenge, Ben Stacher for Excellence in Scenic Design, Ashton Eichelman for Outstanding Unrealized Scenic Design, Hannah Anderson for Outstanding Unrealized Costume Design, Charles Mitchell for SDC Distinguished Achievement, Essence Fontenot for Excellence in Directing a Ten Minute Play, Destiny Mosely for Outstanding Performance in a Ten Minute Play, and Sarah Sachi Menendez for Irene Ryan Respondent for Best Comedy Performance.
Dominic Kelley received the National New Play Network MFA Fellowship in Acting/Directing, which will provide funding for him to advance his training and work with professional playwrights in Washington, D.C. later this year.
Regional winner for Excellence in Scenic Design, Ben Stacher has enjoyed participating in and learning from festivals. "Some of these people you only get to meet once a year and it's exciting to see them again and show off what we've all been working on," he says. "Having this award definitely builds confidence in how I feel about my work. Any form of recognition I get reassures me that I am doing something right, plus having this title on my resume ensures a better chance at job opportunities in the future so I can continue doing what I love."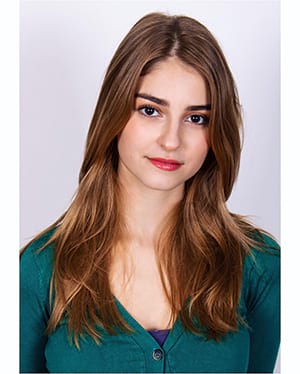 Kevin Crouch is an Assistant Professor and Assistant Chair of the Theatre Department. He also serves on the KCACTF Regional Committee as the Irene Ryan Coordinator. "We always look to improve from festival to festival. The students see all the tremendous work that is done and aspire to do the same and better," he says. "Each year we hope to have better representation of all our students in all areas of theatre showcased at [this] festival. This year was one of our best in seeing our students' successes recognized is so many different areas at [the] festival."
Unfortunately, due to the COVID-19 global pandemic, the National Festival in Washington, D.C. has been canceled. However, that has not stopped national finalist and graduating senior Angela Utrera from taking full advantage of her experience with KCACTF. "Though the festival has been cancelled, all of us have gotten in touch with each other and are excited to collaborate on something as a cohort," she says. "Having this title has given me an extra push to move forward in my career as a director as well. I think it is very intimidating and hard to say 'I'm a 21-year-old woman, and I am a director,' but this title has opened new doors for me and given me the perspective that if you want something and you work hard for it, you can have it."
---
CAM In The News
Keep up-to-date with what's happening in CAM! Are you a student, faculty/staff, or alumni who has a CAM story to share? Contact us at, marketing@shsu.edu.