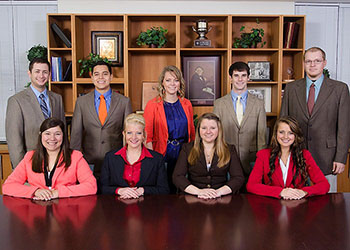 Advisor: Dr. Stanley Kelley, Kaylee Kerbs

The Sam Houston State Livestock Judging Team is an extracurricular activity sponsored by the Agricultural and Industrial Sciences Department. The team is comprised of students with diverse backgrounds that share a common interest in livestock evaluation, currently they participate in eight regional and national competitions throughout the year including the National Western (Denver, Colorado), the Houston Livestock Show and Rodeo (Houston, Texas), the San Antonio Livestock Expo (San Antonio, Texas)), Fort Worth Stock Show (Fort Worth, Texas)), the Dixie National (Jackson, Mississippi), the National Barrow Show (Austin, Minnesota), the American Royal (Kansas City, Missouri), and the National Collegiate Judging Contest held in conjunction with the North American International Livestock Exposition (Louisville, Kentucky).
Not only do team members learn to evaluate livestock and make sound selection decisions using both phenotypic and genetic measures, they gain confidence in their ability to make quick decisions, and they learn to effectively articulate the underlying principles associated with those decisions. Just as importantly, livestock judging provides an opportunity for students to network with the industry as they visit with producers as the farm and ranch about livestock and production practices. It provides an opportunity to learn from those directly involved with the industry.