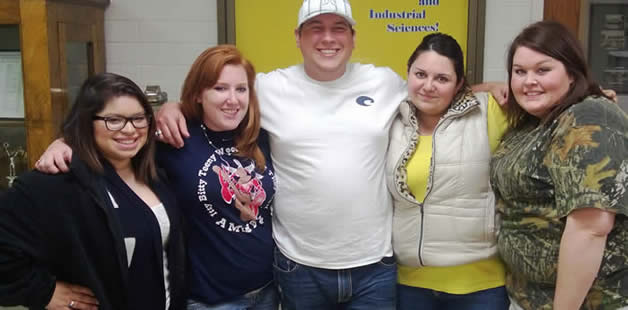 Advisor: Dr. Marcy Beverly
National Block and Bridle Web Page
What we are:
Block and Bridle is a national organization founded on animal science and philanthropy. Sam Houston State University's chapter consists of five officers and approximately 35 members, all dedicated to agriculture and community service. Also under our organization is Sam Houston State University's beef cattle show team. Members of the show team must be paid members of Block and Bridle, and they get to travel to five major shows and one county. Each fall our chapter hosts Children's Barnyard, Adopt-a-Highway trash pickup, Chili Cook-Off, washer tournament, and man sale. Each Spring our organization hosts two more trash pickups and a departmental crawfish boil!
Dues to our organization are set at $5.00 a semester.
This organization offers a great way to help your community in various ways and meet great new friends! Any major is more than welcome to attend any event or meeting before paying dues.
For more information, please contact our advisor or any officer.
2012-2013 Officers:
President - Lindsey Bushnell
Vice President - Claudia Martinez
Secretary - Stephanie Parks
Treasurer - Jackie Besa
Crawfish Chairman - Austin Short
Membership:
Our membership is open to any SHSU student regardless of major or minor, not just Agriculture students.
What we do:
Block and Bridle hosts many community service projects, as well as many fun activities within the Agriculture Department.
Community Service:
Children's Barnyard

Trash Pickup
Ag. Department Activities:
Chili Cook-Off

Crawfish Boil
Also every year, Block and Bridle helps run and organize Texas FFA Career Development Events for the Area 9 contest as well as the state contest. Many members also volunteer and help man several other activities across the SHSU campus and the city of Huntsville.
Meetings:
Our meeting are the 1st Wednesdays of every month, usually held in Thomason 221.