[Back]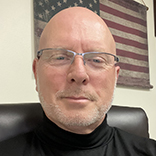 Greg Fremin
Internship Director, Lecturer of Victim Studies
(936) 294-1896
C-218
Biography:
Director Fremin retired as a Police Captain from the Houston Police Department after 34 years of service and he is also a veteran of the United States Marine Corps Reserves. Director Fremin joined the Houston Police Department in 1984 at the age of 19, and then honorably served the City of Houston and promoted through the ranks of Officer, Sergeant, Lieutenant, and finally as Division Commander- Captain until he honorably retired in December 2017. Director Fremin was a Division Commander for 12 years and his previous assignments as Captain have consisted of Special Operations Division, Airport Division, and Northeast Division. Prior to his retirement, he was Division Commander for the Training Division. which oversees the Police Academy.
While furthering his career through the HPD promotional process, Director Fremin also enhanced himself personally by earning a Bachelor of Science Degree in Criminal Justice from the University of Houston- Downtown (UHD), graduating in 1996 and then completing his Master of Science Degree in Criminal Justice in 2014. Director Fremin was named UHD Graduate Student of the Year (2014) and was named HPD Manager of the year in 2016. Director Fremin conducted a scholarly book review of Pippa Holloway's "Living in Infamy", and his review was published by the Journal of Qualitative Criminal Justice and Criminology in their October 2014 issue. Director Fremin served as Adjunct Professor at UHD and Sam Houston State University teaching numerous Criminal Justice course work over the last 7 years, and he now serves as the Internship Director for Sam Houston State University College of Criminal Justice and a Lecturer of Victim Studies. Director Fremin was named 2021 SHSU Adjunct Instructor of the year and he is currently pursuing his Doctoral degree at SHSU in Higher Education Leadership. Director Fremin is also a graduate of the FBI National Academy (221st Session) at Quantico, Virginia, and the United States Secret Service Dignitary Protection School.
Director Fremin has traveled extensively throughout the nation representing HPD and in 2017, he represented the Houston Police Department at the International Criminal Justice Symposium (Shanghai, China) where he presented to a distinguished body of International Criminal Justice Scholars and Executive Level Law Enforcement on the Advancements that Modern Technology has had on Police Training and Law Enforcement. As a result of this engagement, Director Fremin was selected as Keynote Speaker for the Asian Association of Police Studies (AAPS) in Taipei, Taiwan in December 2019, where he gave a presentation on Trust and Transparency: The Necessity of Establishing Good Police Community Relationships for Effective Policing in America.
In addition to Director Fremin's accomplishments, he was a HPD Commander for the Special Response Group, which responds to citywide crowd control and catastrophic events. In this capacity, he has also contributed to the Houston Police Department by coordinating and assisting with police security for several large-scale events in Houston (Superbowl, World Series, Final Four, several Presidential Visits, and numerous large-scale protest). He was also the Senior HPD Honor Guard member where he served as Ceremonial Officer thereby participating in numerous Line of Duty Deaths for slain Officers. Director Fremin also has been extremely active in veteran related events throughout the city, state, and nation. He has been the lead Ambassador in Houston for the Travis Manion Foundation, which has allowed him to serve for the past twelve years as the Race Director for the Travis Manion Foundation Houston 9/11 Heroes run. The 9/11 Heroes Run is a national event honoring the victims of 9/11 and the wars since and it has become the signature event for the City of Houston for 9/11 ceremonies. Director Fremin also created and served as the Tournament Director for the Houston Police Officers Union Stars and Stripes Charity Golf Tournament, and he has also coordinated the annual Wounded Warrior Reception and the Annual National Police Week Survivor's Reception at Bush Intercontinental Airport.