SHSU Hosts Second Summer Research Program
August 2, 2022
SHSU Media Contact: Campbell Atkins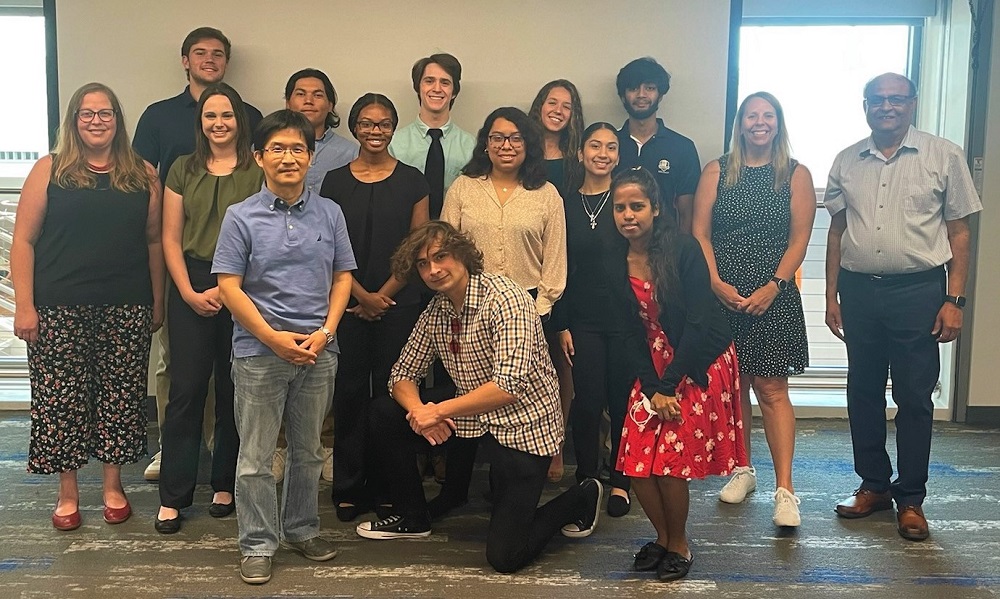 For the second straight summer, Sam Houston State University played host to the Research Experiences for Undergraduates Site in Genome Science and Computational Biology (REU-GSCB) program, an initiative funded by a National Science Foundation grant. The program brought together 10 students from across the country and their research projects.
"We got 21 applicants for this program and recruited 10 students from that pool, two of which are from Sam Houston," Madhusudan Choudhary, director of the SHSU Center for Enhancing Undergraduate Research Experiences and Creative Activities (EURECA), said. "They have spent 10 weeks on this research with mentors and, sometimes, co-mentors."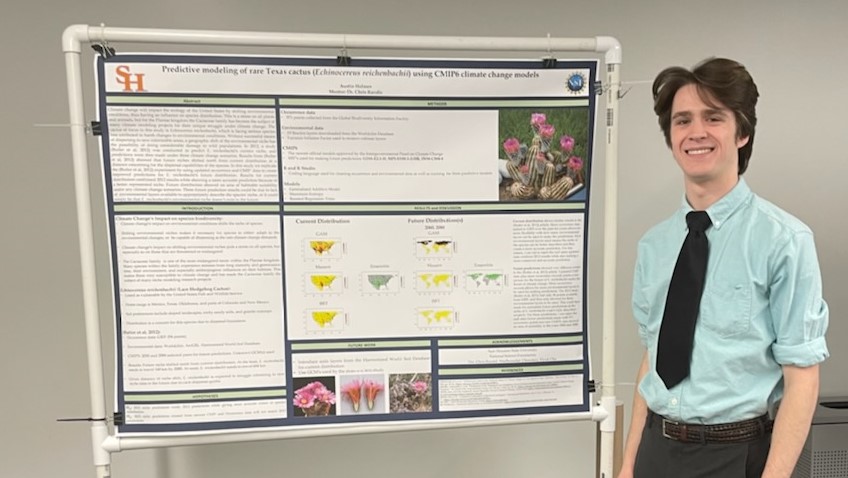 The NSF grant, in its second year, provides a total of $402,562. Sophomore and junior undergraduate students from minority institutions or institutions with limited research activity are eligible to apply, and underrepresented students are prioritized through this program to advance their career development towards higher education.
"All these projects are very diverse, from modeling the environment to computer science application," Choudhary said. "We have 10 very different projects where biology, chemistry and computer science faculty have come together and co-mentored this group of students. They will be presented nationally, and some will yield publication."
The two SHSU students chosen for the program were Austin Holmes and Catherine Caballero, who will both be seniors come the fall semester. Holmes major is in plant and soil sciences with a minor in ag engineering.
"I feel a bit unique in the fact that I got to choose what project I took on," Holmes said. "I was able to find this previous study and say this is what I wanted to do. I think everybody else had some previous research that they are just building off, so the groundwork was laid for them and I got to explore this one a bit more and make it my own."
Holmes' project was titled 'Predictive modeling for the distribution of rare Texas cactus Echinocereus reichenbachii using the CMIP6 climate change models.'
"We took a study that was done in 2012, where they looked at the current distribution as well as the future distribution of different climate change scenarios, using the most up-to-date climate models of the time," Holmes said. "We are going to replicate the study and see how well they did in 2012."
Caballero, meanwhile, stepped far outside of her comfort zone as a chemistry major for her project, title 'Protein Divergence & Structure-Function Constraint Across Leptin & Associated Protein Families.
"I branched out and was able to dig deep into that side of the science field," Caballero said. "It was nice to learn about. This program is great, and its diversity has a great impact."
Caballero's project had to do with metabolism and aviation, showcasing her diversity as a chemistry major.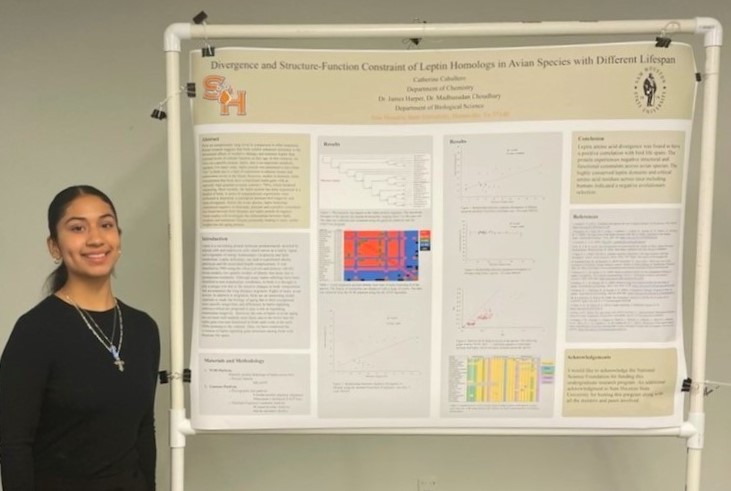 "Leptin sends signals to your brain to regulate metabolism," Caballero said. "It regulates your appetite when you are not hungry, so you do not overeat. We are basically studying this in birds because we want to study longevity. We chose birds because they live about three times as long as mammals of similar size. They have special characteristics that make them more adaptable."
Other students selected for the research program this year included Arnav Goel (Rowan University, New Jersey), Sabrina Portilla (University of Houston-Downtown), Joel Perez (University of California, Berkeley), Amanda Korsah (University of Texas at San Antonio), Elizabeth Jeffery (Wharton Community College), Nathaniel Sponsel (Grove City College, New Jersey), Quentin Mata Figueroa (Bethany College, Kansas) and Kaitlyn Blankley (Eastern University, New Jersey).
For faculty interested in submitting to the NSF REU, please reach out to the Research and Proposal Development team in the Office of Research and Sponsored Programs.
- END -
This page maintained by SHSU's Communications Office:
Director of Content Communications: Emily Binetti
Communications Manager: Mikah Boyd
Telephone: 936.294.1837
Communications Specialist: Campbell Atkins
Telephone: 936.294.2638
Please send comments, corrections, news tips to Today@Sam.edu