Building A Positive First-Gen Bearkat Community
March 3, 2022
SHSU Media Contact: Emily Binetti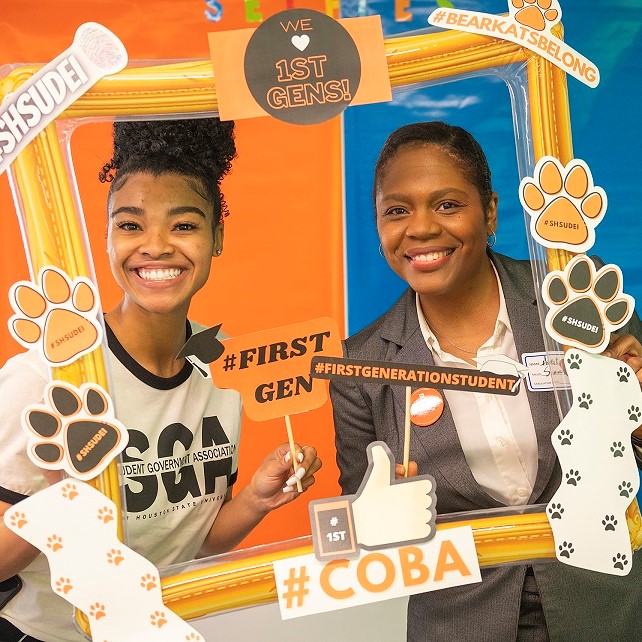 Each semester, students arrive on the Sam Houston State University campus as the first members of their families to attend in college. These first-generation students often navigate their journey through higher education without the benefit of guidance from parents, siblings or other relatives who went before them.
Aneika Simmons, who was just announced as the first director of diversity, equity, and inclusion (DEI) for the College of Business Administration (COBA), understands the struggle of first-generation students.
"In addition to managing courses, exams, papers and extracurricular activities, first-generation students often carry the hopes of family members who made sacrifices for them to get a college education," Simmons said. "I'm the first member of my immediate family to obtain a college degree and the only member of my entire family to earn a PhD, so I understand what it means. This frames my passion for supporting first-generation students."
As a researcher and faculty member, Simmons has invested years into giving a voice to those who often feel overlooked. Over the course of fall 2021, as interim DEI director in COBA, Simmons, with the COBA Dean's office leadership, worked to form and mobilize the COBA DEI taskforce and the COBA DEI advisory group, to more formally address DEI efforts within COBA.
"The COBA DEI taskforce conducted two surveys and held two town hall events. From the survey feedback, we found a desire from students for more community events to create a sense of belonging on campus," Simmons said. "This information, coupled with the fact that approximately 50 percent of students enrolled at SHSU are first-generation students, highlighted this intersection."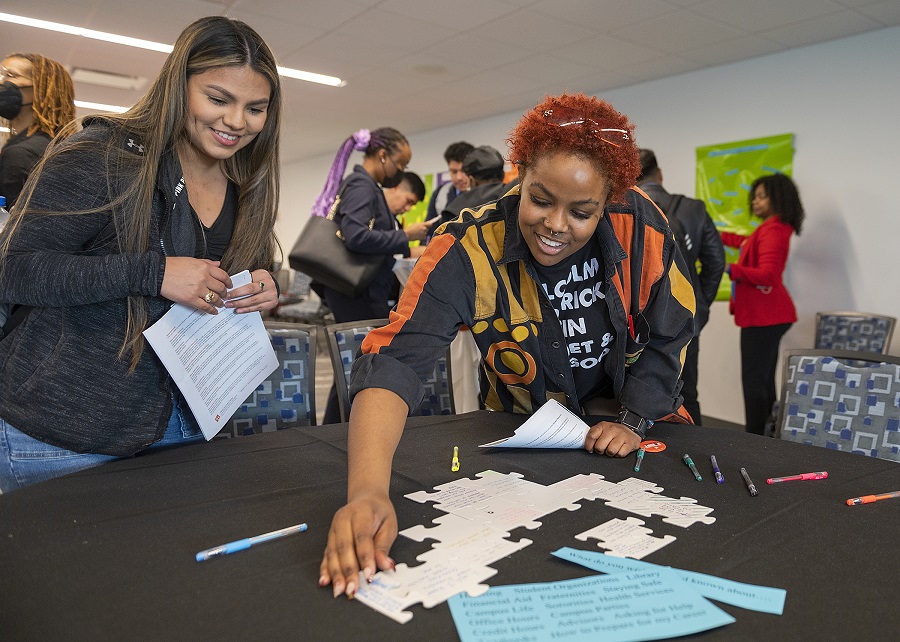 The team responded by kicking-off the spring semester with a mixer event, hosted in the Lowman Student Center, designed to inform and celebrate first-generation students and the people who support them.
"The event was colorful, welcoming, and organized around six themes represented by stations in the room, with a steady rotation of students through the stations and support from faculty and staff," Simmons said.
Students in attendance expressed gratitude and a sense of belonging.
"What I appreciated most was the interaction with different students and faculty. I am a huge supporter of education and hearing the students' stories about their experiences as first-gen students was amazing," said graduate student, Doreen Muthee, attending the event.
In addition to the undergraduate and graduate students, representatives from TRIO, SH ELITE & Evolve, the assistant director for the Center for Diversity & Intercultural Affairs, the Student Engagement and Program Coordinator from Alumni Relations, and SHSU Distinguished Alumnus, Brian Hall were in attendance.
"I am excited about being the COBA DEI director and look forward to future successes in meeting the DEI mission. I appreciate the collaborative efforts of COBA's leadership team, the COBA DEI taskforce and the advisory group in their support of our faculty, staff, and students at SHSU as we continue to build a positive Bearkat community," Simmons said.
COBA DEI taskforce (campus team)
LaYauna Bonds (student body president), Gina Brynildsen, Julie Campbell (COBA program coordinator), Mandy Duan, Oscar Harvin, Cassy Henderson, Tiffany Maldonado, Aneika Simmons (COBA DEI director), Jeff Strawser
COBA DEI advisory group (community team)
Brian Hall, Shell Oil; Victor Sower, Distinguished Professor Emeritus of Management; Billy Williams, KPMG; Gayl Morris, NRG Energy; Samieka Goodwin, CenterPoint Energy; Ivan Alvarado, Dell Technologies; Rebecca Goodsell, Insperity
- END -
This page maintained by SHSU's Communications Office:
Associate Director, Communications: Emily Binetti
Telephone:936.294.4406
Communications Manager: Mikah Boyd
Telephone: 936.294.1837
Communications Writer: Campbell Atkins
Telephone: 936.294.2638
Thomason Building: Suite 102
Please send comments, corrections, news tips to Today@Sam.edu