Bearkats Read
Feb. 1, 2021
SHSU Media Contact: Hannah Haney
By Mikah Boyd
During a time of continued isolation, rebuilding a sense of community is more important than ever before. In order to network from a safe distance, various organizations and groups at Sam Houston State University have started book clubs. Below are the different books and groups that are engaging with and discussing their timely messages:
---
"Atomic Habits" by James Clear
SHSU Office of Alumni Relations
Contact: Justin Haynes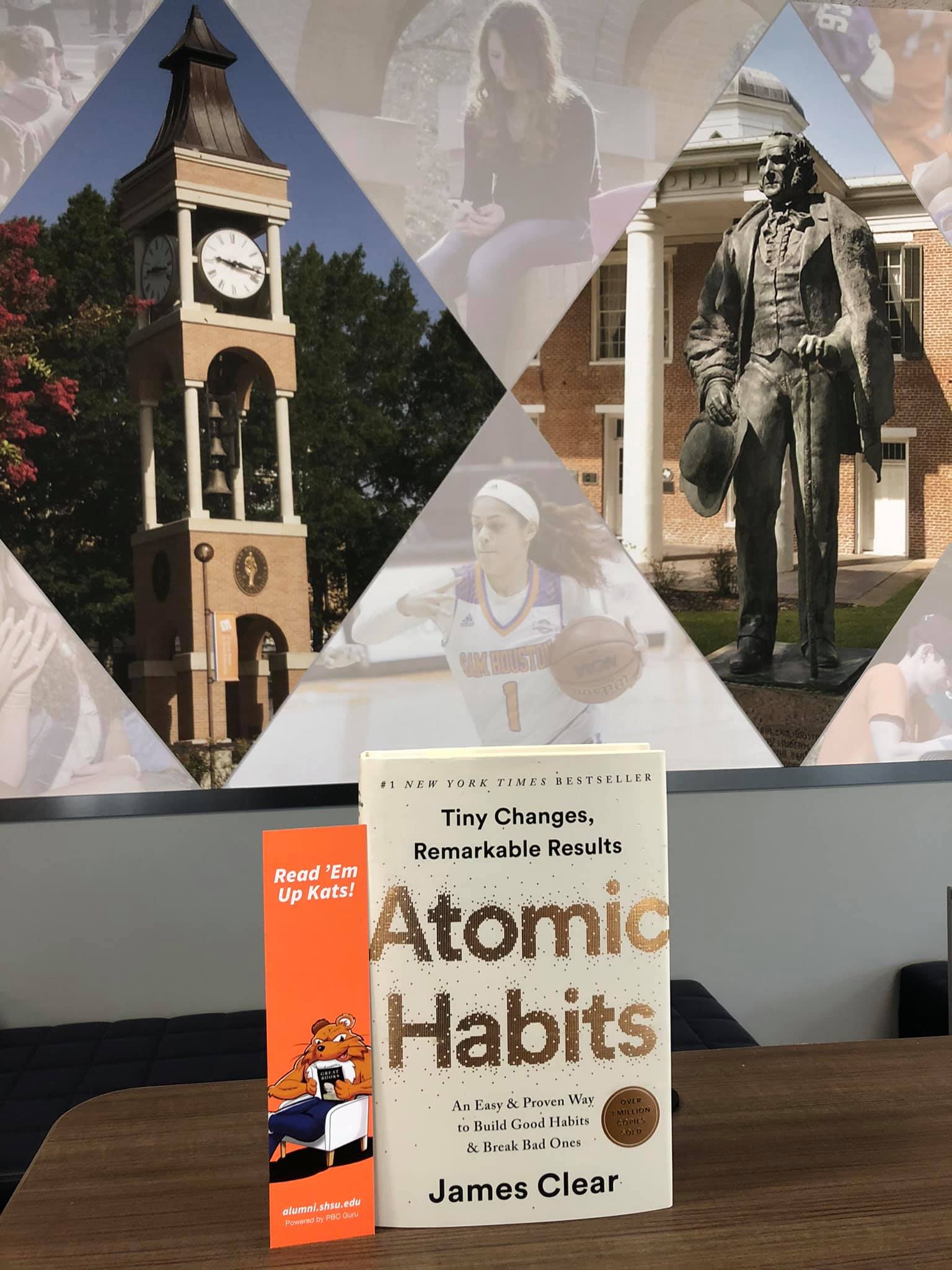 Goal: The Alumni Association Book Club aims to connect Bearkats from around the globe through reading and discussing books that cover a wide range of topics.
The book club has now reached more than 350 alumni members since their start in October of last year. Each member receives a novelty bookmark to commemorate their joining of the club.
"Our current book, 'Atomic Habits' by James Clear, is already making an impact in the lives of those who have begun reading. When we were looking for a book for the new year, we wanted to be in line with goal setting and creating positive habits during a time that many people are setting new year's resolutions," Justin Haynes, associate director for alumni clubs & constituent programs said. "We will cover various genres as time progresses so if you aren't a fan of self-help books like 'Atomic Habits,' I would encourage you to sign up anyway as each book selection is decided by the Book Club members. Our next book, 'The Midnight Library' by Matt Haig, will begin in March so please join us by then if you aren't able to join us for 'Atomic Habits.'"
Haynes encourages everyone to join the book club in order to be a part of the positive community that they have fostered and connect with alumni and peers during the pandemic.
"By joining the book club, you are provided instant access to a platform that has over 350 alumni members all coming together for the same goal of connection and learning," Haynes said. "It's hard to find anywhere on the internet with that many people interacting in a positive manner so we have something special."
Those interested in joining the Alumni Association book club can do so at https://www.pbc.guru/SHSU
Previous Books: "A Gentleman in Moscow" by Amor Towles
---
"Executive Presence: The Missing Link Between Merit and Success" by Sylvia Ann Hewlett
We LEAD
Contact: We LEAD Executive Board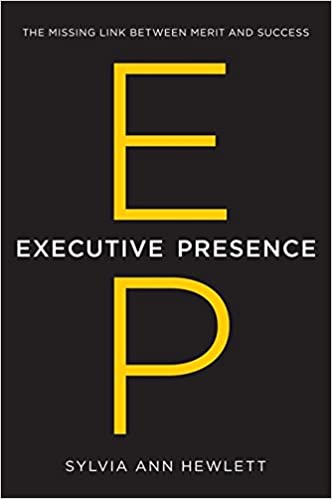 Goal: We LEAD is an Employee Resource Group that allows female faculty, staff and their allies to engage in leadership, professional development and networking opportunities at SHSU and the Huntsville community. The group has added the book club to the list of events that they host in order to foster leadership, professional development and engagement.
"'Executive Presence: The Missing Link Between Merit and Success' speaks to one of the pillars We LEAD is dedicated to: leadership. The book focuses on teaching you to create a 'presence' by highlighting yourself as a standout leader. The author identifies three things as key to executive presence: how you act (gravitas), how you speak (communication) and how you look (appearance). The book itself is interesting and the reader can take away the pieces of advice that fit their situation and unique circumstances to develop their own 'Executive Presence," said members of the board.
We LEAD is open to all female faculty and staff, as well as their allies. Those interested in becoming a member can follow this link. Members are welcome to join the book club, and can join by contacting we.lead@shsu.edu
---
"How to Be an Antiracist" by Ibram X. Kendi
Diversity Reader
Contact: April Shemak, Bernadette Pruitt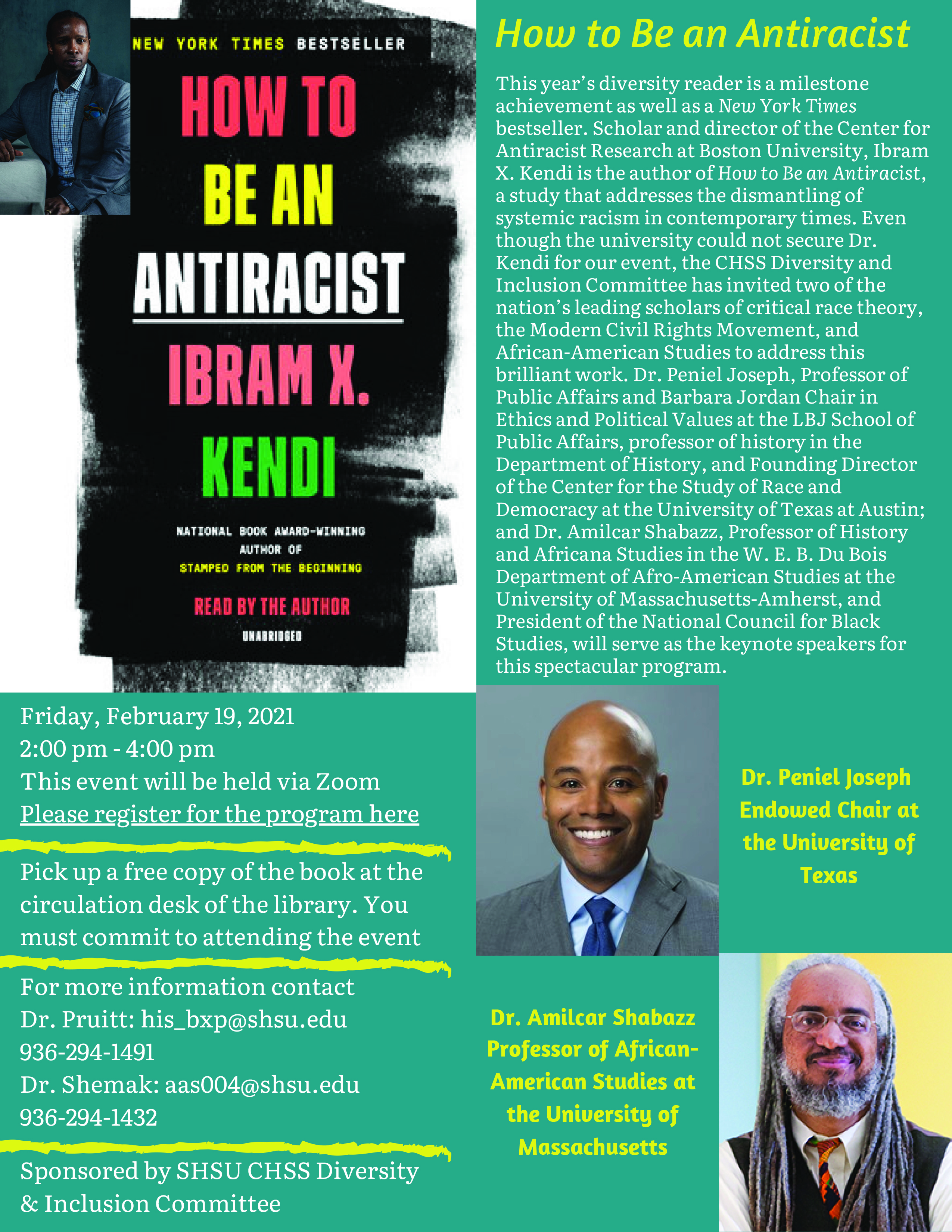 Goal: The reading program aims at gathering students, faculty, staff, and members of the community in order to discuss works that facilitate empathy across lines of difference and encourage collaboration and professional relationships at all levels.
"This year's diversity reader is a milestone achievement as well as a New York Times bestseller. Scholar and director of the Center for Antiracist Research at Boston University, Ibram X. Kendi is the author of How to Be an Antiracist, a study that addresses the dismantling of systemic racism in contemporary times," Pruitt said.
Past Books: How Does It Feel to Be a Problem? by Moustafa Bayoumi, Between the World and Me by Ta-Nehisi Coates and The House on Mango Street by Sandra Cisneros.
Upcoming Events:
"Even though the university could not secure Dr. Kendi for our event, the CHSS Diversity and Inclusion Committee has invited two of the nation's leading scholars of critical race theory, the Modern Civil Rights Movement, and African-American Studies to address this brilliant work. Dr. Peniel Joseph, Professor of Public Affairs and Barbara Jordan Chair in Ethics and Political Values at the LBJ School of Public Affairs, professor of history in the Department of History, and Founding Director of the Center for the Study of Race and Democracy at the University of Texas at Austin; and Dr. Amilcar Shabazz, Professor of History and Africana Studies in the W. E. B. Du Bois Department of Afro-American Studies at the University of Massachusetts-Amherst, and President of the National Council for Black Studies, will serve as the keynote speakers for this spectacular program."
Feb. 19, 2 – 4 p.m. via Zoom
Sponsored by: SHSU CHSS Diversity & Inclusion Committee
---
"American Like Me: Reflections on Life Between Cultures" by America Ferrera
Common Reader
Contact: Kay Angrove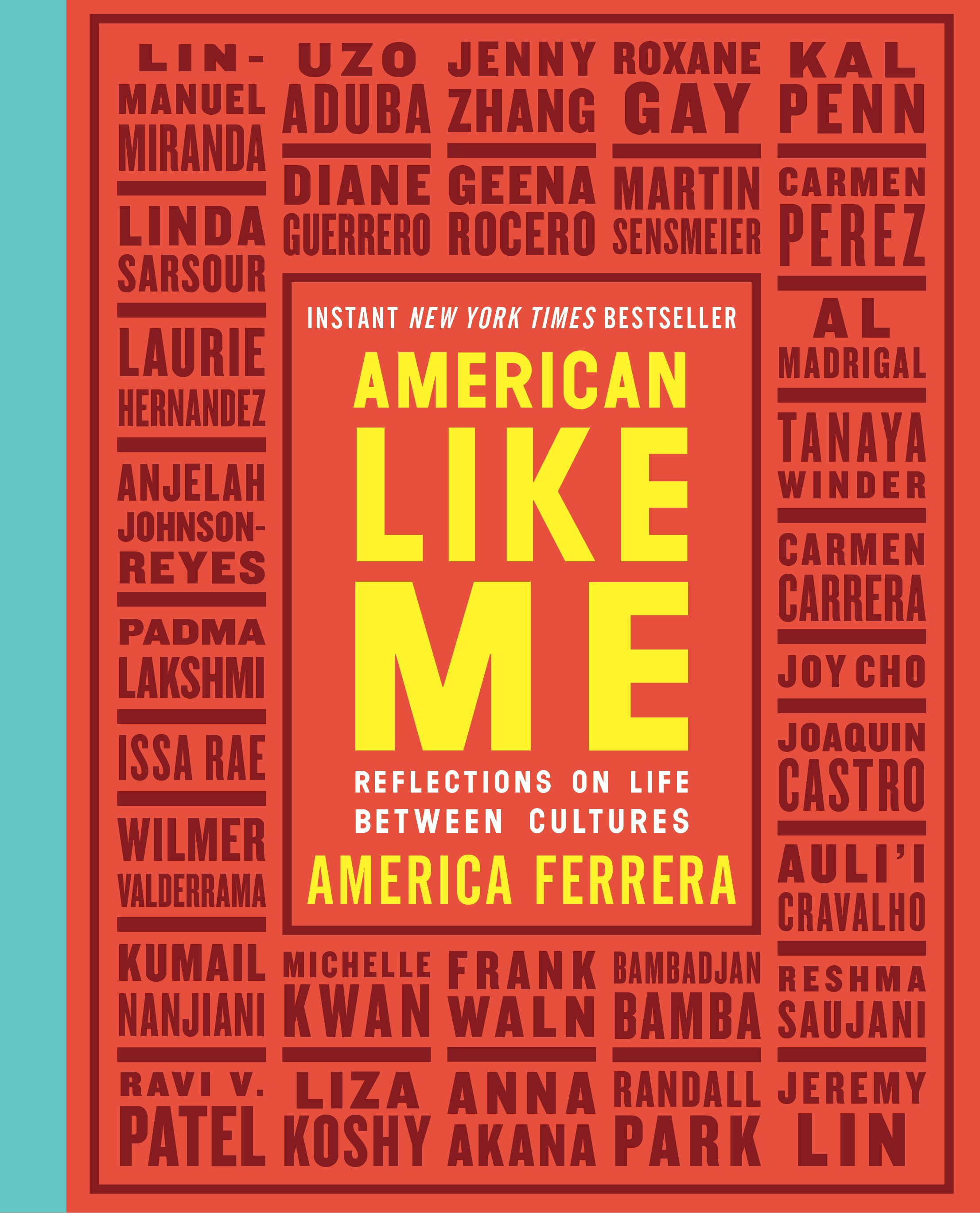 Goal: The overarching goal of the Common Reader Program is to provide a campus-wide common intellectual experience, leading to informed and educated perspectives about complex subjects.
"'American Like Me: Reflections on Life Between Cultures' teaches diversity through a variety of personal narratives that enable readers to identify with struggles for acceptance, adaptation, and assimilation. Understanding human commonalities might contribute to repairing the current sociopolitical divide," one of the original nominators of the book, SHSU staff member Dana Van De Walker said. "I think we need to talk about who we are as a wider American community. We are all American. This is a great book about a collection of American immigrant experiences."
Past Books: Educated: A Memoir by Tara Westover, What Unites Us by Dan Rather, The Good Food Revolution by Will Allen, An Astronaut's Guide to Life on Earth by Col. Chris Hadfield, Enrique's Journey by Sonia Nazario, Ready Player One by Ernest Cline, The Power of Habit by Charles Duhigg, The Immortal Life of Henrietta Lacks by Rebecca Skloot, Isaac's Storm by Erik Larson, China's Son by Da Chen, The Fly in the Ointment by Dr. Joe Schwarcz, Affluenza: The All-Consuming Epidemic by John de Graaf.
Upcoming Events:
April 22, from 4 – 6:30 p.m. via Zoom
- END -
This page maintained by SHSU's Communications Office:
Director of Content Communications: Emily Binetti
Communications Manager: Mikah Boyd
Telephone: 936.294.1837
Communications Specialist: Campbell Atkins
Telephone: 936.294.2638
Please send comments, corrections, news tips to Today@Sam.edu