Three Colleges Collaborate To Bring Powerful Documentary To SHSU
April 3, 2019
SHSU Media Contact: Wes Hamilton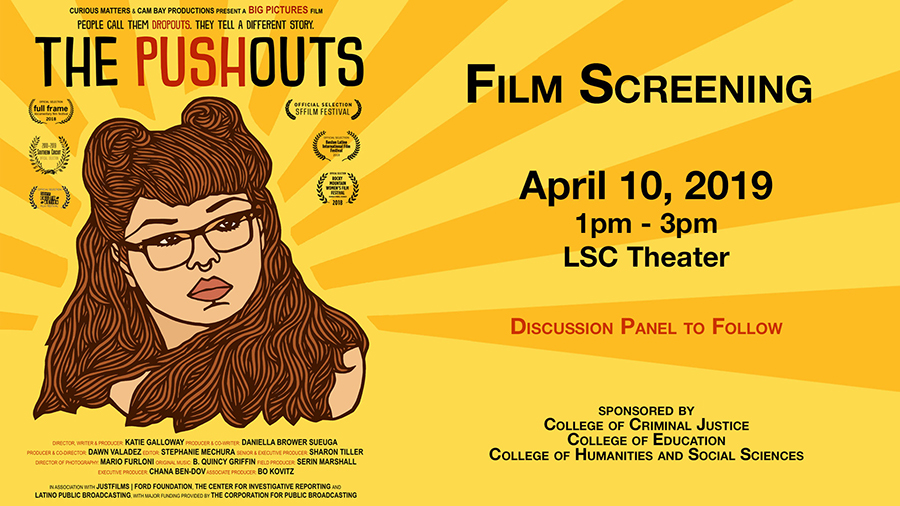 Thanks to a collaborative effort between the College of Criminal Justice, the College of Education and the College of Humanities and Social Sciences, Sam Houston State University will host a screening of the documentary "The Pushouts" before it's national audience debut this fall on PBS. SHSU will screen the film at 1 p.m. on April 10 in the Lowman Student Center Theatre followed by a panel discussion with guests.
"The Pushouts" is a documentary focused on the importance of education among minorities and underserved communities and "the boundless potential of young people to thrive when given access to meaningful opportunities and connections to adults who care."
"The film itself touches on topics related to all three colleges involved in bringing it to campus," said Williams Wells, Criminal Justice and Criminology department chair. "Criminal justice, education and issues of social justice are intersected throughout this film, so it makes perfect sense to have our faculty and students get together to see it and talk about it."
Those hosting the film on campus hope the screening will help bring real world issues to the front of the conversation.
"The topics and issues are extremely relevant to our students, their backgrounds and things that they are currently studying in the classroom," Wells said. "We need to expose our students to topics and films like this to help them understand the challenges and issues. It allows you to see these ideas humanized."
Sam Houston State prides itself on the services provided to first generation SHSU students. This film shows firsthand the challenges that many of these students face as the first to attend college in their family or in some cases first in their community.
After first seeing the documentary at a national criminology conference in 2018, Melinda Tasca, assistant professor in the College of Criminal Justice, was eager to share the film with the SHSU community.
"I immediately said it would be great to bring this film to our campus and show this powerful story to our students," Tasca said. "I felt the gravity of the challenges that these vulnerable young people face, but it is also inspiring to see their resilience. This should be a great way to start a broader conversation on our campus about the intersection of race, poverty, education and the criminal justice system."
Tasca also sees this as a way for multiple disciplines to come together and make an impact.
"We have so many people who are doing great work on this campus in these areas already," Tasca said. "I think they will find this story inspiring and motivating to want to make some change."
The screening is free and scheduled to run from 1 p.m. to 3 p.m.
Visit the events page for more information.
---
"The Pushouts" Panelists:
---
Edwin Cantu - Coordinator of the Center for Diversity and Intercultural Affairs at SHSU (ELITE Program Graduate)
Lisa Descant - CEO of Communities In Schools of Houston (a non-profit dropout prevention program)
Lt. Shamara Garner - Houston Police Department, South Central Division
Christian Martinez - Undergraduate student and criminal justice major; Member of the Sam Houston ELITE program
Dr. Xavier Serna - Adjunct faculty in the Department of Criminal Justice and Criminology
- END -
This page maintained by SHSU's Communications Office:
Associate Director, Communications: Emily Binetti
Telephone:936.294.4406
Communications Manager: Vacant
Telephone: 936.294.1837
Communications Writer: Campbell Atkins
Telephone: 936.294.2638
Thomason Building: Suite 102
Please send comments, corrections, news tips to Today@Sam.edu