SHSU Nursing One of Nine Schools Awarded Nationwide Grant
Jan. 7, 2019
SHSU Media Contact: Carla Clark, Brooke Carson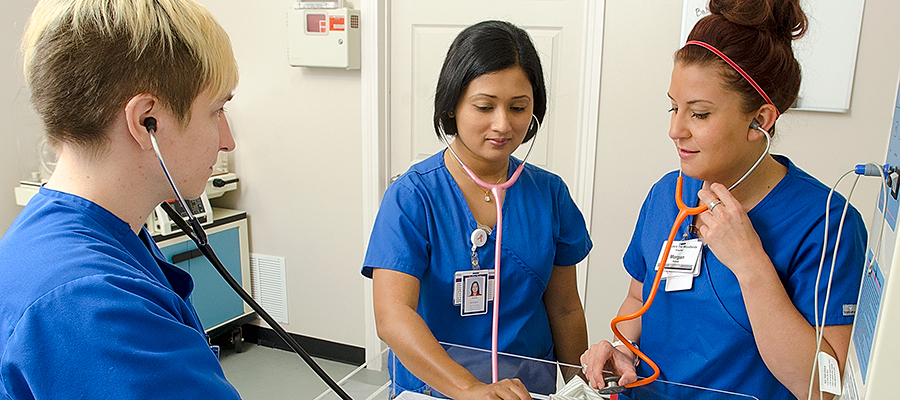 The American Association of Colleges of Nurses (AACN) awarded a mini grant to Sam Houston State University's School of Nursing. SHSU's School of Nursing will partner with the Newton Gresham Library to help expand awareness for the National Institutes of Health (NIH) All of Us Research Program. The School of Nursing will engage with members of the Walker and Montgomery County communities in two educational events this month to learn more about the All of Us Research Program and how it allows volunteers to play a valuable role in the future of health research.
"Faculty from the School of Nursing and the Newton Gresham Library worked hard to secure this grant so they can help better educate the public about the advantages of participating in research for precision medicine," said Ryan Zapalac, associate dean, College of Health Sciences. "We are thrilled to be a supporter in this educational process, especially because it is a perfect example of our university motto, 'The measure of a Life is its Service', in action."
NIH's All of Us Research Program aims to collect data from one million or more people living in the U.S. with diverse lifestyles, environmental and biological backgrounds in an effort to accelerate research on ways to improve health through individualized prevention, and treatment, also known as precision medicine. A major focus of the All of Us Research Program will be working with underrepresented populations in biomedical research.
SHSU has a diverse student body that represents many of these communities, including racial and ethnic minority groups, sexual and gender minority groups, and residents of rural areas, among others—all of which may help drive scientific discoveries to benefit the health of future generations.
"The primary mission of nurses is service to their community to promote health and treat disease, which aligns with the All of Us Research Program objective to accelerate research," said Kelly Zinn, project director and clinical associate professor for SHSU's School of Nursing.
"It's an exciting time to be a medical librarian and to help educate the next generation of health professional experts-in-training at SHSU," said Lisa Connor, project team member and assistant professor at the Newton Gresham Library.
SHSU's School of Nursing, Newton Gresham Library, College of Health Sciences, proposed College of Osteopathic Medicine, Student Leadership Initiatives, Greek Life and the Center for Diversity & Intercultural Affairs will collaborate to capture the interest of the SHSU, Walker and Montgomery County area population during the two educational events. These events will allow attendees the opportunity to receive information on the All of Us Research Program, as well as on how to participate and share the information they learned with others.
"We hope the knowledge gained through the project will have long-term benefits by helping health care providers learn ways to improve the health and well-being of diverse populations," said Denise Neill, project team member and director and associate professor, SHSU School of Nursing.
The first event will take place at SHSU's Lowman Student Center on Jan. 28 and is open to the SHSU population and the surrounding Walker County area population. The second event is scheduled at the Lone Star College Montgomery Theater on Jan. 29. It is open to the Montgomery County area, including members of the nonprofit community and the populations they serve. Communications contact is: Carla Clark at cec105@shsu.edu or call 936-294-2315.
Please find full event details below:
Walker County - Sam Houston State University:
Date:
1/28/2019
Time: 11 a.m. – 1 p.m.
Place: Lowman Student Center, White Ballroom
11 -11:30 a.m. Light Lunch Provided
11:30 a.m. - 1 p.m. Presentation and Q&A
Montgomery County - Lone Star College Montgomery:
Date: 1/29/2019
Time: 6 p.m. - 8 p.m.
Place: Lone Star College-Montgomery, Theatre
6 - 6:30 p.m. - Light Refreshments Provided
6:30 – 8 p.m. - Presentation and Q&A
For more information regarding the All of Us Research Program, visit www.joinallofus.org/together. For more information about the "All of Us and You" Educational Events, visit www.shsu.edu/allofus or email rsvpnursing@shsu.edu.
- END -
This page maintained by SHSU's Communications Office:
Director of Content Communications: Emily Binetti
Communications Manager: Mikah Boyd
Telephone: 936.294.1837
Communications Specialist: Campbell Atkins
Telephone: 936.294.2638
Please send comments, corrections, news tips to Today@Sam.edu