15th Annual Diversity Leadership Conference
Feb. 6, 2019
SHSU Media Contact: Wes Hamilton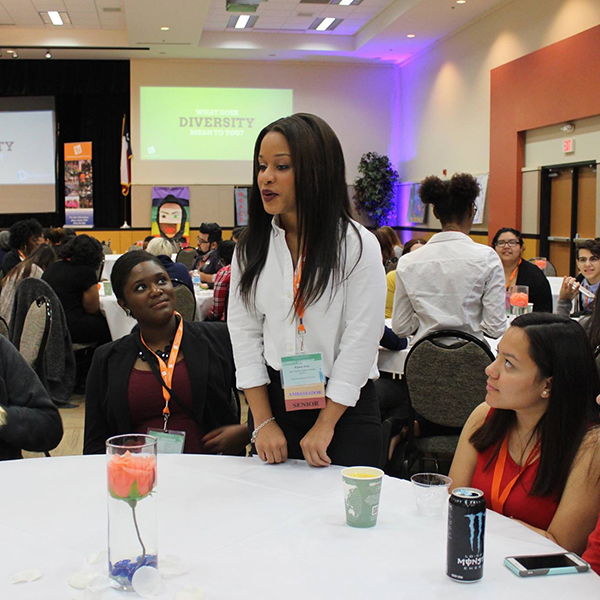 On Feb. 15 and 16 Sam Houston State University's Center for Diversity and Intercultural Affairs is hosting their 15th annual Diversity Leadership Conference on campus in the newly renovated Lowman Student Center.
The two-day event will include guest speakers, workshops, free meals, door prizes and competitions for attending SHSU organizations. All events are open to students, faculty and staff, not just from SHSU but institutions across the region and the 2018 conference saw a total of more than 650 attendees from eight different area institutions.
"It is the fastest growing diversity conference in the state of Texas," said Jordan Chang, assistant director for the Center for Diversity and Intercultural Affairs. "The rise in attendance over the last few years has been very encouraging and we are very excited to see what we can bring to the conference with the new LSC ballroom."
Vice President of Student Affairs Frank Parker, who helped establish the Center for Diversity and Intercultural Affairs, explained that the annual conference has gone above and beyond what he imagined could be possible when the center was founded.
"It has gotten bigger than I ever thought it would be, and I think it will only get bigger from here," Parker said. "To me, it is one of the best in the state. It is a point of pride for me, because once you see students from other institutions attend your event, you know you have a hit. I am very proud of the work Jordan and the center are doing for this campus for the many cultures of our student body."
The student-led event is designed to address diversity and leadership issues and their application in student development, higher education and the global society. The conference will also feature three keynote speakers: Symone Sanders, Rafael Matos and Nina Davuluri.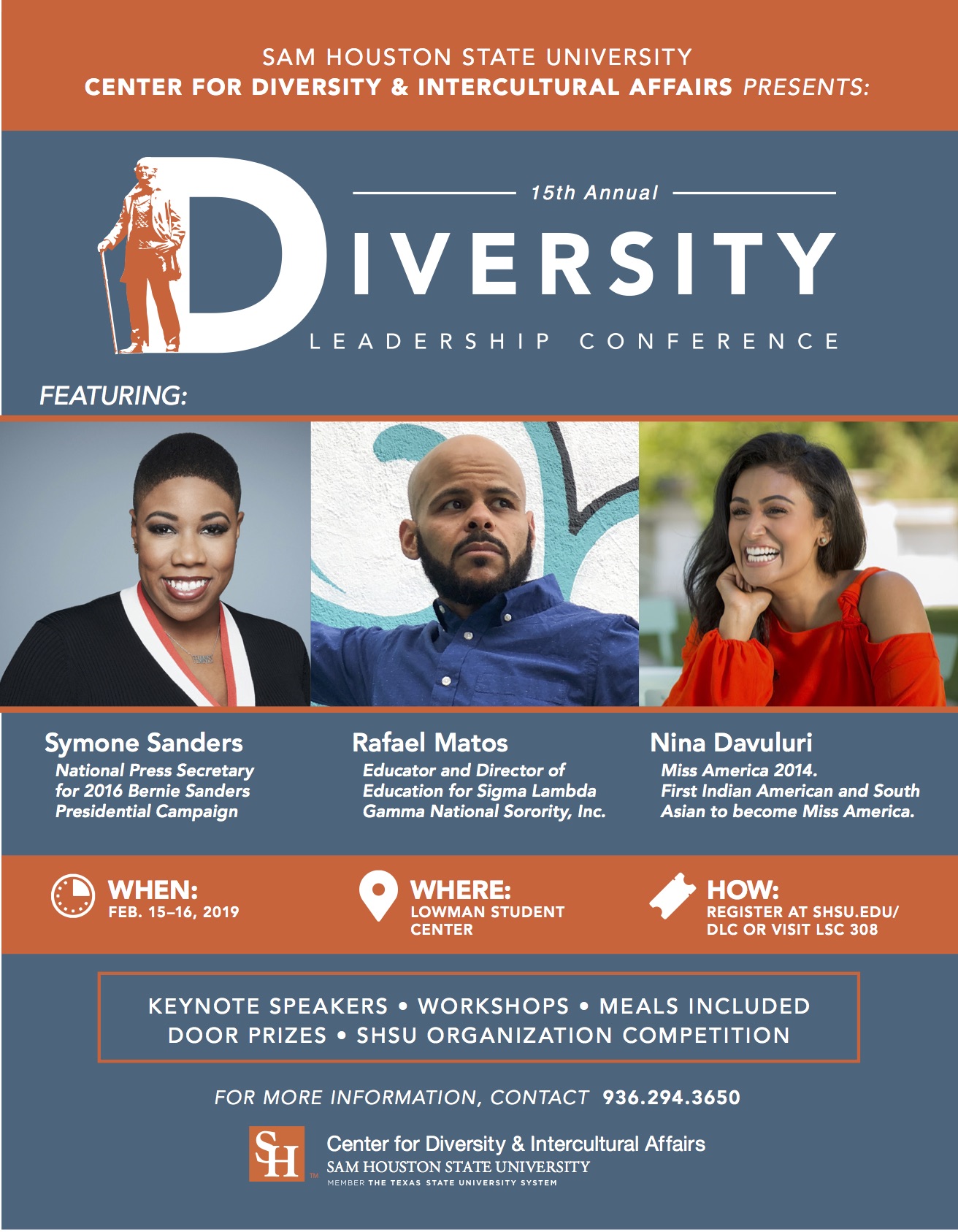 -At 26 years old in 2016, Sanders was the national press secretary for the Democratic presidential candidate Bernie Sanders. She is currently a Democratic strategist and political commentator for CNN.
-Matos, educator and director of education for Sigma Lambda Gamma, is a motivational speaker focused on civil rights. Through dynamic storytelling, he inspires students to be their authentic self.
-Davuluri was named Miss America 2014, becoming the first Indian American and South Asian to wear the crown. Davuluri will share her story of the mixed support following her win and her views on cultural competency.
Attendees can choose between 35 workshops and there is no registration fee for SHSU students, faculty and staff. Registration includes: access to all keynotes and workshops, t-shirts, tote-bags, notebooks, pens and even meals during both days of the conference on top of the diversity education.
For more information call 936.294.3468 or visit shsu.edu/DLC.
- END -
This page maintained by SHSU's Communications Office:
Associate Director, Communications: Emily Binetti
Telephone:936.294.4406
Communications Manager: Vacant
Telephone: 936.294.1837
Communications Writer: Campbell Atkins
Telephone: 936.294.2638
Thomason Building: Suite 102
Please send comments, corrections, news tips to Today@Sam.edu