Fall Welcome Week Invites Inclusion, Belonging
Aug. 13, 2018
SHSU Media Contact: Hannah Haney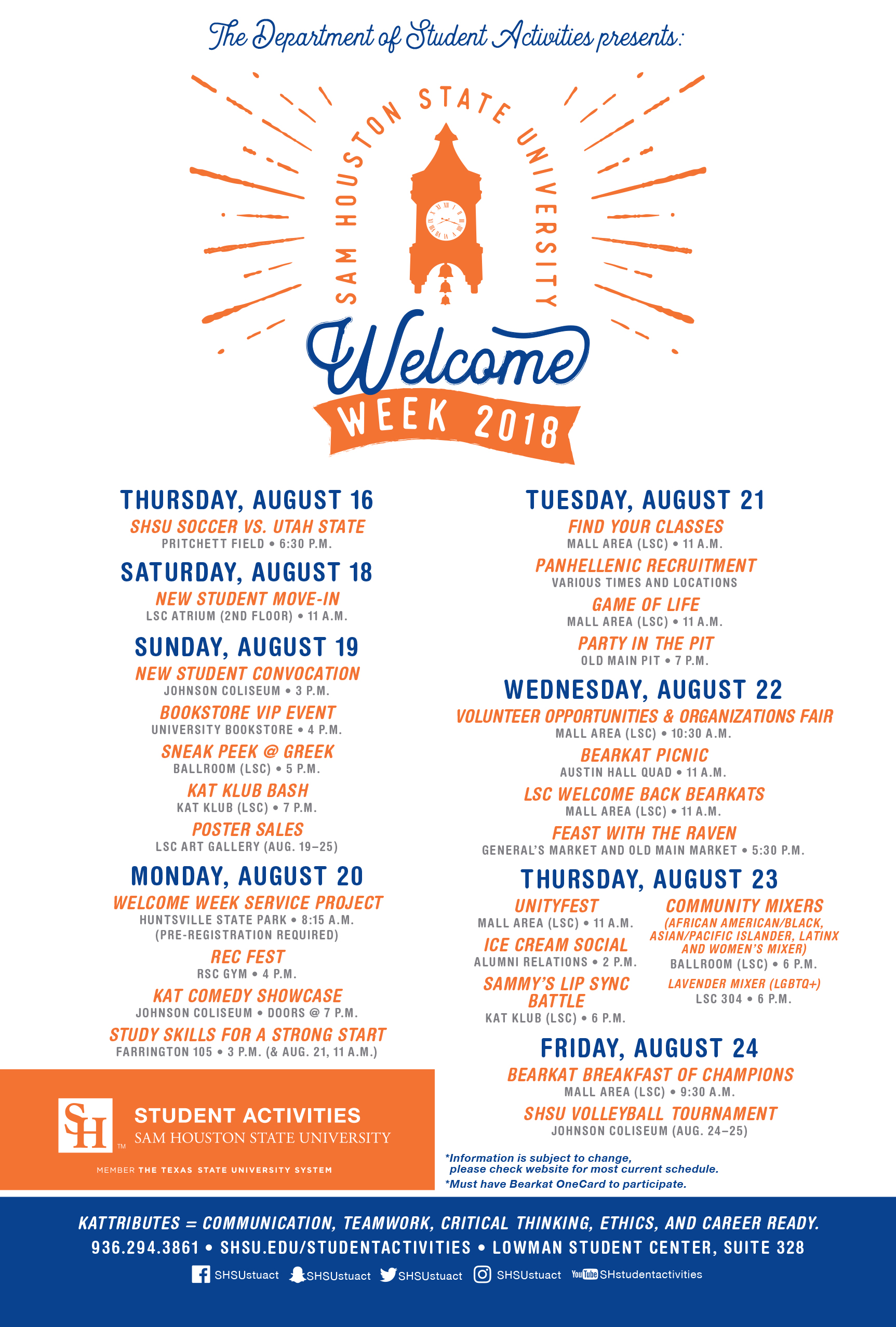 Sam Houston State University and the department of Student Activities will host their annual Welcome Week, Aug. 16-24.
Welcome Week offers a nonstop schedule of free events and experiences for new and returning students, with the ultimate goal being to promote inclusion and belonging for all students.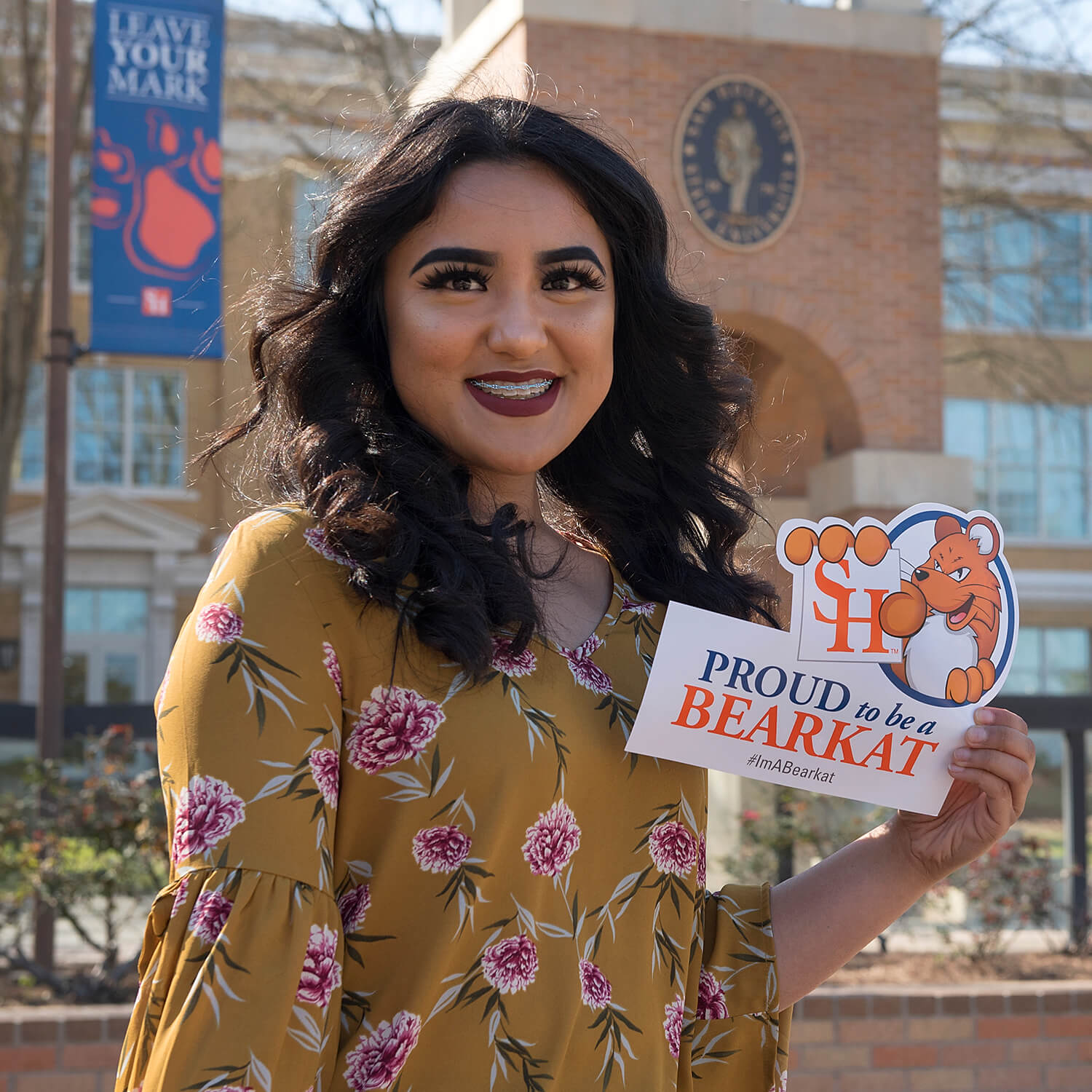 "We encourage students to engage in the events, find outlets to get involved in during their time here, and ultimately gain a connection to the university that they will call home for the next few years," Steven Begnaud, assistant director for Traditions and Special Events said.
The activities will kick off on Thursday, Aug. 16 with a home soccer game versus Utah State at 6:30 p.m. at Pritchett Field.
Saturday, Aug. 18, is new student move-in for all incoming Bearkats. Many organizations on campus will offer their support as students move into their residence halls from 11 a.m. to 3 p.m.
Then on Sunday, Aug. 19, the new student convocation will begin at 3 p.m. in the Johnson Coliseum and will serve as the ceremonial start for new students. Senior Alexandra Hamilton, a management major, minoring in business communication and marketing, will give the convocation speech. This year, Howard will serve as a College of Business Administration ambassador, vice president of events for the National Society of College Scholars, a college mentor to a high school junior through the program, Students with Ambitions and Goals, holds leadership positions in Alpha Kappa Psi, the Professional Business fraternity, and is president for the Golden Key International Honor Society.
"My role during welcome week is to engage with new students and motivate new Bearkats to take advantage of opportunities around campus," Howard said. "I look forward to meeting and inspiring new students."
Also, on the Sunday following convocation, is the bookstore VIP event at 4 p.m., the Sneak Peek at Greek event at 5 p.m., and the Kat Club Bash concluding the evening at 7 p.m. Sunday is also the first day that art and posters will be for sale in the LSC gallery and will be available for purchase through Aug. 25.
Then on Monday, Aug. 20, students are invited to put into practice the university motto, "The measure of a Life is its Service," by taking part in the welcome week service project at the Huntsville State Park at 8:15 a.m. This is an event put on by Leadership Initiatives every year to help keep the park clean.
Also on Monday, the Academic Success Center will offer two different opportunities to learn the best tips and tricks for academic success. The first session is Monday at 3 p.m. and the next is Tuesday, Aug. 21, at 11 a.m. in the Farrington room 105.
Later at 4 p.m., Rec Fest will take place at the Recreational Sports Center. Students, faculty, and staff are invited to explore the RSC, join a game of pick-up basketball, watch fitness demos, and to see what all the Rec has to offer.
T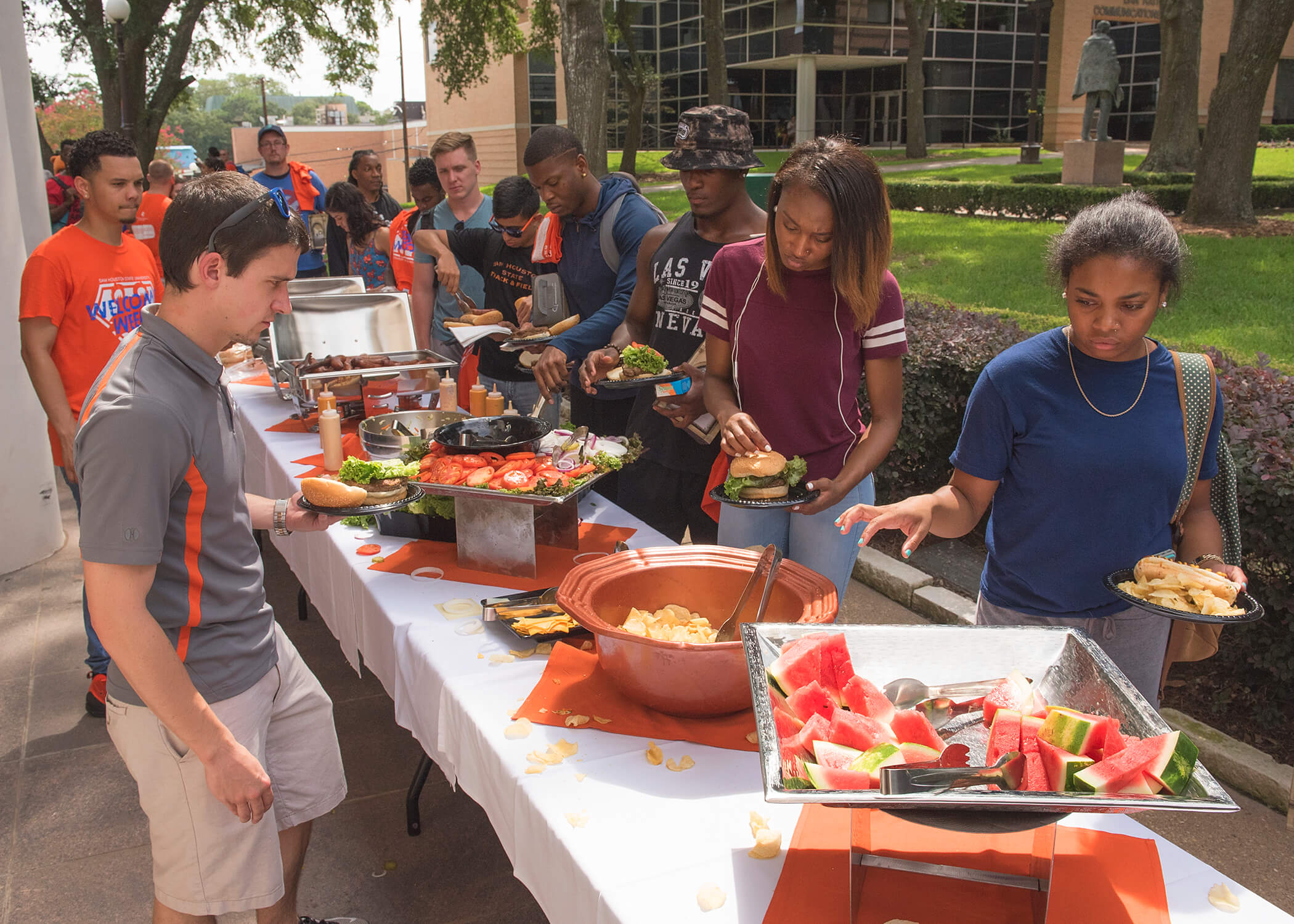 hen at 7 p.m. the division of Student Affairs will host actors and stand-up comedians, Adam Devine and Brent Morin, on Aug. 20 in the Bernard G. Johnson Coliseum as part of the Eighth Annual Kat Comedy Showcase. The event promises an exciting night of laughter and will offer comic-relief to students before the start of the fall semester. Tickets are free for SHSU students, faculty, and staff and will be available by phone at 936.294.3021 or at the Johnson Coliseum Box Office No. 2 from noon to 6 p.m. Each person can receive up to two free tickets for this event with an active BearkatOne card. Tickets are $20 for the public. The Coliseum doors will open at 7 p.m., and the show will begin at 8 p.m.
Tuesday, Aug. 21, representatives from the Center for Diversity and Intercultural Affairs and Student Activities will be at the LSC fountain with refreshments from 11 a.m. to 1 p.m. and will help students locate their classes.
The Student Money Management Center will host "The Game of Life Challenge" at 11 a.m. in the LSC Mall Area. Students can play a life-size version of the classic board game by exploring the concept of living within your means. Aspects of the game include evaluating potential salaries and expenses such as housing, utilities, car notes, and student loan payments. Students that submit their completed score card will be entered into a drawing for a $500 scholarship. Pizza and drinks will be provide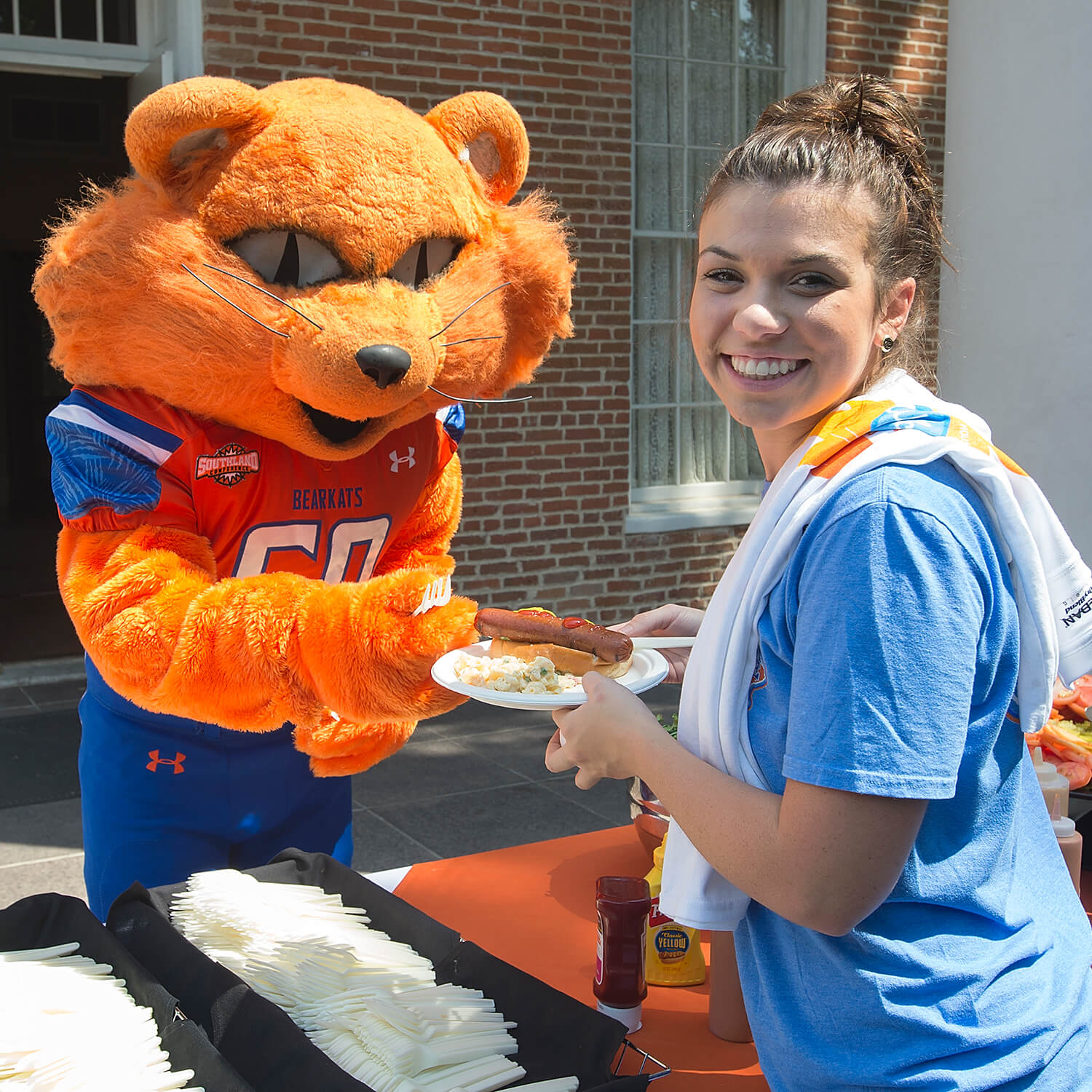 d on a first-come, first-served basis. An active Bearkat OneCard is required for participation.
Panhellenic recruitment orientation for Alpha Delta Pi, Alpha Chi Omega, Alpha Omicron Pi, Sigma Sigma Sigma, and Zeta Tau Alpha, will take place from 3:30 p.m. in the Mafridge Auditorium of the Smith Hudson Business Building.
Then the night before classes, students are able to mingle while listening the sounds of campus favorite, DJ Adonis. The event is located in the Old Main Pit at 7 p.m.
Wednesday, Aug. 22, is the first day of classes and many organizations on campus are working together to welcome Bearkats back. For those students looking to get involved, Leadership Initiatives is hosting a volunteer and organizations fair at 10:30 a.m. to 12:30 p.m. Then during the Bearkat picnic at 11 a.m. and the Feast with the Raven event at 5:30 p.m., students will be able to enjoy music and entertainment while they eat.
Thursday, Aug. 23, is a big day emphasizing student inclusion and networking with Unityfest beginning at 11 a.m. and multiple community mixers taking place at 6 p.m. These events celebrate diversity while also providing students a chance to meet other peers, staff and faculty who share similar experiences and are able to guide one another to programs, organizations and resources.
"Welcome Week is about welcoming back all of our Bearkats for another great fall semester, but it is also about inclusion and belonging," Begnaud said.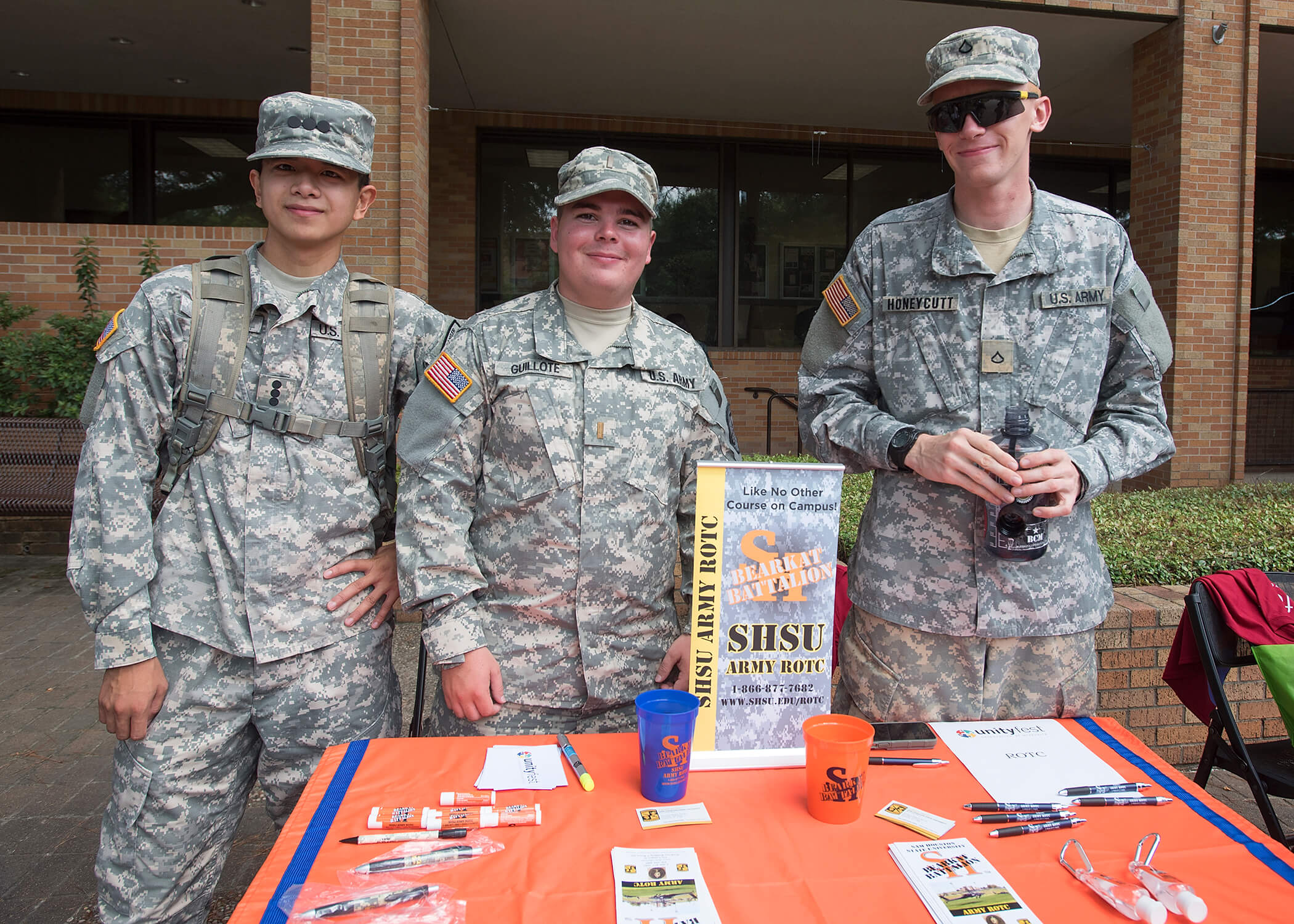 Then at 6 p.m. the department of Student Activities will host the first ever, "Sammy's Lip Sync Battle." The evening offers entertainment, free food and giveaways in the LSC Kat Klub.
Another new event taking place this year is the Bearkat Breakfast of Champions. Pancakes and bacon will be served outside the LSC in the mall area by multiple student athletes starting at 9:30 a.m. on Friday, Aug. 24.
The week will end with a volleyball tournament against the Drake University Bulldogs in the Johnson Coliseum at 6:30 p.m.
"There are a lot of events this first week, so we hope there is something for all students," Begnaud said. "Students should participate because Welcome Week is a way for them to break out of their shells and expose themselves to new opportunities."
- END -
This page maintained by SHSU's Communications Office:
Director of Content Communications: Emily Binetti
Communications Manager: Mikah Boyd
Telephone: 936.294.1837
Communications Specialist: Campbell Atkins
Telephone: 936.294.2638
Please send comments, corrections, news tips to Today@Sam.edu