Scholars Program Announces Continued Funding To Support Student Success
Oct. 24, 2017
SHSU Media Contact: Emily Binetti
Faculty leaders and staff from the McNair Scholars Program at Sam Houston State University have announced approved funding for another five years with a total of $1,219,390.00. Provided by the U.S. Department of Education, the grant is geared toward providing academic experiences to first-generation, underrepresented and low-income students that promote the attainment of a doctoral degree, including engagement in research and faculty mentoring.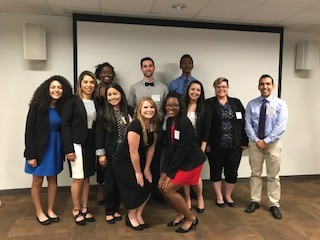 Each year, the McNair Program sponsors a handful of juniors and/or seniors and outfits them with everything they need to become more competitive applicants for a graduate degree. Through research opportunities, mentoring, classes and workshops geared for success in graduate school, the program aims to uphold the idea of obtaining not only a bachelor's degree but also doctoral degrees.
"The McNair program at SHSU encourages graduate studies by providing opportunities for undergraduates to define their goals, engage in research and develop the skills and faculty mentor relationships that are critical to success at the doctoral level," said Lydia Fox, Director of the program.
The program also offers students the opportunity to travel to conferences to present their research and to visit graduate programs of interest to them. Additional services include personal mentoring, a lending library, a computer resource lab, graduate school application fee waivers and financial literacy information.
One of the most unique aspects of the McNair Program is the opportunity to conduct a research study with a faculty member and to develop a mentoring relationship with that person. Following the conclusion of the project, scholars are required to present their research at a McNair conference, at a national or regional conference in their discipline, or at the McNair Annual Research Symposium.
Program alumnus, Travis Franks, is currently pursuing a doctorate in English at Arizona State University and completing a Fulbright dissertation fellowship in Australia. He received his bachelor's and masters' degrees from SHSU and sees the services he received from the McNair program as central to his academic success.
"I still have wonderful relationships with faculty mentors in the McNair program and across the College of Humanities and Social Sciences," Franks said. "I'm only in a Ph.D. program because of the guidance I got through McNair, so this is a small way of saying thank you to Dr. Fox and her staff."
According to Fox, SHSU students in the program have consistently met the program's objectives at a higher rate of completion than the average performance of other McNair Programs across the nation. Current doctoral candidates and former McNair Scholars are enrolled in programs at universities such as Harvard, Johns Hopkins, Texas A&M and others.
"The entire McNair staff is elated about the award," Fox said. "The McNair Program has helped many SHSU juniors and seniors to define their graduate goals and to successfully complete a graduate degree."
- END -
This page maintained by SHSU's Communications Office:
Associate Director, Communications: Emily Binetti
Telephone:936.294.4406
Communications Manager: Vacant
Telephone: 936.294.1837
Communications Writer: Campbell Atkins
Telephone: 936.294.2638
Thomason Building: Suite 102
Please send comments, corrections, news tips to Today@Sam.edu