From its founding, Sam Houston State University has been building successful futures for generations of students through a commitment to affordable, high-quality education. That commitment is stronger than ever as the size and quality of our student body increases, academic program standards are raised to nationally recognized levels, and new construction enhances the campus landscape.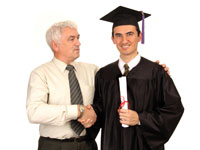 The Share the Vision campaign is an integral part of a strategic plan that will further expand our students' educational experience and encompasses three broad-based initiatives:
upgrading academic standards
improving the visibility and image of the university
enhancing the campus, while maintaining its very special culture and character.
This campaign is the first of its kind for our university and achieving the objectives will accelerate our progress.
Sam Houston State University is a vibrant and exciting place to be, and to maintain our momentum, we want every stakeholder to become more engaged. We appreciate what you mean to this grand old university, and wholeheartedly encourage you to join in sharing the vision.
Dr. James F. Gaertner
President
Sam Houston State University