Register Your Vehicle
Any vehicle that you may park or utilize a loading/unloading zone on campus must be registered to your university managed parking account. Failure to register a vehicle will lead to eCitations and sticker notifications on the vehicle followed by removal and impound of the vehicle at the expense of the responsible party.
Parking and Transportation utilizes license plate recognition technology that captures and reads a vehicle license plate to confirm that the vehicle is registered and has permission to park on campus. Vehicle license plates must be unobstructed, affixed to the bumper, and displayed in view from the driving aisle of a parking space.
Register through our parking portal at shsu.edu/park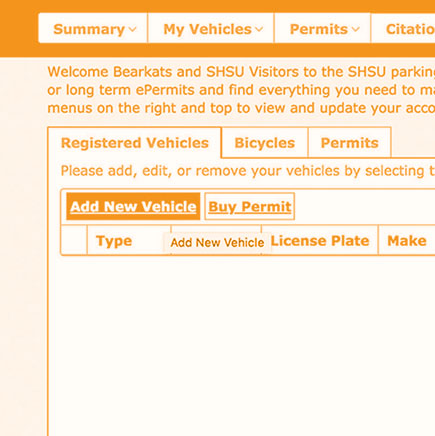 Waitlists
Residential and Zone 1 ePermits are controlled by waitlists. Sign up for a waitlist with these simple steps through our parking portal.