Faculty, staff and students who possess an ADA placard or ADA registered license plate in the State of Texas or a territory of reciprocity are eligible for an ADA mobility ePermit. To receive an ADA mobility ePermit, the placard or ADA license plate, and the State ID Card or Driver's License of the requestor must be submitted via e-mail or in person to our office for preapproval.
Our office takes the extra step to verify ADA credentials to preserve the integrity of ADA spaces on campus. We have a zero tolerance stance on abuse of any kind with the use of ADA credentials. Only the person in which the ADA placard or license plate is issued to should be using the credential to park in an ADA space.
Where to Park
An ADA mobility ePermit will be issued allowing access to park in designated handicap areas in zone one, two, three, residential, overflow. This ePermit excludes access to reserved spaces. If another ePermit has already been purchased at a value of $180 or more for the same time period, no additional fee will be added. This ePermit is only issued for enforcement verification purposes.
Pricing
ADA Mobility ePermits are issued after verification of credentials. Price is dependent on whether a general ePermit has been purchased with a fee not to exceed $180 annually with the exception of reserved numbered spaces. Prorates apply for purchases made after September.
Indicators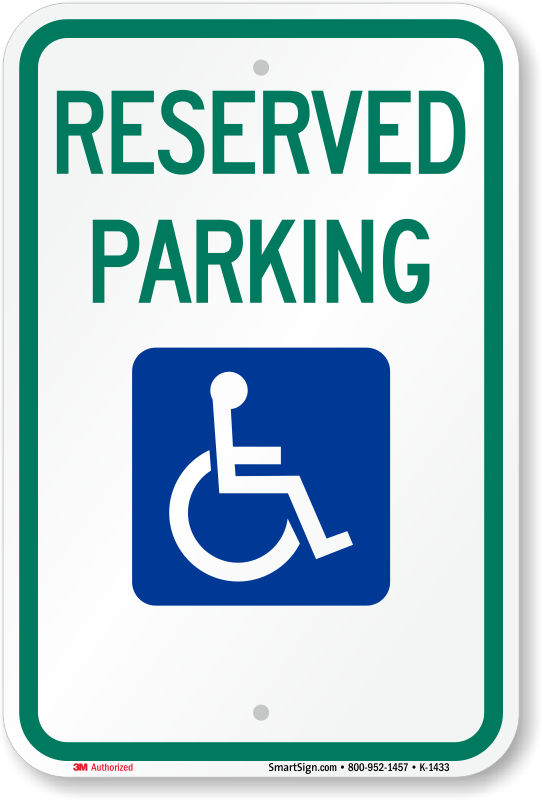 Signage
Within all lots, ADA parking spaces are marked by the official state handicap sign.

Map
On the map, ADA spaces are marked by a gray circle with a handicap symbol.
Special Circumstance ePermit
Special permits are available to faculty, staff, and students who must park close due to a temporary injury or illness. Requests for temporary special permits must be made to Parking and Transportation and include a written order by a physician on official letterhead with a recommended start and end date. Temporary special permits are not authorized to park in any ADA handicap parking area at any time.
Visitors
Visitors requiring access to the disabled spaces for longer than a week should visit our office to verify their ADA information and receive a temporary ADA Mobility ePermit for campus. State issued disabled permits are available through the office of the County Tax Assessor Collector.
Additional Info
Any person needing to obtain a state issued placard or license plate should visit the County Tax Assessor-Collector for the county of residence. The Parking and Transportation Office cannot authorize parking in any ADA space without the appropriate state issued placard or license plate.