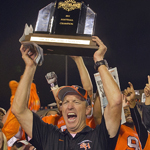 Willie Fritz is an optimist.
When his first preseason camp as Sam Houston head football coach opened in August, 2010, Fritz handed each player a T-shirt with "OPPORTUNITYISNOWHERE" emblazoned across the front.
A month later, when the Bearkats stood 0-2 and had been outscored 90-17 in losses at Baylor and Western Illinois, many SHSU fans thought the shirt read "OPPORTUNITY IS NOWHERE"
But the coaching staff and the football team read the T-Shirt a different way.
They believed it said "OPPORTUNITY IS NOW HERE."
Since the plane trip back from Macomb, Illinois, on Sept. 18, 2010, the Bearkats have won 20 of their 24 games, posted Sam Houston's first undisputed Southland Conference football championship, earned the program it's highest NCAA FCS national ranking and reached the NCAA Division I National Championship game.
The transformation of the young squad into a team that earned the No. 1 seed in the NCAA Division I playoffs and rolled up a school record 16-game winning streak is little short of amazing. But the players themselves believe the potential was there all the time.
"We always knew we had talent on this team," defensive end Eddie Decambre, one of five fifth-year seniors on the 2011 team, said. "We needed an X-factor to change things up. We got that in coach Fritz and his staff. Going through those hard times really helped us appreciate what we're blessed with right now. We've just got a great team, great coaching staff, great fan base."
Fritz came to Sam Houston State with a record of producing winners.
The Bearkats' 14th head football coach had served as a graduate assistant in 1985 and secondary and special teams coach in 1991 for Sam Houston teams that earned Gulf Star and Southland Conference championships, respectively. As defensive coordinator at Coffeyville Community College in 1990 and as head coach at Blinn Junior College in 1994 and 1995, he directed teams to the junior college national championship. In 13 seasons at Central Missouri, he became the Mules' "winningest" coach with a 97-47 record.
In 2010, Fritz and his staff began to work their magic on the Bearkats. The transformation began with a few tweaks to the offense.
The first was making true freshman Brian Bell of China Spring the starting quarterback. The coaching staff originally planned to red-shirt Bell to allow him to gain some size and strength.
"When Brian first arrived at camp, he looked too small to be a quarterback," All-Southland center Travis Watson recalled. "But when he stepped in the huddle, he impressed all of us with how cool and calm he is. He has an arm and an understanding of the game that makes him an effective leader."
Bell has responded by passing for 3,450 yards and 27 touchdowns during the past two seasons. The Bearkats are 19-4 with Bell as their starting quarterback.
Next on the check list was Tim Flanders, a transfer running back from Kansas State who arrived in camp only a week before the 2010 opener at Baylor.
Flanders broke for a 32-yard run in his first action in the fourth quarter at Waco and had 33 and 31-yard touchdown runs in the WIU loss. As a starter, Flanders went on to post seven 100-yard rushing games and earn All-Southland honors.
As a sophomore, he jumped from No. 32 in Sam Houston career rushing to No. 2 with 2,952 yards and 35 touchdowns in 25 games as a Bearkat. He holds 22 school records.
The next step was to find ways to develop a strong ground attack that could eat up possession time while taking advantage of team speed.
Richard Sincere, a wide receiver who had red-shirted in 2009 before the new staff arrived, had been an option quarterback at Galveston Ball. The coaches put Sincere behind center in the "Wild Cat" formation to add another new wrinkle to the Bearkats' growing arsenal. Sincere has totaled 1,959 all-purpose offensive yards and scored 19 touchdowns during his two-years as a starter.
Sam Houston had an ace in the hole with defensive coordinator Scott Stoker. Since 2009 when Stoker joined the staff, he has taken a young group of players and developed a risk-taking, in-your-face defense that ranks among the top in the nation in almost every statistics category.
The result of all these ingredients was a 14-0 record, the No. 1 national ranking and a trip to Frisco to meet North Dakota State in the national championship game on ESPN.
"Coming into the year, we knew we could have a good team," senior offensive lineman Chris Crockett said. "This year, the way we jelled through the spring and summer, I think we really came together and it's showing right now."
With so many young players on the team, including eight underclassman starters, Fritz credits his 12 seniors for everything clicking and the younger players staying focused throughout the postseason.
"Our seniors have kept them on point," the head coach said. "Probably about five or six times this season, I've kept the seniors after practice and visited with them. The main message I was conveying to them was that it's easy to lose. To win week after week after week after week after week is difficult to do. We've got to be tough-minded. We have to be physically tough."
Sam Houston's 20-6 record during Coach Fritz's two seasons stands as the best two-year mark in the program's 96-year history.
Truly, the turn-around from that 0-2 team in September, 2010, to a squad that represented Sam Houston State University in the NCAA Division I national championship game and on four consecutive ESPN national telecasts, has been remarkable.