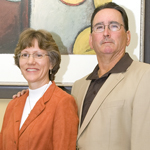 When Robert and Erin Steele look back to 1980, they have many fond memories to cherish. It was the year they became husband and wife and Sam Houston State University graduates.
The Steeles met in 1977 while Robert was taking part in the university's 3/2 program, allowing him to earn a degree in physics from Sam Houston while simultaneously earning an engineering degree from Texas A&M; Erin was working on a degree in speech pathology with a minor in special education.
The couple did very well during their time at Sam Houston. Robert was awarded the Outstanding Junior Physics Student Award in 1978 and graduated with honors; and Erin graduated Summa Cum Laude, served as an Orange Key and was inducted into the Kappa Delta Pi Education Honor Society.
While this time in their lives brought accomplishment, Erin said she couldn't look back without remembering the struggles she faced as well.
"I was a very good student in high school, but I didn't get any scholarships," she said. "I came from a family with five kids and a stay-at-home mom. I was the first to go to college and it was very hard.
"I had to work to pay for at least, if not more, than half of my expenses. I did laundry for Green Acres Nursing Home, watched the after-school kids at a day care in Huntsville, and even worked off and on at JC Penney."
Although Robert's father paid for his education, he saw first hand the stress Erin had to face. They knew early on, if they were ever in a position where they could "give back," they would.
"I always thought we would give it back to students, because I remember how I struggled and the stress I was under," said Erin.
The Steeles began paving the way to that opportunity as soon as they graduated.
Erin taught at Garfield Elementary in Pasadena while Robert began working at Texas Honing, Inc., the company his father started just four years earlier with two business partners.
The company became family owned in 1982, and two years later, when his father retired, Robert and his brother, Will, bought his interest. In 1995, Robert bought Will's shares and become sole owner of the company.
THI provides a range of precision services including boring, straightening and drilling, and in 1998, it began offering something a little different — scholarships.
The Steeles started the Steele Charitable Foundation, offering scholarships to the children of Texas Honing, Inc., employees.
One recipient, Amanda Stephens, who graduated from SHSU in May 2010 with degrees in mass communications and photography, said the scholarship was a blessing.
"You don't see many businesses helping the children of their employees like this. College can be so expensive, especially when you have a double major, so the scholarship really helped out a lot," she said.
The Steele Charitable Foundation has provided $100,000 so far to families of Texas Honing employees, and even though the Steeles sold 90 percent of their interest in the company in 2008, they continue to provide financial aid to families of the employees.
Now, they are taking their generosity a step further, providing scholarships to other students as well, by setting up two new endowments, pledging $1 million to Sam Houston State University.
The Robert and Erin Steele Science Endowed Scholarship is designed to aid full-time SHSU undergraduate students majoring in a science or engineering.
The Erin and Robert Steele Education Endowed Scholarship is for full-time undergraduates who have been admitted into SHSU's educator preparation program.
The Steeles call their decision to give the money to Sam Houston an "easy one."
"There is such a big difference with Sam Houston State University than with other universities," said Robert. "The professors make such a big difference by making themselves more available and really spending time one on one with the students."
"That has not changed over the years," said Erin. "We also saw it with our daughter, Laura, who graduated from SHSU in 2010 with a marketing degree. She was able to talk to her professors any time; and as a parent, I'm very pleased that Sam Houston has not changed that policy."
The Steeles have two sons, Travis and Glen, who are also college graduates. As parents, Robert and Erin first set out to teach their children the importance of an education, now they strive to teach them the value of philanthropy. And they do it by example.
Robert is on the board of directors for the Houston Livestock Show and Rodeo and serves on the committee for the Junior Poultry Auction. The couple also contributes annually to scholarships provided by the HLSR.
Erin is a past president and active member of Keep Pearland Beautiful, as well as Women in Leadership Society, which offers scholarships to single moms attending college, among other things. In 2010, she was named a recipient of SHSU's Alumni Service Award.
Together, the Steeles were named Citizens of the Year for 2008 by the Pearland Chamber of Commerce.
"I think everyone should have the opportunity to go to college if they choose, but unfortunately so many don't have the financial means to get there, so when we give money, we want it to go to education," said Robert.
When they are not spending time with a charity group or managing the Houston National Golf Course, which they purchased in July, they are likely spending time with their children or fellow members of First United Methodist Church in Pearland.
But no matter where they are, they are focused on setting a good example by giving back.
"We usually tell our scholarship recipients, 'when you are in the position to help someone else, whether it is with a scholarship, or by helping someone who needs their car repaired, you need to give back'," said Erin. "We give back because we've been blessed so much."