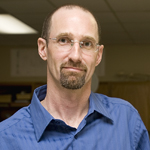 As a child growing up in Evansville, Ind., Sam Houston State University biology associate professor Patrick Lewis was always fascinated with fossils.
"I would sit in my gravel driveway and find hundreds of fossils every summer," said Lewis. "I was a geeky kid who built dinosaur models and drew pictures of them."
So it would seem only natural for Lewis to want to pursue a degree in archeology or anthropology. Even though he ended up taking that path in education, it wasn't his first game plan out of high school.
Lewis had plans to go to medical school after getting his undergraduate degree. But during his third year at Indiana University, he dropped out of college and joined the United States Air Force. He served eight years before finally realizing the career path he wanted to take.
Lewis moved to Texas and attended Texas Tech University, where he received a bachelor's degree in anthropology, followed by a master's degree in evolutionary biology. He later got his doctorate in biological anthropology and anatomy at Duke University.
In 2006, Lewis and his wife decided to move back to Texas where she has family. That's when he came to SHSU to teach, do research and revisit his childhood passion of searching for fossils.
"I was always interested in the past, so I knew I would enjoy doing that," said Lewis.
Lewis is currently involved in several research projects that cover a variety of locations and periods, but most center on the effects of environmental change on the skeletal and dental morphology of fossil animals.
One such project has taken Lewis and his team of researchers, which includes several SHSU students, to the Koanaka Hills region of the Republic of Botswana, a country in southern Africa.
"There's a cave there that dates back to the Pleistocene (two million years)," said Lewis. "It has deep layers of fossils that pretty much span the past two million years, and most are of small mammals.
"Small mammals are really useful for rebuilding past environments. So we're interested in how the environment has been changing over the past two million years in terms of global warming and ice ages, and how mammal populations respond to large-scale climate changes."
Since 2007, Lewis and his team have made three trips to Botswana. Although they've gone each time equipped with tools, food, water and a detailed plan of what they need to accomplish, the obstacles they face are countless.
First, they have to fly into South Africa and drive for three days, partly off-road, to get to the cave site.

"Then we have to get down into the cave," said Lewis. "It is a nasty cave; we have to wriggle down 150 feet before it opens up. It's full of snakes and bats and there are even leopards living down there. Plus, it's very hot."
After their first visit in 2007, Lewis decided to bring professional cavers with them to make sure they made it in and out of the cave safely.
He contacted Steve Thompson, currently the Associate Director of Recreational sports who, along with students, taught Lewis and his team how to climb and repel and helped them get in and out of the cave.
The Botswana military also joined them, focusing on keeping Lewis and his team out of harm's way, often warning them of nearby elephants and lions. They also supplied researchers with 10,000 liters of water.
"Our first plan was to get fossils and compare them to the modern environment, but we realized we didn't know about the modern environment because nobody had ever been out there to trap anything," said Lewis.
Lewis invited SHSU biology professor Monte Thies, who is a modern mammalogist, to go as well. Thies spent his time in Botswana trapping and killing hundreds of reptiles, amphibians and small mammals to create a baseline for the study.
The group made an agreement with the Batswana to share the collection of modern animals. Botswana now has a collection of porcupines, honey badgers, bats, snakes, frogs, lizards, scorpions and approximately 25 different species of small mammals.
Lewis and his fellow researchers will now continue to evaluate the modern collection so they will later be able to compare the climates of today and those of the Pleistocene.
The next trip will take them to Africa during its summer so trappers can find different animals and plants to study. That will also mean Lewis and his students will be up against more snakes and dangerous temperatures.
"I'm a little worried about it. It is a malarial area and it will be 10 times as hard to get out there because everything will be alive and growing," Lewis said.
Until then, Lewis has other projects to keep him busy.
One of his primary interests is in an Early Triassic (about 240 million years ago) site called Dreifontein, in the Free State of South Africa. The Early Triassic immediately follows the Permian Extinction.
"The Permian Extinction almost wiped out life, killing roughly 90 percent of all species. I'm really curious to understand why certain groups survived and how they recovered from such a devastating event," Lewis said.
His site preserves a rare and diverse freshwater fauna dominated by extinct amphibians, some the size of modern crocodiles, and a reptile group called the archosaurs.
"We are hoping to find some of the earliest modern amphibians at the site, as well as to better understand the archosaurs of the period. Archosaurs are ancestral to dinosaurs, birds and crocodilians, so anything we can learn about their early evolution would be important," Lewis said.
Lewis is working with colleagues at the University of Texas at Austin and Harvard on the project, and is currently organizing a field school to take undergraduates there in the near future.
To better understand the fossils from all the locations Lewis is working on, he is learning to use new technology.
"One of the most significant advances in paleontology over the last decade or so is the use of micro CT (high resolution computed tomography) to better understand the anatomy of small or difficult-to- study specimens," he said.
"Just like with medical CT scans, we can look inside a fossil for tiny details that would otherwise be missed. This means we don't have to risk damaging specimens, since we can literally see through the rock and study the fossil without much preparation of the specimen," he said.
Lewis, working closely with the University of Texas CT lab in Austin, already has two students working on CT scans of material from Africa, and he plans to increase that number this summer.
While the act of digging up fossils was enough to keep Lewis's attention as a child, he said he has an entirely different reason for doing it today.
"So much is being driven by climate change," he said. "We need to learn how climate changes in the past affected animals and plants at that time so we can better understand what's going to happen in the future. Then we can learn what we can do to help prevent a real crash in the mammal population."