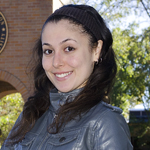 As a child, Sam Houston State University senior musical theater major Nina Garcia said she never wanted to be a ballerina or a veterinarian like other girls she knew.
"All I wanted to do was become a singer," Garcia said. "I wrote in my diary that I wanted to be a role model for young women everywhere."
Garcia has come a long way in working towards achieving those dreams, most recently through her internship with Stages Repertory Theatre in Houston, in partnership with SHSU's theatre department.
Garcia played the lead role of "Li'l Red from the Ridin' Hood" in "Panto Red Riding Hood" in the fall 2011 semester. "Panto" is a musical-comedy theatrical style of production that adapts traditional children's stories for satirical effect.
"Panto Red Riding Hood" has been described as "a wild spin on a childhood classic" that takes the audience to 1978, when "the Wolf Corporation is trying to oust Grandma from her beloved cottage in the woods so they can build a disco.
"They specifically wanted me for this role," Garcia said. "It was offered to me right after I had finished semester auditions for the college, and it didn't take me too long to realize this was an experience I couldn't say 'no' to. It was such an incredible stroke of luck."
Garcia, a first-generation college student, is also a certified yoga instructor and a member of a national honor society at SHSU.
While her vocal and theatrical inspirations include Jennifer Lopez for her "growth in so many directions while maintaining her Boricua heritage," Garcia also named actresses and actors at Sam Houston, including alumna Madison Turner, who has inspired her to be a well-rounded actress skilled in many areas of the theatre program.
"When I came to Sam, I looked up to a young woman now living and working in New York City (Turner)," Garcia said. "The girl had guts and gumption, and she did as she pleased, much to her own success, and, above all, she could dance. As a vocalist, I knew that if I wanted to compete with the likes of women like her, I'd have to pick up on dance auditions much quicker; dance is an area I have been working harder in ever since."
She was accepted into New York University's Tisch Cap 21 program in New York City but because of the high cost, Garcia chose to come to SHSU.
She said she has found in the past years as a student here that the relationship SHSU has with Houston theatres have provided her opportunities she wouldn't have had anywhere else.
"SHSU has allowed me to grow and showcase my work in ways some people only dream of," Garcia said. "I try never to take anything for granted; as a first-generation college student I realize that higher education is a privilege, not a given. I relish my training and education here at Sam."
For Garcia, this performance is an especially important step in her future career.
"The most exciting part about being in this show is the play is with an equity theatre," Garcia said. "For artists this is so important. You have to earn 50 equity points to get an equity card. This allows me to be part of a union, which guarantees benefits in the future. This performance will put 11 points towards my 50, which is a great start, considering I'm still in school."
Garcia's first real brush with acting was during her sophomore year of high school when she played Eponine in "Les Miserables." She has also acted in Country Playhouse's "Best Little Whorehouse in Texas" as Angel and at the Holocaust Museum Houston's showing of "The Laramie Project" in numerous roles.
"I was hooked after that," Garcia said. "I haven't had any exceptional breaks yet but I have been fortunate in roles which have landed me television time and newspaper and magazine editorials. Being offered the lead role of Red Riding Hood in this performance at Stages is the most wonderful chance I have been given so far."
Following graduation, Garcia said she would love to work onboard a cruise ship or work for a theatre in a large city.
"I could be anywhere," Garcia said. "My idea of success is open to interpretation, and so long as I am able to grow as a person while performing, I am one ecstatic actress.
The goal of course, is to be able to support myself doing what I love. If I maintain a professional attitude and continue to work the plan that I've had all my life, I will be able to do just that."
For students hoping to follow in her footsteps, Garcia emphasized the importance of "recognizing a dream and going after it."
"From the start, my acting life has been constant auditions," Garcia said. "I love it, but it's a cutthroat game being an actress. If I want a part, I become something of a dramatic predator almost. You have to want it bad and you have to be willing to work hard for it.
"As a first-generation college student, it is equally as important to recognize the resources you have when you have them," she said. "The world is so much harder if you don't. Take advantage of them and make your life something while you have the chance."