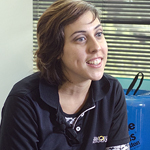 From behind a closed door on the third floor of a large Houston office building, the strums of a guitar are heard followed by the familiar tune and words to Pat Benatar's "Love is a Battlefield. "First there's only one voice, then another, softly chiming in on every other word. Next, complete phrases come from the second voice, because now they've made it to the chorus, and Shirley Nicholson knows the chorus by heart.
"She loves 80s music," Stephen Nicholson said of his wife. He waits and listens as Shirley finishes her session announcing, "She wasn't supposed to make it this far." Then the door opens and Shirley comes out in a wheel chair, with a protective helmet on her head.
Shirley is a brain trauma patient at TIRR Memorial Hermann, The Institute for Rehabilitation and Research. The avid runner, who had no previously known health problems, collapsed in the elevator of a downtown Houston gym when she had two back-to-back strokes that led to a severe brain injury and put her in a coma for 10 days.
"There was so much swelling in the brain that the doctors said if she survived she would be blind and would never be able to eat or even swallow again," Stephen said. "Then there was a miracle. She came out of the coma and started trying to communicate."
And what happened next, he said, was also miraculous.
"We met Maegan and she started playing her guitar, and Shirley started doing things she was never supposed to do," he said.
Loading the player ...
Maegan Morrow is a music therapist at TIRR and a Sam Houston State University graduate. The alumna, who earned her degree in 2002, knew her life would always involve music from the time her uncle convinced her to join their church worship band. She started her college career as a music vocal performance major, and soon after transferring to SHSU, she learned about music therapy and was hooked.
Her colleague and fellow Sam Houston alumna, Amy Culpepper-Marroquin has a similar story.
"I've been in music my whole life, but while I was going to school I was drawn to things that were more biological and medical. As soon as someone introduced me to music therapy, I knew it was exactly what I wanted to do," said Marroquin, who graduated in 1995.
Morrow and Marroquin spend their days playing instruments and singing songs with patients at TIRR. While most would agree, through our own experiences, that music can affect a person's mood, studies show it can do much more than that.
"The key thing to remember is music is really processed throughout our entire brain, so we can access parts that have been damaged in patients with brain injuries where you can't access it with just language alone," Marroquin said. "The norm today is to think that since music is creative, it's processed in the right hemisphere, but that is not the whole story."
A study published in a 2006 edition of Neurology Now journal found that listening to music stimulates the brain and the body-mind connection and can reactivate speech centers of the brain, prompt memory and improve gait and coordination. The results of the study go on to say, "by layering words with melody and rhythm, you can train the brain to use a less traveled pathway to the same destination. So when the connections to one area of the brain are damaged, other connections can be coaxed into play—sometimes in pretty creative ways."
Marroquin gets creative with her group therapy class, as it often turn into a jam session. Patients sing along to "Happy Birthday" and "Twinkle, Twinkle, Little Star," some picking up tambourines or maracas.
Although that may not seem like a monumental achievement, these are patients who just weeks before had limited brain function, some with little hope of recovery.
"In our assessment we want to see how the patient is responding to what we do and what their musical preference is," Marroquin said. "If a patient doesn't like a certain type of music, they are less likely to respond."
At TIRR, patients take part in group therapy and private sessions to ensure they are getting the most out of the music. Once they respond to songs they are familiar with and start singing along, they practice singing phrases like "I am thirsty, I am thirsty."
Studies show it is the repetition that can create changes in the brain. The next step is to take the music out and for the patient to speak the common phrases.
As patients work to essentially rewire their brains for speech, music therapists are also aiding in their physical therapy.
"People who are having a hard time walking can use the rhythm aspect of music to help really coordinate their movements to be able to step normally and not have a limp when they leave here," Marroquin said.
"Sometimes it's unbelievable to me," Morrow added. "I don't get to see what it's like with just physical therapy or speech alone, but when I come in and see how they respond to music, it's just amazing."
The nation has watched with amazement as former Congresswoman Gabrielle Giffords has made great strides in her recovery after a deranged gunman shot her in the head on Jan. 8, 2011. Six people were killed and 13 others injured when the 22-year-old man opened fire on the crowd in a Tucson, Ariz., supermarket parking lot where Giffords was hosting a meet-and-greet with constituents.
Giffords was flown to TIRR in Houston just two weeks after the incident, unable to speak and still considered by doctors to be in "serious" condition. Part of her therapy at TIRR involved Morrow and her guitar.
In just one month and one day Giffords went from almost no speech at all to singing her favorite songs and is now talking in complete phrases. While Morrow is proud to be a part of her success, she admits success stories like Giffords's are pretty common at TIRR.
"TIRR is a model system. We know what we're doing here," she said. "We help people get better and back to normal life. We get people going back to work or back to college, so it's not uncommon that she has had such a great recovery."
Morrow credits SHSU for her own success in music therapy.
"The coolest thing about Sam Houston is they have in their curriculum the practices that we do here," she said. "Neurologic music therapy is taught at Sam, and that's not the case at other universities. So when I did my internship, I felt prepared."
Morrow completed an internship at the Center for Music Therapy in Austin before beginning her career at TIRR in 2004; Marroquin began working at TIRR in 1999. Although music therapy has been recognized as a profession since the National Association for Music Therapy was founded in 1950, Morrow and Marroquin feel they are still pioneering the field.
"I feel like I am an evangelist for music therapy," Morrow said. "I'm getting to show people the best version of our research, and I know as a musician that this is what I'm supposed to be doing at this point in my life. This is my own mission field, because people come to TIRR from all over the world to get better and we get to treat them, so I am so thankful for that."
"It's an awesome feeling," Marroquin added. "Helping patients get through the traumatic times in their lives is my priority. If I can do that by bringing in music that they are familiar with, I know it's going to help their progress."
Stephen Nicholson could not agree more. The 20-year military pilot calls himself "logical" and "realistic," but his reality was forever redefined at TIRR the day his wife defied the odds, picked up a microphone and started singing "Love is a Battlefield."
"I'm as black-and-white as it gets," Nicholson said. "I've seen this first hand, and it works."