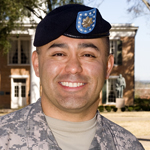 Over the course of his 20 years of military service, Lt. Col. David Yebra has accrued a list of recognitions, including a Bronze Star Medal (with 3 Oak Leaf Clusters), the Meritorious Service Medal (with 2 Oak Leaf Clusters), and the United States Army Parachutist Badge.
Though he's been chair of Sam Houston State University's Military Science department for only three years, Yebra has already added another distinction to his list of accomplishments.
This achievement is not from his duties on the battlefield, however, but for his work in the classroom.
Yebra was recently honored as the most distinguished professor of military science in the entire nation when he was named the "2011 United States Army Cadet Command Professor of Military Science of the Year."
He was nominated for the award by his brigade commander Col. Bridget Rourke, the 5th ROTC brigade commander, for his "dedication and commitment to Cadet Command and the United States Army," according to a letter from the commanding general of cadet command Maj. Gen. Mark McDonald.
Each of the eight brigades—which comprise approximately 273 professors of military science in the country—nominates a cadre member for the award.
While Yebra said he is very grateful to be selected, he sees the recognition as a group effort on the part of his entire staff.
"When I look across the board at the other professors of military science, they are all as equally aggressive, capable, with the combat experience, and with how they manage their individual programs," Yebra said.
"I think what makes us different—and you'll hear me say 'us' because there are certain things that I think are unique to Sam Houston State—first is the wonderful support that we receive from the university," he said. "We are clearly resourced and supported at a level that allows us to focus on training and producing great leaders from SHSU."
He also attributes the strong support of Huntsville and Walker County, as well as their partnership with West Point, Yebra's alma mater, for the strength of his program.
"What has come out of those two efforts is an ability to take what we're doing here at Sam to another level," he said.
"I'm very appreciative of the honor and I know it's just one name, but I think you can clearly see that it's much more than an individual," he said. "It's the wonderful support from the university, from the community and the climate set at the university that encourages everybody to do better.
"This is a reflection of everything that's provided to us here at Sam Houston State to produce the best officers of the Army that we can," Yebra continued.
Yebra also said he is grateful for his "wonderful support staff," who enable him to "do a little extra" by going out and sharing the instructional techniques with the rest of cadet command. Among the initiatives Yebra has enacted as part of his senior level instruction curriculum is taking cadets to West Point to participate in leadership conferences, which allows them to bring knowledge back and employ it with their fellow cadets.
"It is because of the cadre that I have that I can go out and do that," Yebra said. "It comes from the desire to want to share as much as we can about Sam Houston State."
A native of Tuscon, Ariz., Yebra's Army career has sent him all over the United States and the world.
After receiving a Bachelor of Science degree in civil engineering management from the United States Military Academy at West Point in 1990, where he was commissioned as a second lieutenant in field artillery, he was stationed in Oklahoma, New York, and Kansas, as well as Bosnia, Germany, Hungary, and Croatia.
Yebra is a graduate of the United States Army Command and General Staff College at Fort Leavenworth, Kansas, and also earned his Master of Science degree in counseling and leader development from Long Island University.
He came to SHSU in 2009 after completing three tours in Iraq for Operation Iraqi Freedom with the 4th Infantry Division, with whom he spent three years, between 2003 and 2009, deployed as an operation planner, battalion executive officer, and fire support coordinator.
He has served with the 3rd Armored Cavalry Regiment, the 3rd Infantry Division, the 1st Infantry Division, and the 4th Infantry Division. He also returned to West Point and served as a company tactical officer and operations officer for the Corps of Cadets.