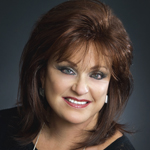 If you measure a person's accomplishments by the number of zeros in their company's annual revenue report or by the accolades bearing their name, Carolyn Faulk is the picture of success.
In 2008 and 2010, Forbes Magazine called her one of the strongest businesswomen in Houston; and in 1995 Ernst & Young named her "Entrepreneur of the Year."
But the owner of Houston-based A&C Plastics would not call herself successful by these measures alone.
The 1970 SHSU graduate, who is a proud member of the SHSU Alumni Association board of directors, believes a person's achievements are only as important as what they allow the person to do for others.
"You reap what you sow. I love to help people and I love to give," she said. "God blessed me to be a blessing to others.
"My Daddy always told me to 'share the wealth.' Anything I can do to make a difference while I'm here on this earth, I'm going to do it."
But "giving back" was not always easy for her. After graduating from college, she began teaching at Jesse H. Jones High School in Houston making $720 a month. During that time she was also moonlighting as a bookkeeper for several plastics companies in Houston.
In 1973, as she continued to teach, Carolyn and her husband at that time, Myrl Faulk, saw a business opportunity in Houston when the plastics manufacturer he worked for closed down. They took a leap of faith and started A&C Plastics with no credit, no inventory and only $5,000 to their name.
They chose the name A&C Plastics for two reasons: "A" to be first in the phone book and "C" for Carolyn.
Although they lacked a lot of resources, the determination they had, she said, paid big dividends.
"I would set goals for myself, and when I reached them, I set new ones."
With her "never quit" attitude and the knowledge she gained as a teenager from watching her father operate his own fabricating business out of their back yard, she slowing began growing the business.
In 1987, when she and her husband parted ways, she bought out his share of the company, prayed a lot and stayed focused.
Her determination led to a business plan she credits for making A&C Plastics the largest single plastics distributor in the U.S., with annual sales exceeding $21 million.
"What we sell is service," she said. "We throw in the plastic for free."
The company, with 45 employees, is now shipping a wide range of plastic products from locations in Houston, Colorado Springs and Chicago.
Having a successful business means working late nights, traveling across the country to the company's other branches and staying hands-on, keeping abreast of where plastics can be used in different industries. But she makes sure to find time for herself, doing the things she enjoys.
"If I make time to be good to myself, my great attitude is felt by everyone I come in contact with," she said.
That is something folks with the Houston Livestock Show and Rodeo have seen first hand. For the past 33 years, Carolyn, who is an HLSR Lifetime Vice President, can be found volunteering in various facets of the rodeo — no job is too big or too small.
And for 25 years, she has also been hitting the trails, riding on the Magnificent 7 Wagon with the Salt Grass Trail Ride.
"We call this our 'February family' and it is a family tradition," she said. "My children have been riding for 25 years, too, and now I get to see my grandchildren grow up on the trail each year."
Her love for horses brought out her competitive side for 10 years, as she took part in cutting horse competitions across the country; she even made the HLSR cutting horse finals one year.
But don't think her time spent with the Houston Rodeo doesn't have a hidden agenda.
She gives annually to the Houston Livestock Show and Rodeo Youth and Education Foundation.
"I've been a volunteer with HLSR since 1978. Together volunteers 'pay it forward' to many students who would not have had an opportunity to get an education, and we give them the feeling that 20,000 volunteers believe in them," she said.
While Carolyn has contributed to numerous charitable organizations throughout the years, in 2008 she found the need to start her own.
"I looked at the charities I was sending money to, and I wasn't sure what percentage of that money was going to the cause. I wanted to start a foundation that was strictly built on volunteers with no fundraiser. I wanted to help families have a better life," she said.
She started the Faulk Foundation to help families dealing with a major illness.
"I wanted to show them first hand that there are a lot of people who care and are willing to help."
When she's not hard at work with A&C Plastics or the multiple charities she holds dear to her heart, Carolyn enjoys cooking, boating, fishing and even hosting an annual slumber party to reunite with fellow Bearkats and childhood friends.
As for the future, she hopes to have continued success, in all the ways that truly matter to her.
"I see me getting closer to my Lord and Savior, becoming debt free, giving more of my resources, spending time with my children and grandchildren and watching them become successful humans in their own right with honesty and integrity," she said.
"It's been quite a party, and I'm just getting started."