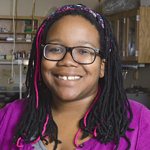 Brandi Cannon has a special interest in the relationship between people and plants. She is especially curious about the effects of parasitic plants on commercially grown crops.
Last December, her study on one well known plant was recognized with the "Outstanding Research Award" from among dozens of McNair scholars from around the country during the University of Delaware's 9th Annual National McNair Scholars Research Conference.
"This is such a noteworthy accomplishment for Brandi and for Sam Houston's McNair Scholars Program because Brandi's research and presentation skills were deemed superior amongst dozens of other scholars, and she excelled in a scholarly venue in which she participated with other scholars and faculty from across the country," said Lydia C. Fox, director of the McNair scholars program.
For her research, the Houston native examined the parasitic plant Phorandedron serotinum, also known as leafy mistletoe, which can actually be found all around campus, according to Cannon. Her mentor professor is biological sciences assistant professor Chris Randle.
"My research is a continuation from previous experiments concerning how mistletoe finds its host by sensing mechanisms such as light and physical substrates and chemical volatiles," Cannon said.
"We narrowed down our options and conducted the experiments on trees all around campus, testing whether mistletoe seedling's growth and development are influenced by these factors.
"Because this type of research is not greatly studied, I'm encouraged to follow through considering the economic importance with many parasitic plants that attack large commercial crops such as wheat, tomato, legumes and other important harvests all around the world," she said. "By discovering new information about these types of plants we may be able to use this in agricultural research."
Cannon said she began working in Randle's lab in 2009 and hopes to continue to explore this area of research after graduation.
"Ethno-botany has now intrigued me (and I am encouraged) to take advantage of my interest in different cultures and science and combine them for the better," she said.
"Traveling internationally to identify new plants and discover their medicinal purposes from different customs and traditions would not just be advantageous to those who live in the Huntsville, Texas, or in the United States of America, but could benefit anyone.
"No matter what I end up doing with my life, I want to be able to help and contribute back to the world with science," she said.
SHSU's Ronald E. McNair Postbaccalaureate Achievement Program is designed to provide talented low-income/first generation and ethnic minority undergraduate students with effective preparation for doctoral study.